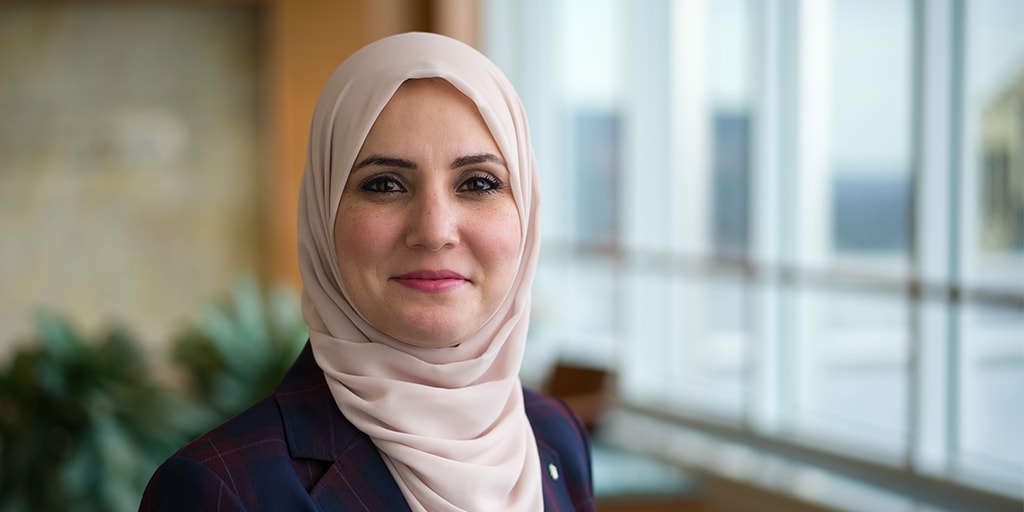 ---
February 10, 2021
---
When Heba Abseh, HTL(ASCP) arrived in Rochester, Minnesota in 2014, she had a dream to work at Mayo Clinic.
A native of Jordan, Abseh says most people in that country are aware of Mayo Clinic because it's where King Hussein of Jordan was treated for cancer in the last year of his life. "Mayo Clinic is in the hearts of Jordanian people, and we are emotionally connected to Mayo."
She'd earned a bachelor's degree in chemistry at Al Hashemite University in Amman, Jordan. Shortly after graduating from college, she married and moved to Saudi Arabia, where her physician husband, Basem Ratrout, M.D. (now a physician in the Mayo Clinic Executive Health Program), took a job.
The couple moved to the U.S. in 2014 and settled in Rochester.
"I always intended to continue my education, but we moved several times and had children, who were my top priority," says Abseh. "My parents had encouraged education, and I saw my husband's dedication to his patients, which inspired me to pursue a career in health care."
Abseh volunteered at Hawthorne Education Center in Rochester to help GED students with math and then worked as a nursing assistant at Charter House in Rochester. Having gotten her feet wet in the community, she enrolled at Rochester Community and Technical College (RCTC) to take prerequisite courses for a different career in health sciences, the Sonography Program.
It was then that her path changed with an email. She was overjoyed when her RCTC adviser emailed her about the year-long Mayo Clinic School of Health Sciences Histology Program.
"I was so excited to learn about the histology program because my passion is for lab work," says Abseh. "I met with Michelle Nelsen, M.S., program director for histology, who showed me the lab and shared program details. I immediately changed my focus toward histology."
Abseh says her family's support was crucial to her success in the program. "It was challenging to balance being a student in a fast-paced program with being a mom and wife, but my kids (now ages 23, 21, 16 and 13) pitched in on grocery shopping, laundry, cleaning, and cooking. I couldn't have done it without their help and encouragement."
Her dream became a reality when she finished the program in 2018 and became a histology technologist at Mayo Clinic. But her journey doesn't stop there. She has bigger goals in mind.
Abseh will soon complete a master's degree in education and leadership at Saint Mary's University of Minnesota and then plans to pursue a doctorate in education. She's interested in curriculum and instruction design, and will begin the Doctor of Education and Leadership Program at Capella University in September 2021.
In the meantime, Abseh serves as a clinical instructor in the Histology Technician Program, guiding students in the program in the hands-on skills of histology work.
"I really enjoy teaching and sharing my experience with others," says Abseh. "It's my joy to see them growing in our field. Discovering my love of education led me to want to learn more and pursue advanced degrees, so I can fulfill my potential and help others fulfill theirs."
"When we go home to Jordan to visit family and friends, I tell them I work at Mayo Clinic. It's considered a great success to be associated with the most well-known health care organization in the world. For me, it is a dream come true."
About our alumni series
Meet the alumni of Mayo Clinic College of Medicine and Science. This series aims to showcase where our learners go after graduation, their accomplishments, and how they use their education to make an impact in their communities!
This article originally appeared as a story on the Mayo School of Health Sciences Alumni Association website.