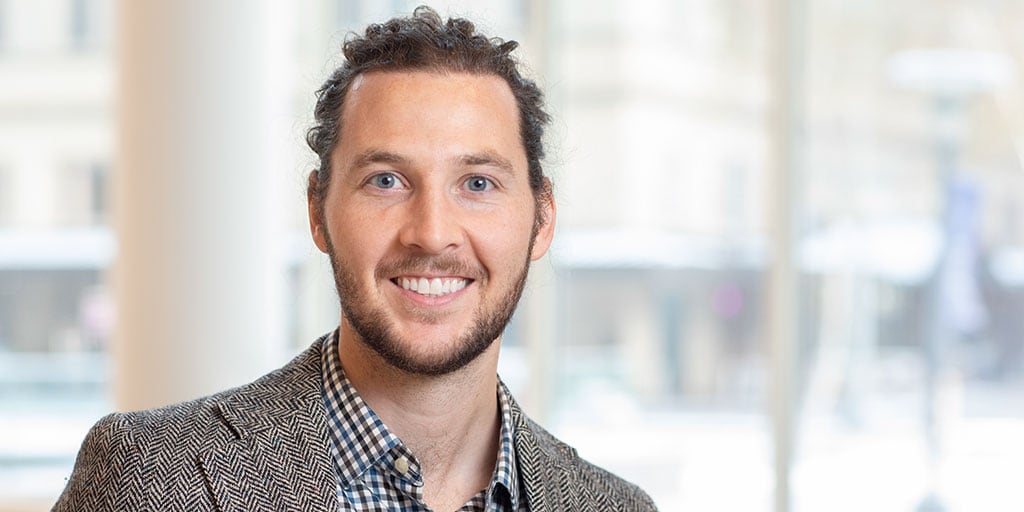 ---
February 10, 2021
---
Ryan Donohue, Ph.D. (VGT '19), got a taste of government while pursuing his Ph.D. at Mayo Clinic Graduate School of Biomedical Sciences. He got his feet wet as co-president of the Graduate School Association and then participated in advocating for science on Capitol Hill. When an opportunity arose to pursue an American Association for the Advancement of Science fellowship, he seized the day. Now, he's in Washington, D.C., working as a policy fellow in the White House Office of Science and Technology Policy, whose mission is to advise the president and executive office members on scientific and technological matters.
What attracted you to science?
I've always been curious about everything – how the body works, how cells work, how proteins inside cells work. In college, I joined a lab and was fascinated by the concept of experiments – asking new questions, finding ways to answer them. Neither of my parents went to college. I attribute my enthusiasm to my mom, who gave us books and encouraged us to study.
What led you to Mayo Clinic?
After college, I was a lab tech doing gene editing at the University of Missouri and then as a junior scientist at the University of Minnesota, where we were trying to engineer crops to improve protein and oil content in soybeans and corn. It was really interesting to manipulate DNA and produce different characteristics. I wanted to translate my skills from plant agronomy to disease work – to change DNA using gene therapy.
Mayo Clinic has a great program in virology and gene therapy. When I received an offer to go to Mayo Clinic to explore disease work, I couldn't turn it down. Jim Maher, Ph.D. (BIOC '95, Department of Biochemistry and Molecular Biology at Mayo Clinic in Rochester), was dean of the Mayo Clinic Graduate School of Biomedical Sciences at the time, and he was a deciding factor in my decision to go to Mayo for my Ph.D. in the Virology and Gene Therapy Track. My mentor, Roberto Cattaneo, Ph.D. (MMED '99, Department of Molecular Medicine), ultimately sparked my interest in not just using viruses for gene therapy but also in studying how viruses themselves work. I joined his lab for my thesis work and continued on as a postdoctoral research fellow in the Department of Molecular Medicine.
What was your first impression of Mayo Clinic?
Mayo was a lot more down to earth than I expected. I thought perhaps it would be stuffy and dog-eat-dog because it's a world-class institution. That's not the case. Putting the patient first and collaboration are integrated into everyone's thoughts and work.
In science, it's easy to get caught up in day-to-day work. Being a scientist and being close to the clinic is humbling. When you walk through halls where patients are every day, you remember what you're there for – to improve the health of the people you see.
What valuable lesson did you learn at Mayo Clinic?
To think outside of the little niche of your area of study. You can get bogged down in your research. Step outside and realize there's more that goes into the science than your niche. Take advantage of other opportunities.
Also, take advantages of opportunities to collaborate. The pandemic hit when I was completing my postdoctoral fellowship in a virology lab. It was breathtaking to see how people came together – cancer biologists, data scientists, physicians who worked in other areas. Everyone was willing to hear each other out and collaborate to do what they could to understand and combat the virus. It was a whole other level of collaboration, and I was never more proud to be a scientist at Mayo Clinic.
Who were your mentors at Mayo Clinic?
My main Ph.D. mentor was Dr. Cattaneo. Other mentors were Michael Barry, Ph.D. (INFD '06), who was director of the Virology and Gene Therapy Track, and then-dean Dr. Maher.
Dr. Maher and I connected on multiple levels – through science and music. We're both musicians and played in some jazz groups together. I play tenor sax and also played in a Pink Floyd tribute band and a brass band.
What does it mean to have Mayo Clinic on your CV?
Having Mayo on my CV means I come from a strong academic environment at a world-renowned institution, which is valuable in my new position.
What advice do you have for trainees?
Take advantage of opportunities beyond the bench – opportunities to give talks, to work on communication skills with others, to lead projects, to participate in student government. Look for emails about career development opportunities. I used to pass by some of those, but the ones I paid attention to led me to where I am today. These opportunities cease when you're not at an environment like Mayo Clinic.
Tell us about your work.
I got involved in some student government initiatives while I was at Mayo, including doing advocacy for science work on Capitol Hill in Washington, D.C., focused on increasing funding for the National Institutes for Health and National Science Foundation. The budget had been at a standstill for a decade, and we were losing research money due to inflation. I was good at communicating and wanted to learn more about policy work. It was gratifying to be a voice for science. I spoke to congressional staff members and some congress members and gained confidence that I could be an effective messenger.
I learned about the American Association for the Advancement of Science (AAAS) fellowship program through my advocacy work. They hire about 150 Ph.D.s per year and plug them in to the federal government. Ph.D.s are underrepresented in government, and their critical thinking, analytical, and writing skills are valued as a voice for science and evidence-based policy. I secured a position in the White House Office of Science and Technology Policy. The goal of the office is to advise the president and executive office members on scientific and technological matters. We're a central coordinating body for the administration's scientific and technological priorities to the agencies that implement them. My position requires high-level, cerebral thinking.
I started at the end of August 2020, with a policy portfolio that includes federal data strategy, research environment, quantum information science, and plant and animal biotechnology. It's a unique position during an unprecedented, chaotic time. I'm new to government work and see that it's comprised of people like you and me. Those in my office are really smart and dedicated and passionate about science. We don't discuss politics in the office but, rather, we follow science and evidence.
How did your Mayo training prepare you for this role?
At Mayo, I had opportunities to learn to communicate well – presenting at conferences, interacting with leadership. I got past the anxiety of talking to important people and gained confidence.
What's your career goal?
I want to contribute in the policy environment to help improve vaccination rates. Scientists have done most of their work. Now we need to use communication to bridge the trust gap between the public and scientists. I'd like to contribute to that in the policy space.
How do you maintain work-life balance?
When Dr. Cattaneo would introduce me at seminars, he would say I have the perfect work-life balance. It's important for me to detach and get away from work. I think that should be important for everyone. Work hard at work, and have something you love that helps you refresh. For me that's music and exercise. I cycle and play soccer.
What do you do in your spare time?
I've moved to Washington, D.C., and my girlfriend, Amanda Huff, Ph.D. (VGT '21), recently joined me after defending her Ph.D. in the Virology and Gene Therapy Track at Mayo. She's secured a postdoctoral position at Johns Hopkins, doing immunotherapy work. She has a 9-year-old daughter, so we're exploring the city as much as we can during the pandemic.
What would people be surprised to know about you?
I played steadily in six different bands during graduate school and sat in with many more. Many in Rochester never knew my main gig was as a virologist, now science policymaker.
About our alumni series
Meet the alumni of Mayo Clinic College of Medicine and Science. This series aims to showcase where our learners go after graduation, their accomplishments, and how they use their education to make an impact in their communities!
This article originally appeared as a story on the Mayo Clinic Alumni Association website.