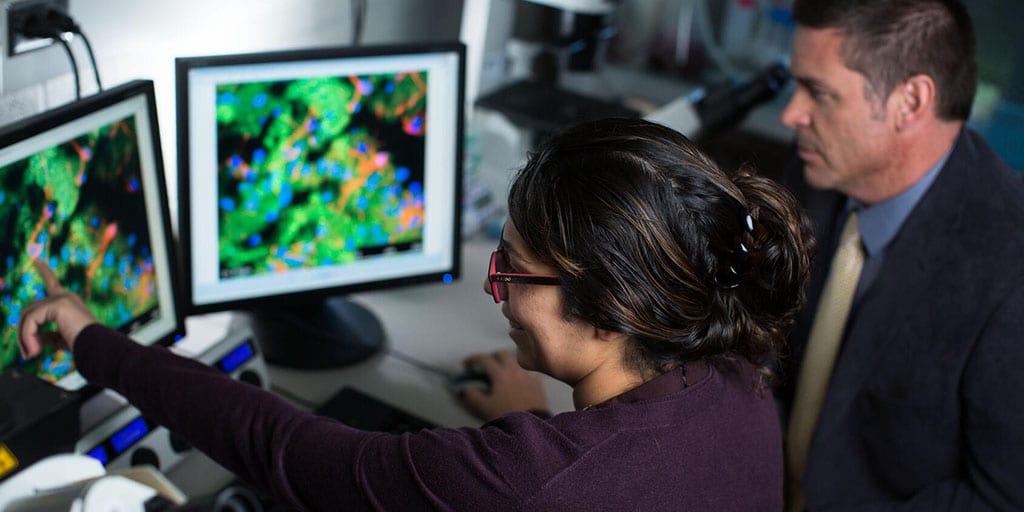 ---
May 12, 2023
---
This article series features the work of graduate students as they near the end of their Ph.D. training at Mayo Clinic Graduate School of Biomedical Sciences. Students share their research journeys, lessons they learned along the way, and their hopes for the future.
With commencement ceremonies taking place this May, two 2023 graduates — Jyoti Kumari Lama and Cori Fain — take the time to answer some questions for us about their experiences here at Mayo Clinic.
Jyoti Kumari Lama: Addressing life-threatening allergic reactions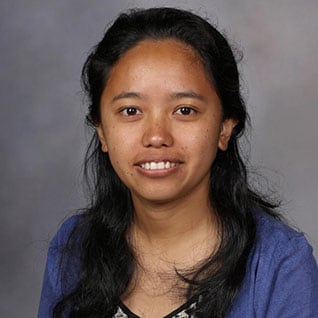 Hometown: Kathmandu, Nepal
Graduate track: Immunology
Research mentor: Hirohito Kita, M.D., Mayo Clinic in Arizona
Tell us about the research you conducted as a graduate student. What did your studies find?
Food allergies are immune-mediated adverse reactions to food antigens. Peanut allergy is one of the most common food allergies in children and can result in anaphylaxis, an allergic reaction so severe it can be life-threatening. But our understanding of the mechanisms involved in food allergies and anaphylactic reactions is still limited.
My research project aimed to identify the immune cells and signaling pathways that are critical for anaphylaxis to occur. The most important findings of my study entailed identifying new immune components involved in anaphylaxis that now can be potential targets for prevention and treatment.
For one, my study found that a specialized subset of immune cells, known as T follicular helper cells or Tfh cells, and IgG antibodies play an important role in triggering the cell signaling that leads to anaphylactic reactions. In particular, the work showed the PD-1 molecule on Tfh cells is important in regulating pathogenic antibodies that cause anaphylaxis.
Additionally, my study indicated that a drug used for cancer immunotherapy (anti-PD-1) is capable of preventing peanut allergies in mice. Dr. Kita's lab will follow up with further studies to better understand the mechanisms involved in this preventive strategy. Whether or not a similar approach or modified approaches can be useful in humans is an area that the field can investigate in future studies.
How has your experience at Mayo Clinic Graduate School of Biomedical Sciences prepared you for your future career?
My journey to Mayo's graduate program has been a long and incredible one since my undergraduate degree back home in Nepal. My training and experience at Mayo Clinic Graduate School of Biomedical Sciences has been wonderful. It shaped me not only as a critical scientist, but also as a person, through the supportive and collaborative interactions I've had during my time here. I've been able to help and mentor rotation students and junior graduate students, which has been helpful to develop the skills to be able to both teach and learn.
What's next?
For the immediate future, I plan to further my training and experience as a postdoctoral fellow in industry. In the long run, I want to serve the community through my research work as an immunology scientist.
Cori Fain: New drug targets for cerebral malaria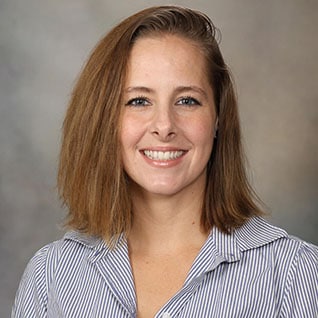 Hometown: Kansas City, Kansas
Graduate track: Immunology
Research mentor: Aaron Johnson, Ph.D., Mayo Clinic in Minnesota
How did you choose your research project and what biomedical issues did you address?
When I came to Mayo, I sought out areas of research that I felt were new and exciting, and I chose the field of neuroimmunology.
My thesis work addressed how the immune system contributes to the development of a disease known as cerebral malaria. Malaria is one of the deadliest infectious disease worldwide. It's caused by a parasite infection in the blood, but 90 percent of deaths are due to swelling and inflammation in the brain. Very little is known about how this blood infection causes disease in the brain.
In my research, I've been able to show that during infection, the cells that line the blood vessels of the brain become abnormally activated. This causes them to express elevated levels of molecules called MHC Class I, which interact with immune cells called CD8 T cells and instruct the CD8 T cells to do damage. I also found that two types of Class I molecules prompt distinct responses in the brain, including different onset of symptoms and patterns of disease.
In other experiments, I addressed what happens in the brain after the CD8 T cells are weaponized. I found CD8 T cells prompt neurons to overproduce a molecule called vascular endothelial growth factor, or VEGF, which causes the blood-brain barrier to leak blood into the brain, a hallmark symptom of cerebral malaria. This work allowed me to introduce a two-hit hypothesis about the inflammatory process in the brain: first, the interaction of CD8 T cells with Class I on brain vasculature, and, subsequently, VEGF production by neurons to induce blood-brain barrier disruption.
We have several papers currently in submission describing this work. Importantly, the findings present two, new potential drug targets. In the future, Dr. Johnson's lab will focus on strategies to block Class I and VEGF, aiming to stop brain involvement from occurring or keep symptoms from worsening.
What opportunities at Mayo Clinic Graduate School of Biomedical Sciences did you take advantage of to further your leadership skills and your career path?
The Initiative for Maximizing Student Development fellowship at Mayo does a great job preparing people for leadership positions. The program set me up for the leadership roles I've held, including national liaison for Mayo Society for Advancement of Chicanos/Hispanics and Native Americans in Science (SACNAS) chapter and president of Mayo Women in Science and Engineering Research (WiSER).
What motivates you?
I want to impact people's lives through my research. My family also is one of my biggest motivators. My atypical educational journey began later in life. I am first-gen everything and a mom of three. My goal is for my kids to see that if you set your mind to something, even if it seems impossible, you can achieve it.
Commencement: Mayo Clinic Graduate School of Biomedical Sciences
To learn more about commencement at Mayo Clinic, visit our commencement website. You also can use our social media celebration toolkit to participate online with Facebook cover photos, graphics, and more to celebrate with friends, family, and graduates.