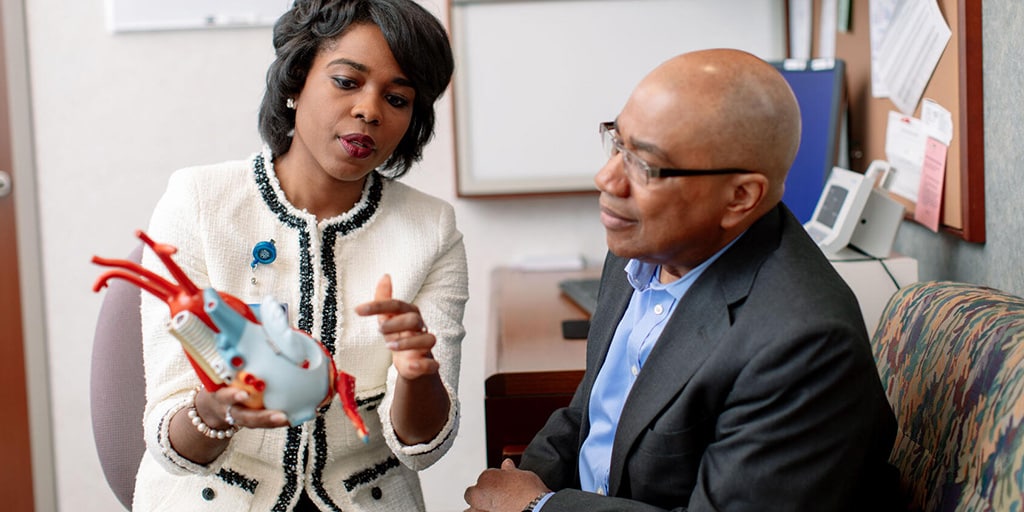 ---
February 28, 2023
---
Black Resistance is the 2023 theme of Black History Month. In honor of the month, the Office for Education Diversity, Equity, and Inclusion highlighted Black faculty and leaders in our Mayo Clinic community as they reflected on the theme and what the month meant to them.
Read reflections from faculty, staff, and other leaders at Mayo Clinic on Black History Month.

Darren Brownlee, Dr.PH., M.H.A.
Dr. Brownlee is an instructor in health care administration and division chair of education at Mayo Clinic's campus in Jacksonville, Florida.
For Dr. Brownlee, Black History Month is not just another month. "This month of Black acknowledgement," he says, "is a revitalization that while we have come a long way, there is still work to be done. Black History Month re-affirms that as a proud Black man, I have a responsibility to positively impact my community, this nation, and ultimately the world."
When asked about his greatest achievements, he shares one, saying, "The opportunity to generate solutions across sectors to strengthen community health and health care delivery systems to address social determinants of health and the development of a Health in All Policies and the Reconciliation & Equity Bill from an idea to a final document. This bill aimed to bridge the gap in health disparities for minority populations, build organization capacity, foster community engagement, and create strategy designed to reduce health inequities and create health communities for all."
Janina Hogans, M.H.A.
Janina Hogans, M.H.A. is an instructor in healthcare administration at Mayo Clinic in Arizona. She is also a program manager and a member of Mayo Clinic's CARES program committee.
"I am black history," Hogans says. "It amazes me how Black Americans created, built, and developed phenomenal feats, despite the resistance against them. Black Americans are beautiful, creative, and influential in every part of America. That is what Black History Month means to me."
Speaking specifically on the theme Black Resistance, Hogans shares, "History could argue that the Black Resistance movement helped shape the United States of America. Black Resistance reminds us of the struggle against injustice. It is both a philosophical and social reality. Resistance started as early as 1619 when English colonialists amplified slavery. The system of slavery, racism, and economic inequality are injustices. As long as injustices exist, the Black Resistance will remain until all marginalized people are treated as human beings with the same rights as those who are white. Sojourner Truth's statement, 'Ain't I a Woman,' is a statement of Black Resistance that echoes today."
Tess Gardener, R. N.
Tess Gardener, R.N., is a registered nurse at Mayo Clinic's campus in Rochester.
"What Black History Month means to me is celebrating and honoring the contributions that black leaders have made to our rich history," shares Gardener. "It also gives me the opportunity to reflect on how I can continue to be an advocate for my community. It means educating myself about things that weren't taught in history books. Black History shouldn't be confined to one month but be celebrated year-round."
Brian Baker, M.B.A., M.A.
Baker is a manager at Contracted Services and a member of the Equity, Inclusion, and Diversity Committee at Mayo Clinic's campus in Florida.
"I see Black Resistance through the lens of making visible our histories, communities, and cultures," says Baker on the 2023 theme. "I can't speak for everyone else, but I can speak for myself. I will tell my story because it is my story. My story has value because I am valuable. I'm proud of who I am. I'm proud of where I come from. I'm proud of the clothes I wear and the music I prefer. I'm proud of my hair and hairstyle. I'm proud of everything that has value to me. Black Resistance means resisting the urge to fit in when I should be standing out."
Demilade Adedinsewo, M.B., Ch.B., M.P.H.
Demilade Adedinsewo, M.B., Ch.B., M.P.H., is a non-invasive cardiologist with a clinical interest in women's heart health and echocardiography.
"I believe this month is a time to reflect on and acknowledge Black history in the United States," says Dr. Adedinsewo. "It is also an opportunity to highlight the current experiences of Black individuals — including challenges and achievements."
"Training to become a cardiologist and working at Mayo Clinic where I have been able to combine my clinical expertise/experiences with my research training/interests has been the proudest achievement in my career," reflects Dr. Adedinsewo. "In my role as a physician-scientist at Mayo, I have had opportunities to work with thought leaders and renowned researchers on innovative projects that have a huge potential to change how we practice medicine. In addition, I am currently leading a clinical trial in my home country, Nigeria, where I am studying the use of an artificial intelligence solution to improve the cardiovascular health of women during pregnancy with the goal of bridging the gap in health technology transfer from high- to low-income countries, reducing maternal health disparities, and improving the health of women worldwide."
Lewis Roberts, M.B., Ch.B., Ph.D.
Dr. Roberts is a professor of medicine in the division of gastroenterology and hepatology at Mayo Clinic's Rochester campus. He has been a dedicated mentor to our IMSD (Initiative of Maximizing Student Development) program for years.
On the 2023 theme, Dr. Roberts shares, "I can really identify with the idea of embracing 'rest' as a theme of Black Resistance. The last few years have been incredibly stressful, particularly for healthcare workers, who have had to embody our sacred duty of the care of others, sometimes seemingly in the face of strong opposition. It is critical for our ability to go the distance that we pace ourselves, take time for rest and restoration, and create a sense of personal margin so we have the strength to face the inevitable unexpected challenges that will come our way. It is also important that we are cognizant of the stress that our colleagues, friends, and family members face and can carve out the time to be alongside them to encourage them and share their burdens."
Nina Spears, M.S.N.
Nina Spears, M.S.N., is a nurse administrator at the Mayo Clinic in Arizona.
"Black History Month is also a time to look ahead and reach across the aisle to determine how we move forward within the current constructs of our world, unified with our brothers and sisters from all racial backgrounds and ethnicities," says Spears. "I can appreciate that we are moving towards this appreciation of all cultures happening on an on-going basis."
"In my heart, Black resistance means standing against the perceptions that are at times, in place to hold us from progressing socially, economically, and professionally," continues Spears. "From a healthcare perspective, it is to resist stereotyping Black patients and understand that though needs might be unique, we must challenge ourselves to lean into the differences to create a more equitable healthcare environment."
About the Office for Education Diversity, Equity, and Inclusion
At Mayo Clinic, the Office for Education Diversity, Equity, and Inclusion recognizes that the contributions of every individual is essential to success in patient care, education, and research. The office strives to maintain and further develop a learning environment in which individual differences are valued, allowing all staff and students to achieve their fullest potential.
To read and learn more about recognizing Black History Month at Mayo Clinic, visit the Office for Education Diversity, Equity, and Inclusion's social media channels — Facebook, LinkedIn, and Instagram.