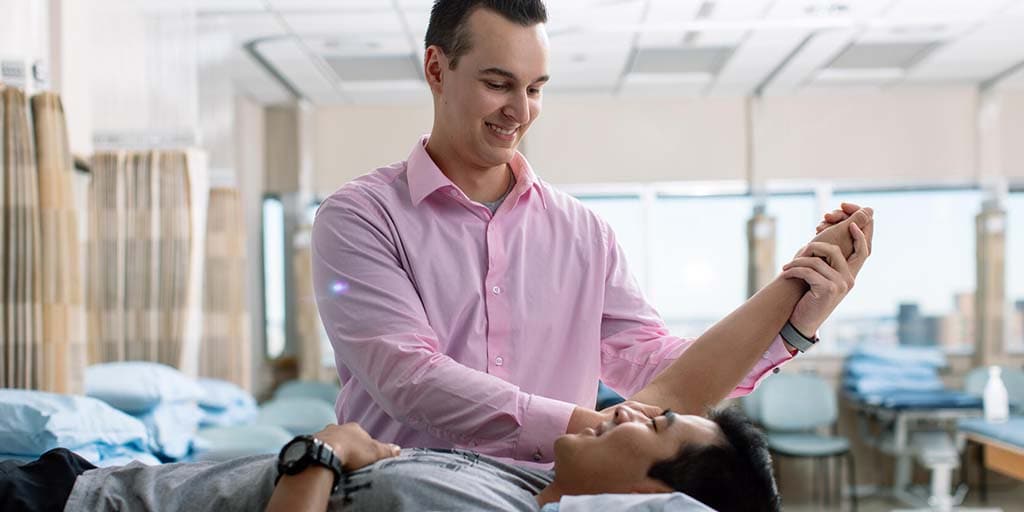 ---
June 28, 2022
---
Meet Sean Thomez, recent graduate of the Physical Therapy Doctoral Program (Minnesota) within Mayo Clinic School of Health Sciences. As a college freshmen, he was diagnosed with an aggressive tumor, but would go on to use his experience for the better. Read his story.
It's the size of a raisin — the remnant of a craniopharyngioma, a noncancerous cystic tumor. It's in Sean Thomez's brain, behind his eyes. It has a 10% chance of recurrence.
As a college freshman, Thomez (PT '22) had a craniotomy at Mayo Clinic, which involved cutting his head from ear to ear to remove the golf ball sized tumor. The aggressive tumor was stuck to critical structures in the brain, risking the function of Thomez's hypothalamus, pituitary gland, and optic nerves. When the tumor regrew quickly after surgery, Thomez's physicians added 30 proton beam therapy sessions to the treatment plan.
While Thomez is reminded daily of the aftereffects of his treatment — frequent and sometimes exhausting headaches, excessively dry skin, and an evolving medication regime to address hormonal complications — he is driven to move on with life.
In fact, he began to move ahead during his six weeks of radiation therapy. He knew he wanted to apply to physical therapy school after college and would need at least 100 hours of physical therapy observation.
Nancy Heinzelman, patient experience coordinator in the Mayo Clinic Department of Radiation Oncology, arranged for him to get observation hours at Active PT and Sports Physical Therapy in Rochester. Thomez says Heinzelman's assistance helped him stay on track with his postgraduate plans.
Thomez returned to college at Minnesota State University in Mankato, having missed only one semester. A year after finishing treatment, he pushed himself to train for and run a marathon.
Despite his life-changing medical journey, Thomez says he wouldn't change a thing — that the experience made him who he is now. He says he gained perspective about life and empathy for people who are ill or injured. When he was hospitalized, he met other patients who then suddenly died.
He's now driven to be the best physical therapist he can be — to put his skills, knowledge and compassion to work to help patients. At the top of his list is inpatient physical therapy. "I can relate to people who have been in the hospital or in bed for a few days," says Thomez. "I know what it's like to have your plans derailed. I want to help people heal and get back to life. I like my odds of being able to accomplish everything I want to do."
This story originally appeared in Connections, a publication of Mayo Clinic School of Health Sciences Alumni Association.