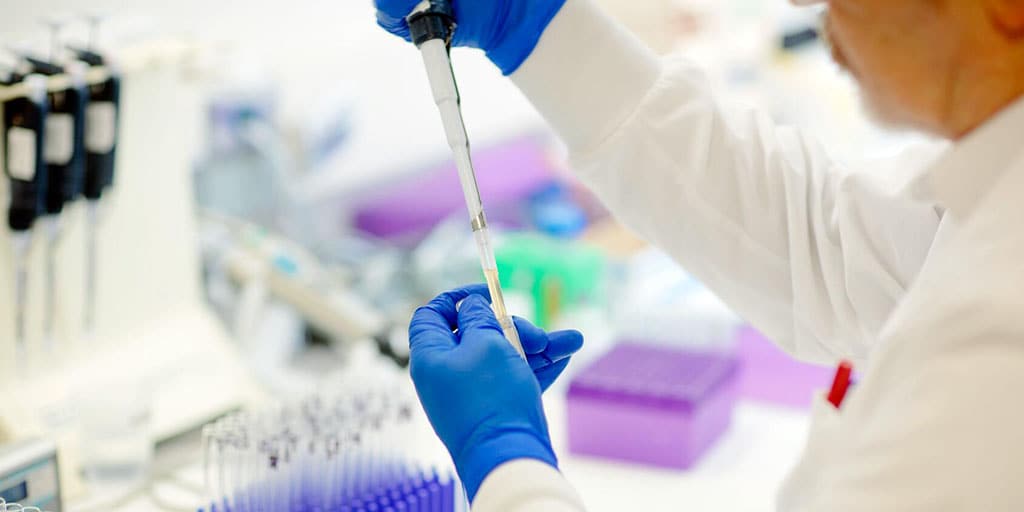 ---
July 7, 2022
---
Across Mayo Clinic Graduate School of Biomedical Sciences, discovery science thrives. To showcase this rich ecosystem of labs, clinical collaborations, technologies, and classes, the Center for Biomedical Discovery invited students, postdoctoral fellows, and research associates to share their enthusiasm for discovery science in words and images. Learn about the contest winners.
Six winners were chosen for their essays in the categories of Joy and Equity, Diversity, and Inclusion, and/or for their artwork in the Image category. Learn more about these up-and-coming discovery scientists in Mayo Clinic Graduate School of Biomedical Sciences.
Lisa Cooper
Joy category
Lisa Cooper, a second-year student at Mayo Clinic Graduate School of Biomedical Sciences, writes in her winning essay about the connections between scientists. "The magic of science is not that it attracts superhuman people who are the only ones who can solve the most difficult puzzles, but rather that it is a highly collaborative network of creative and curious people who learn and share with one another," she writes.
A creative and curious person, Cooper came to the graduate program by way of animal biology as a zookeeper, and after a stint in another type of zoo: teaching high school biology. Now a student researcher in the lab of Panagiotis Anastasiadis, Ph.D., Cancer Biology, at Mayo Clinic in Florida, Cooper studies the proteins present in places where cells are anchored to each other, called "cell adherens junctions."
She is continuing years of work the lab already has spent investigating how cells regulate each other's growth to clarify what goes haywire in cells that become cancerous. In her essay, she takes a thumbs-down stance on the concept of the eureka moments, and finds joy as part of the research community and the "endless human network of scientists connected to both the past and the future."
Francis Shue
Joy, and Equity, Diversity, and Inclusion categories
Another winner of the Joy category is Francis Shue, who is also a Mayo Clinic Graduate School of Biomedical Sciences student. Shue incorporates the idea of a scientific community but presents it from the perspective of the individual.
What brings Shue joy is knowing that she personally has increased the world's bank of knowledge, even a bit. But for her, it's more than that.
Shue also wrote an essay on neurodiversity and won in the category of Diversity, Equity, and Inclusion. In that piece, Shue calls for a greater respect for interdisciplinary scientists who seek to connect knowledge and who may ask different questions from others. She writes, "Not everyone thinks alike, and that's what makes us special."
Shue says that criticism of those who are neurodiverse is generally about how they react to others and think differently about topics, but those same qualities are praised in researchers who have made great achievements. And, Shue says, "Perseverance through adversity is my form of communication."
As a fourth-year student, Shue is in the neuroscience and regenerative sciences tracks at Mayo Clinic Graduate School of Biomedical Sciences, studying Alzheimer's disease in the labs of Guojun Bu, Ph.D., and Takahisa Kanekiyo, M.D., Ph.D., both of Molecular Neuroscience.
The feeling of climbing the highest mountain and looking out through the cirrus clouds. The mountain keeps getting taller. You see the brush ahead, fewer footsteps, the path disappears. Your way has been cleared by giants, and now it's your turn to clear that way for others. ... That is the joy of research.
Francis Shue
From her essay "Baby Steps," winner in the Joy category
Adbul Karim Ghaith, M.D.
Joy, and Equity, Diversity, and Inclusion categories
Like Shue, Abdul Karim Ghaith, M.D., won for essays in both the Joy category and the Equity, Diversity, and Inclusion category. Dr. Ghaith is a former neurosurgery resident and postdoctoral researcher who came to Mayo Clinic from Beirut.
He started as a trainee with Mohamad Bydon, M.D., Neurologic Surgery, and is now in the doctoral program at Mayo Clinic Graduate School of Biomedical Sciences. Among other projects, Dr. Ghaith studies chronic spinal cord injury and stem cells as his area of focus.
He writes in his essay in the Joy category, "Discovery science to me is not just a platform for advancement, innovation, and knowledge. It is a field for providing hope to people and creating tomorrow's evidence-based answers to today's questions."
But Dr. Ghaith also points out in his essay in the Equity, Diversity, and Inclusion category that the treatments he is working to develop would be difficult to deliver globally. He writes, "Since my time as a medical student, I have found that this focus on survival rather than innovation has come at the cost of embracing and conducting modern research in places like Lebanon. It has also inhibited knowledge about therapeutic options that patients may have."
Dr. Ghaith hopes to make regenerative therapies more accessible to people in places that "struggle with a reliable research infrastructure" and expand the population of people who participate in regenerative clinical trials to get better data on how potential therapies could affect people from multiple backgrounds.
Peyton Hickman
Image, and Equity, Diversity, and Inclusion categories
Another winner in two categories is Peyton Hickman, a first-year graduate student. His essay in the Equity, Diversity, and Inclusion category focused on disparities in science exposure and research opportunities.
"I grew up in a small town in northwest Tennessee" says Hickman. His high school had a lot of opportunities but few biology classes. He assumed this was the norm. Then Hickman attended a summer program at The University of Tennessee.
"When I met some people from Memphis," he writes, "I was so out of my element. I remember them talking about the difference between cell biology and microbiology at the high school level, which is great they had that opportunity, but I would have loved to have had that, as well."
He noted many of his peers in that program had already volunteered in research labs — something he feels could benefit all high school students. Hickman wrote in his essay that starting or supporting a group like that, and providing STEM and research exposure to high school students, would be one of his contributions to equity in the discovery science arena.
Hickman also won in the Image category for a picture of the germinal center of a lymph node. The image, created with antibody tags on a GeoMX Digital Spatial Profiler, shows lymphocytes in yellow, and cells from macrophage lineage in red and nuclei in blue.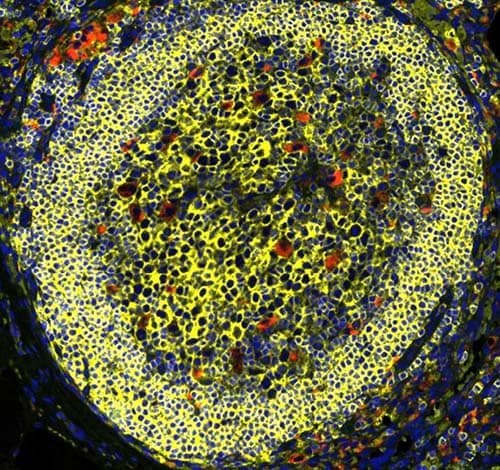 The image was created in the lab of E. Aubrey Thompson, Ph.D., Cancer Biology, for a project to predict the success of liver transplants to treat cholangiocarcinoma, a form of liver cancer. The profiler allows researchers to understand where in the tissue proteins and RNA are expressed to better understand their function or dysregulation in disease.
Davide Povero, Ph.D.
Image category
Another winning entry in the Image category was submitted by Davide Povero, Ph.D. The image is of one large, fat-storing liver cancer cell. The two blue ovals are nuclei, the red are lipid droplets and the green are present areas of lipid peroxidation that normally occur at the cell or organelle membranes.
The researchers are looking at how cancer cells adapt to hostile environments with low oxygen and limited nutrients. Specifically, in this case, the image was created as the team examined lipid metabolism in an effort to understand the progression of liver cancer as a consequence of nonalcoholic steatohepatitis progression. In this condition, excess fat, inflammation, and tissue scarring ramp up in the liver.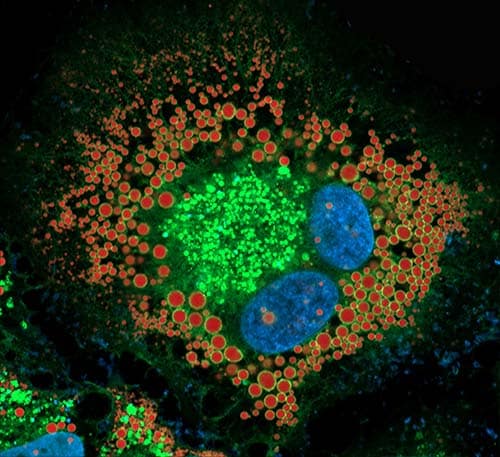 Normal cells, when exposed to toxic amounts of fat, would die. But somehow cancer cells have managed to package the fat into droplets so the cell can keep growing. The image was developed in the lab of Jun Liu, M.D., Ph.D., Biochemistry and Molecular Biology, with the help of the Mayo Clinic Microscopy Core, and with funding and imaging help from the Center for Cell Signaling in Gastroenterology and the Satter Foundation.
Sherry Zhou
Image category
And the final winner in the Image category with a work of digital art is Sherry Zhou, a graduate student in the lab of Louis Maher, III, Ph.D., Biochemistry. While rotating in the lab of Evette Radisky, Ph.D., Cancer Biology, Zhou asked for a project that would allow her to solve the structure of a crystallized protein called tissue inhibitor of metalloproteinases 1, or TIMP-1.
To solve the structure of TIMP-1, the lab had grown protein crystals, sent them for X-ray diffraction, and received the resulting datasets. From them, a scientist must "solve" the structure by processing, refining and fitting the data with a model structure such that all the biochemical bonds make sense.
The artwork "Stranded" depicts a region of the solved structure with a disulfide bond in yellow. Zhou explains, "These bonds are incredibly important parts of proteins in that they hold together structural components. They're necessary for proper folding and for proper activity." And, she adds, they are helpful in modeling the crystallographic data and making sure you have the right connections.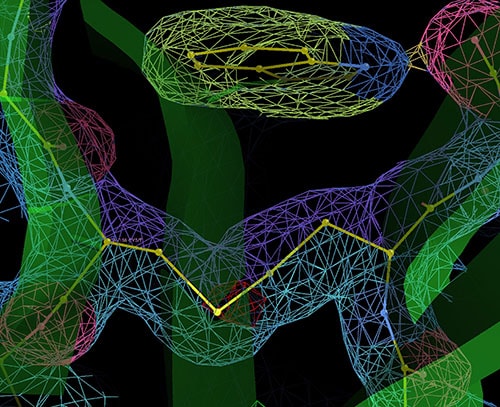 To Zhou, this art project was a fun, creative exercise that also allowed her to think differently about her work. "Integrating the arts with the sciences, while also having a good balance between your research and your outside passions is important. If you're able to bring them together into some sort of cross-talk like this, I think it's a wonderful opportunity for other people to see into the mind of a scientist — and to see into basic science research in an accessible and artistic manner."
About Mayo Clinic Center for Biomedical Discovery
The Center for Biomedical Discovery at Mayo Clinic investigates the origin of disease and how cellular mistakes lead to illness. By focusing on biological processes like aging, metabolism, and immunity, researchers in the Center learn about complex diseases such as cancer, fibrosis and diabetes. This knowledge fuels development of breakthrough therapies and critical advances in patient care.