Neuroscience Track
95%
program completion rate
Advances in technology allow us to see and study the brain like never before, providing a panoramic view of the inner workings of the mind and how it works. By understanding the basis of learning, memory and other fundamental brain functions, researchers are at the cusp of a major paradigm shift in the way we treat, cure and even prevent nervous system disorders.
The Neuroscience Track within the Ph.D. Program at Mayo Clinic Graduate School of Biomedical Science brings together nearly 60 basic neuroscientists and clinician-scientists as faculty — each of whom have wide-ranging expertise and truly multidisciplinary research interests — to provide you with a unique educational experience.
Students in the Neuroscience track can freely choose from labs at the Mayo Clinic campuses in Jacksonville, Florida; Rochester, Minnesota; or Phoenix/Scottsdale, Arizona. This provides unparalleled instruction from top neuroscientists in subjects as diverse as neurodegeneration, neuroregeneration, biochemistry, cell and molecular biology, genetics, imaging, behavior, neuropathology, virology, pharmacology, stem cells and transplantation, deep brain stimulation, and clinical studies.
Ongoing research in this program includes:
Alzheimer's disease
Parkinson's disease
Amyotrophic lateral sclerosis
Neurogenetics
Multiple sclerosis
Spinal cord injury and repair
Neural regeneration
Non-Alzheimer's disease dementias
Neuro-oncology
Neuroengineering
Neuroimaging
Curriculum
The Neuroscience Track places a significant emphasis on laboratory-based research training. Laboratory research is complemented with both core and track-specific courses, as well as advanced courses on current topics in neuroscience. These are taught in a tutorial format with small groups of faculty and students discussing cutting-edge research in areas such as neural development, neural aging, neurogenetics, addiction and electrophysiology.
In addition to regular coursework, you're provided with institutional support for travel to advanced courses at such institutions as Cold Spring Harbor and the Marine Biology Lab. In your first year of the program, you'll also have the opportunity to attend the annual Society for Neuroscience meeting.
Year 1
Introductory neuroscience and core curriculum courses
Lab rotations
Comprehensive written qualifying examination
Critical thinking and scientific writing course
Selection of thesis lab
Year 2
Oral qualifying exam to determine advancement to candidacy
Completion of advanced neuroscience courses
Formation of thesis advisory committee
Laboratory research
Years 3-5+
Laboratory research
Works-in-progress presentation (annual)
Thesis committee meetings (biannual)
Elective courses in advanced neuroscience topics
The Neuroscience Track is very unique in that the student body is currently divided 1:1 between Florida and Minnesota, which highlights the uniqueness of Mayo Clinic in that research is present across different campuses. And faculty members are all very approachable and supportive. They give a lot of feedback to students during journal clubs and works-in-progress seminars.
Chloe Chung
Ph.D. student, Neuroscience Track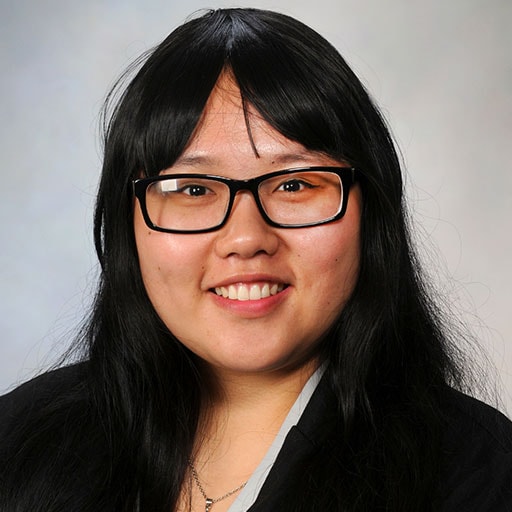 Neuroscience is a burgeoning field that not all institutions have the resources to pursue. Mayo Clinic has a stronger translational facility than you see at other research institutions, and there's so much potential to be able to work firsthand with patient samples.
Francis Shue
Ph.D. student, Neuroscience Track
Recent thesis topics
2018
"Development and Application of Genome Engineering Tools to Investigate Rapid Stress Signaling in Vertebrates Using the Zebrafish Model," Han Lee, Ph.D. (Mentor: Karl Clark, Ph.D.)
"Investigating the Effects of Deep Brain Stimulation on Functional and Effective Connectivity in Humans Using Functional Magnetic Resonance Imaging," William Gibson, Ph.D. (Mentor: Kendall Lee, M.D., Ph.D.)
"The Role of miR-7 in Regulation of Energy Homeostasis," Hyejin Yoon, Ph.D. (Mentor: Jungsu Kim, Ph.D.)
2017
"Model Systems of the C9ORF72 Hexanucleotide Repeat Expansion Mimic Disease Features of Frontotemporal Dementia and Amyotrophic Lateral Sclerosis," Jeannie Chew, Ph.D. (Mentor: Leonard Petrucelli, Ph.D.)
"Genetics of Alzheimer's Disease in At-Risk Populations," Aurelie N'Songo, Ph.D. (Mentor: Nilufer Taner, M.D., Ph.D.)
"Engineering a Regeneration Permissive Environment Allowing for Recovery After Complete Spinal Cord Transection," Jeffrey Hakim, Ph.D. (Mentor: Anthony Windebank, M.D.)
"The Role of Cannabinoid Signaling in Zebrafish Stress Responses," Randall Krug III, Ph.D. (Mentor: Karl Clark, Ph.D.)
2016
"Preclinical and Clinical Implications of Adenosine and Glutamate Signaling in Alcohol Use Disorder," David Hinton, Ph.D. (Mentor: Doo-Sup Choi, Ph.D.)
"Synergy and Convergence of Pathways Controlling Axon Outgrowth and Neural Regeneration in the Spinal Cord," Lucas Calstrom, Ph.D. (Mentor: John Henley, Ph.D., M.S.)
"Astrocytic Glutamate Dysregulation in Neuron-Glia Interactions in Alcoholism and Psychiatric Disorders," Jennifer Ayers-Ringler, Ph.D. (Mentor: Doo-Sup Choi, Ph.D.)
"The Neuropathology of Frontotemporal Dementia and Amyotrophic Lateral Sclerosis with a C9ORF72 Hexanucleotide Repeat," Kevin Bieniek, Ph.D. (Mentor: Dennis Dickson, M.D.)
"Investigation of Neuropathological Identified Cerebral Microinfarcts and their Effects on Magnetic Resonance Imaging," Mekala Raman, Ph.D. (Mentor: Kejal Kantarci, M.D.)
2015
"Neurotensin Signaling in Movement and Mania-like Behavior," Chelsea Vadnie, Ph.D. (Mentor: Doo-Sup Choi, Ph.D.)
"Strategies to Advance Intraspinal Microstimulation Toward Therapeutic Application for Restoring Function Following Spinal Cord Injury," Peter J. Grahn, Ph.D. (Mentor: Kendall H. Lee, M.D., Ph.D.)
"Circuit Mechanisms of Deep Brain Stimulation: Preclinical Strategies Toward Improving Therapeutic Application," Erika K. Ross, Ph.D. (Mentor: Kendall H. Lee, M.D., Ph.D.)
"Targeting Protease-Activated Receptors to Control Astroglial Physiology," Maja Radulovic, Ph.D. (Mentor: Isobel A. Scarisbrick, Ph.D.)
Your future
The Neuroscience Track has graduated more than 100 students, all of whom have gone on to successful careers in diverse areas such as academia, the pharmaceutical industry, scientific publishing and intellectual property. Our students and faculty publish at the highest levels and our scientific endeavors have made — and continue to make — a very real impact at the bench and in the clinic.
Meet the director
Welcome to neuroscience at Mayo Clinic, where we offer training for graduate students in a broad range of basic science, translational, and clinical laboratories conducting cutting-edge research with a focus on translating research findings into treatments for disorders of the nervous system.
The Neuroscience Track delivers a unique, interdisciplinary, educational experience with vibrant student populations at Mayo Clinic's campuses in both Rochester, Minnesota, and Jacksonville, Florida.
Pamela McLean, Ph.D.
Neuroscience Track Director
Associate Professor of Neuroscience
Phone: 904-953-2439
Email: mclean.pamela@mayo.edu
See research interests