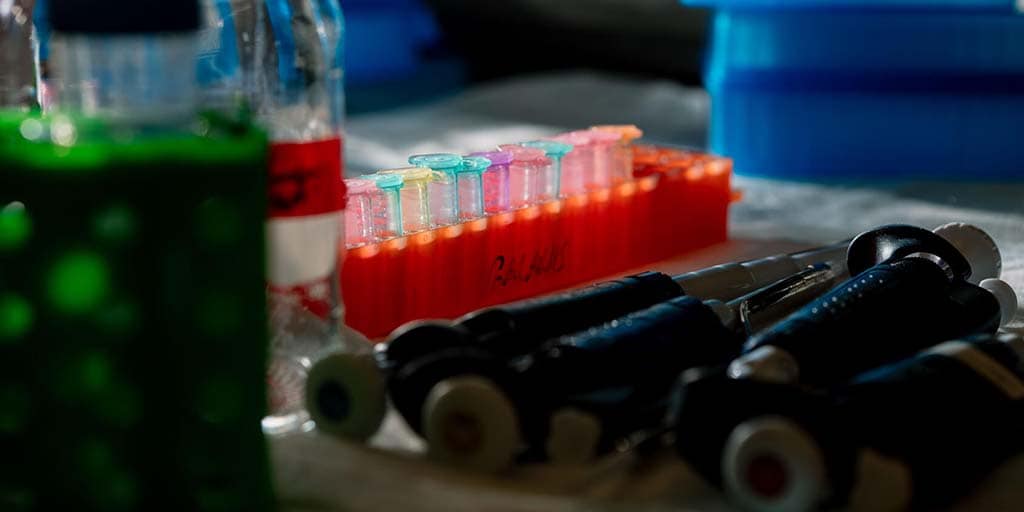 ---
January 3, 2022
---
When Delaney Liskey was 11, a mysterious temporary loss of eyesight triggered what would become a vision for patient-driven research that integrates personal experience and scientific inquiry. Thirteen years later, Liskey is part of the inaugural class of the Regenerative Sciences Ph.D. track in Mayo Clinic Graduate School of Biomedical Sciences.
As a sixth-grader, Delaney Liskey sat frightened and frustrated as physicians explained to her parents the complexities of treating her pediatric-onset multiple sclerosis.
"The doctors would enter my hospital room and discuss concepts with my parents that went well above a child's vocabulary level," she says. "And the next thing I know, I would be wheeled away to have invasive procedures done to me. I was super afraid, and in efforts to offer my counterarguments, all I could do was cry."
When her parents left her in her hospital room with an iPad, thinking she would use it to play games, she instead put her budding investigative skills to work.
"I was researching everything that I had heard," she says. "I looked up every single thing that I didn't know the meaning of or anything that triggered my interest. I was asking questions of anybody who would walk into the room and listen to me. Whether it was the janitor, kitchen staff, nurses, or doctors, I always had something to ask about, and I realized that everyone had something to teach me."
The experience also shaped her future career goals and the way she approaches scientific inquiry today as a graduate student at Mayo Clinic.
Personal experience as data
As a Ph.D. student in Regenerative Sciences track, one of her goals is to lead research into MS as a patient-scientist and inspire others to do the same with their diseases.
She brings to her studies firsthand knowledge of pediatric-onset multiple sclerosis, a rare form of the neurological disorder in which the inflammatory system attacks the central nervous system, disrupting signals between the brain and the body.
Patients are essentially like a walking database. They have access to information on how the disease affects the body because they're uniquely experiencing it themselves. I had a whole set of questions based on my own experiences that were not currently being asked in the field. The patient viewpoint is almost like the missing perspective in research.
Delaney Liskey
Ph.D. student in Mayo Clinic Graduate School of Biomedical Sciences
Regenerative medicine seeks to shift the focus from treating disease to rebuilding health by repairing, replacing, or restoring damaged tissues, cells, or organs. Mayo Clinic's Center for Regenerative Medicine is at the forefront of this movement, training future physicians and scientists using a curriculum it has developed for the new regenerative science doctoral program.
Integrating an uncommon research perspective
As a teenager, Liskey's curiosity about her disease sharpened her critical thinking skills and built her vocabulary to communicate about it. Her experiences with MS shaped her research interests.
For example, when she was 16, her disease triggered an inflammatory condition known as optic neuritis. Due to the severity of the attack, she lost all vision in her left eye. Eventually, she regained about 40% of her sight, but she continues to live with visual impairment. Liskey is now applying the patient perspective to research into optic neuritis and its relation to a broad range of diseases, including MS.
"I'm really interested in how we could promote vision restoration ― not just in this context, but in any vision disorders that affect the optic nerve," she says. "My current research focuses on how to differentiate between the optic neuritis caused by MS and optic neuritis in other related diseases."
Beyond that, Liskey is expanding her investigation beyond brain and spinal cord research to broader discoveries in neurodegeneration. She has a particular interest in finding ways to unleash the body's potential to regenerate or heal itself.
"Until now, there have been few if any options for therapies in the context of neurological regeneration. I'm very interested in discovering ways to promote regeneration of myelin — the protective coating on nerves — that could ease symptoms for MS patients," she says.
Equipping patient-scientists
Another area of Liskey's interests involves finding ways to equip patient-scientists to perform research into their own diseases. She established The International Society of Patient Research Scientists to train and track the number of patient research scientists and their advancements.
Liskey has enormous potential as a researcher. She's bringing a passionate perspective that can be helpful in designing future studies. Someone experiencing the symptoms of a disease is uniquely positioned to direct clinically relevant research questions. Having the patient engaged in their own bench-to-bedside discovery journey is a fresh and exciting concept,
Sean Pittock, M.D.
Director of Mayo Clinic's Center for Multiple Sclerosis and Autoimmune Neurology and Mayo Clinic's Neuroimmunology Research Laboratory
Liskey gravitated toward MS research early in her college career at the University of Virginia, where she majored in cognitive science with an emphasis in neurosciences. On graduation, she was named a National Institutes of Health Post-Baccalaureate Research Education Program fellow based at Mayo Clinic, where she studied MS in the context of neuroregeneration.
Her interest in regenerative medicine made her a good fit for the Ph.D. program Regenerative Sciences Track that began this fall in Mayo Clinic Graduate School of Biomedical Sciences. It's one of the first-ever programs on regenerative sciences.
Training outstanding scientists like Delaney to become the next generation of leaders in regenerative sciences and medicine is a priority of Mayo Clinic's Center for Regenerative Medicine. We are very proud of her innovative approach to research.
Isobel Scarisbrick, Ph.D.
Program director for the Regenerative Sciences Ph.D. track in Mayo Clinic Graduate School of Biomedical Sciences
Taking her ideas center stage
Liskey shared her perspective of being a patient and researcher at a TEDxJacksonville event in October. Her 10-minute talk, "Researching Your Own Disease," so captivated the audience that they gave her a standing ovation.
Her long-term aspiration is to establish her own lab, where she hopes to advance regenerative therapies for MS and other neurodegenerative disorders. And ultimately, Liskey wants to make scientific discoveries more understandable for those who, like the terrified girl she once was, might not have the vocabulary or scientific background to communicate about their own complex and rare disorders.