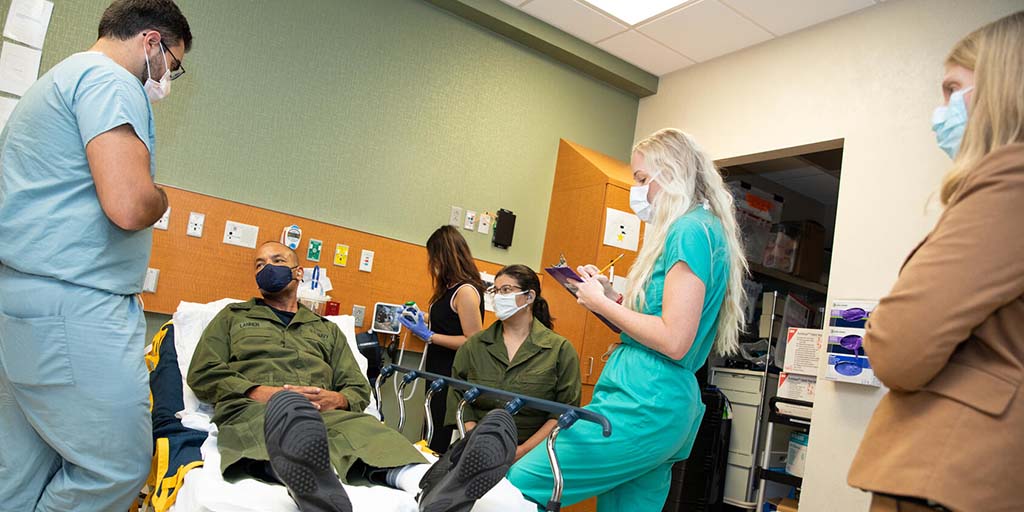 ---
December 6, 2021
---
The J. Wayne and Delores Barr Weaver Simulation Center at Mayo Clinic in Florida recently hosted an aerospace mass casualty simulation event as part of the inaugural "Aerospace Medicine" elective course. Students were trained in mass casualty triage.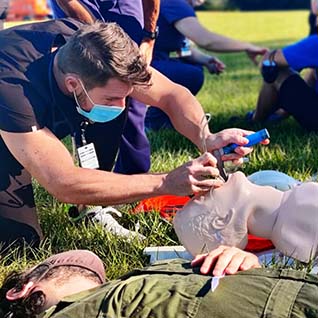 Nidhi Sahi, an education fellow at the J. Wayne and Delores Barr Weaver Simulation Center, says she was looking for students who were having an "aha! moment" when she browsed the scene of a recent mass casualty simulation she helped organize at Mayo Clinic in Florida.
She found that moment in Donald Pfeifer III, a medical student at Mayo Clinic Alix School of Medicine's campus in Jacksonville, Florida, who was intubating a simulated patient.
"I saw he was fully immersed in the moment, giving his all thoughtfully and intentionally. I wanted to capture it," Sahi says.
Hands-on learning
The exercise was part of the inaugural Aerospace Medicine elective course created by Michael Harrison, M.D.. Ph.D., Emergency Medicine, and Dana Herrigel, M.D., Hospital Internal Medicine. This course is only offered at Mayo Clinic.
Hands-on learning included ultrasound use in aerospace medicine, simulations for astronaut recovery, crew resource management, in-flight emergencies, and participation in Federal Aviation Administration medical exams. Through field trip experiences, participants also learned about the high G-force environment of F-15s at the Jacksonville Air National Guard base and space medicine at Kennedy Space Center in Merritt Island, Florida.
Pfeifer says the mass casualty exercise, which simulated an explosion at a launchpad, was eye-opening.
I learned how much coordination and communication is required to adequately and efficiently respond to a casualty event. It is astounding,
Donald Pfeifer III
Medical student, Mayo Clinic Alix School of Medicine in Jacksonville, Florida
Loving Mayo
Sahi helped plan, design, teach, and run all aspects of the exercise. It's a job she has quickly come to love since she joined Mayo Clinic's Simulation Center.
What struck me is the atmosphere on campus. At the Simulation Center, I work with highly motivated, intelligent, and good-hearted folks. They always go above and beyond for anyone who comes to the center.
Nidhi Sahi
Education fellow, Simulation Center