Florida Facilities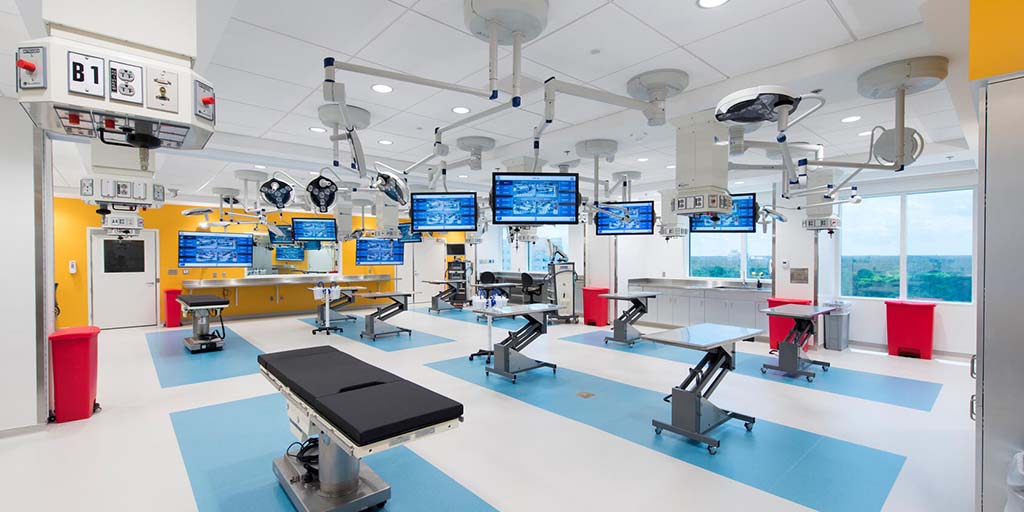 The J. Wayne and Delores Barr Weaver Simulation Center at Mayo Clinic's campus in Jacksonville, Florida, provides team and individual skills training for Mayo physicians, residents, students, nurses and allied health professionals and for learners from other organizations. The Society for Simulation in Healthcare-accredited center comprises approximately 9,500 square feet of multidisciplinary simulation training space, complemented by an additional 2,500-square-foot expansion of the center's Procedural Skills Lab.
The simulation center staff assists in procuring and presenting materials to support or modify scenarios to meet specific training needs. In addition, the simulation center offers basic and extensive faculty development courses.
Standardized Patient Program
The center incorporates the use of standardized patients — actors trained to portray roles of patients, family members, or others — allowing learners to practice communication skills, physical examination, delivery of bad news, and other exercises. Through vigorous and innovative training, standardized patients play a vital role in real-life portrayal of healthcare-based scenarios. The standardized patient interacts with learners in a safe environment that does not put actual patients at risk.
Training rooms
The J. Wayne and Delores Barr Weaver Simulation Center offers learners several unique training environments. The simulation rooms are replicas with the same, look, and feel of current clinical space to ensure realistic learning experiences. All rooms are fully integrated with our audio-visual system, one-way viewing mirrors, vital-sign monitors, 50-inch monitors for projection of learning aides, and contain fully functioning medical gas supply and lighting.
Rooms include:
Task training room
Clinical exam rooms
Operating suite
Emergency room, medical-surgical room, and intensive care unit suite
Debriefing and conference rooms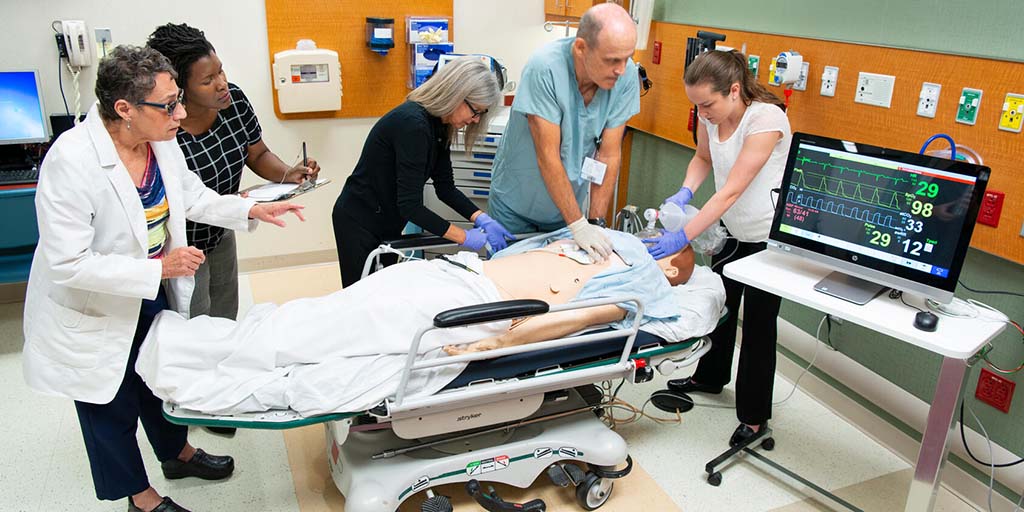 Simulation equipment
Equipment includes, but is not limited to:
Analgesia pump (patient-controlled)
Anatomage virtual dissection table
Arjo Huntleigh patient mobility devices
Baxter infusion pumps
Blue phantom A-line/PICC/IV line trainers
Blue phantom paracentesis and throacentesis trainers
Blue phantom ultrasound central line trainers
CAE virtual ultrasound trainer
Code Blue crash cart
Colonoscopy trainer and gastrointestinal cart with scopes
Draeger Apollo Anesthesia Machine
ECMO simulator
Endoscopy-colonoscopy virtual reality trainer
Gaumard IV/A-line training arm
Gaumard pelvic trainers
Gaumard Victoria birthing simulator with Baby Tory
Glidescopes
GYN pelvic trainer
Harvey — The Cardiopulmonary Patient Simulator
Kangaroo enteral feeding pump
Laerdal SimMan 3G mannequins
Laerdal SimBaby
Lap Mentor laparoscopic virtual reality trainer
Laparoscopic box trainers (FLS)
Lumbar puncture trainer
Michigan Lung
Mimic da Vinci robotic virtual reality trainer
Multiple airway trainers
Olympus endoscope tower
Philips Sparq ultrasound
Philips Lumify ultrasound
Scout vital signs monitor
Siemens Mini C-arm
Simbionix Pacerman
SonoSite M-Turbo ultrasound
SonoSite X-Port ultrasound
Suture boards and suturing materials
Ventilators (I-Servo and Philips V-60)
Vimedix virtual ultrasound trainer
Zoll defibrillator