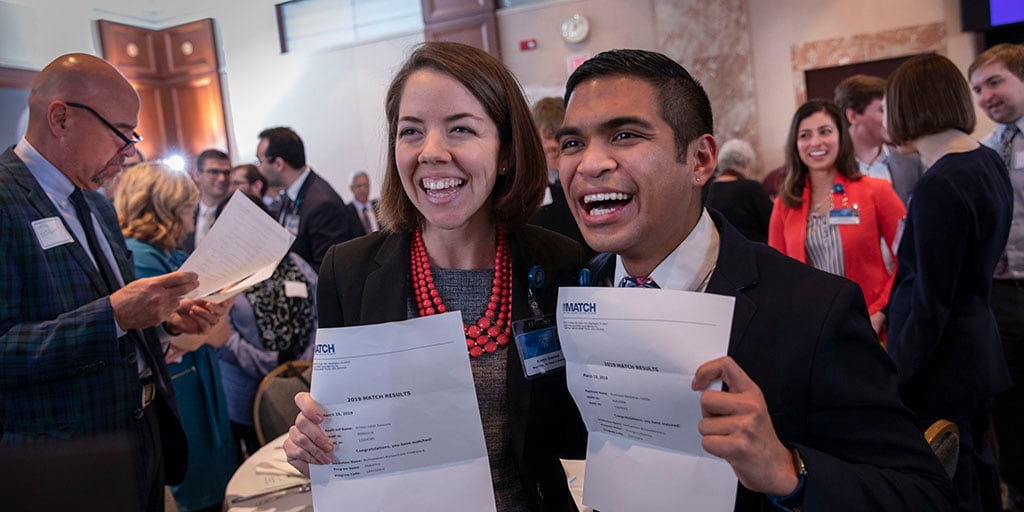 ---
March 15, 2019
---
Students and staff at Mayo Clinic in Jacksonville, Florida, and Rochester, Minnesota, celebrated the highly anticipated Match Day together through a virtual connection on March 15, 2019.
More than 43,000 graduating medical students across the country competed for more than 33,000 available postgraduate positions this year, according to the National Resident Matching Program — 42 students from Mayo Clinic Alix School of Medicine matched.
During the celebration, these students learned the medical specialty they will pursue and where they will serve as residents after medical school.
A special touch of the event this year was a U.S. map that displayed where each of the students is headed. It was an exciting and emotional day to celebrate and recognize the hard work and determination these students have shown over the past four years, and to think about what their futures hold.
Match Day: By the numbers
The future physicians will take their knowledge and Mayo values across the country:
33 percent matched at Mayo Clinic
33 percent matched in Minnesota
24 percent will remain in the central U.S.
17 percent will head west
10 percent will travel east
24 percent will warm up in southern states
Top specialty choices for 2019 are:
19 percent, pediatrics
17 percent, surgical specialties, including urology, ophthalmology, neurosurgery, orthopedics, general surgery, and cardiothoracic surgery
14 percent, emergency medicine
7 percent, dermatology
5 percent, anesthesiology
5 percent, neurology/pediatric neurology
5 percent, OB-GYN
2 percent, pathology
2 percent, psychiatry
2 percent, radiology oncology
Special considerations were given to ease stress between students and their families or other obligations:
5 percent, couples match
5 percent, military match
(Please note: Some students receive a preliminary and secondary match to fulfill their training in more than one location or specialty – that is why these numbers do not add up to 100 percent.)