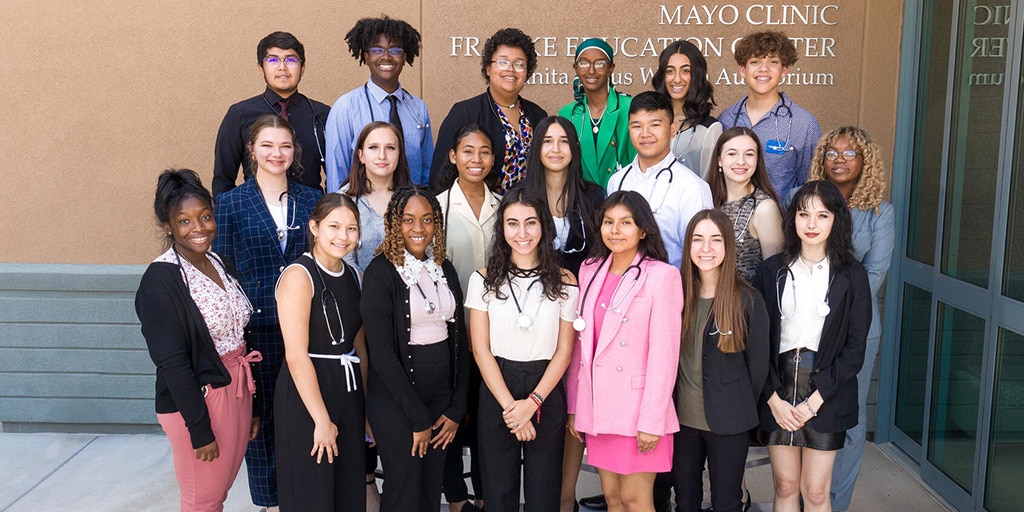 ---
August 20, 2022
---
The Office for Education Diversity, Equity and Inclusion (OEDEI) holds over twenty pathway programs each year to strengthen diversity within education and provide first-hand experience in health care to students. Two diversity pipeline programs at Mayo Clinic in Arizona are providing high school students and undergraduate students in underrepresented communities with first-hand experience in health care careers.
These programs aim to mitigate disparities in medical education and patient care for historically marginalized communities. The programs recruit, retain, and mentor learners who are representative of the diverse patient populations and communities, which Mayo Clinic serves. The goal is to diversify the health care workforce resulting in higher quality patient care, especially among underresourced and underrepresented groups.
CARES (Career Advancement, Research, and Education Summer) Program
It is so gratifying to see the community and Mayo Clinic were able to bring forward another fabulous immersive pathway experience for high school learners in Arizona, despite the pandemic and other challenges. Most significantly, I was simply awestruck with what this year's learners took away from the Mayo Clinic experience, as reflected by the inspiring and insightful remarks in their graduation speech. It is truly a privilege and joy for us all to be a part of the journey of these individuals.
Cuong Nguyen, M.D., AGAF, FACG, FASGE
Mayo Clinic CARES Medical Director
Taneyah Young, a 2022 Mayo Clinic CARES student, shared:
"I was interested in the Mayo Clinic CARES Program because ever since I was young, I knew that I wanted to find a cure for diseases, but I wasn't sure what path to take. This program helped me to realize I want to be a research scientist because it would give me a better opportunity to reach my dreams and goals. There were many memorable moments from the Mayo Clinic CARES Program, but I would say that the wellness panel was my favorite. I never realized how important it is to be well both mentally and physically in order to help yourself and others. My biggest takeaway from the Mayo Clinic CARES program was to not self-sabotage and don't let your doubts get in the way of your blessings."
Undergraduate Plummer Scholars Plus (UPS+) Program
UPS+ was held in-person in June after nine months being virtual. UPS programming is centered around medical school readiness. The UPS virtual academic year program hosted over 90 outstanding premedical students underrepresented in medicine from over 15 different institutions including partner Historically Black Colleges and Universities.
The UPS+ summer intensive hosted 18 of these undergraduate students on the Arizona campus. Mayo Clinic faculty provided more than 270 hours of clinical shadowing experiences to the students who also received guidance and insights on MCAT prep, writing, storytelling, interviewing, financing medical education, learning about health disparities, and reflection on well-being and resilience. Students toured Mayo Clinic Alix School of Medicine (MCASOM) and the Simulation Center and were provided near-peer mentorship with their assigned MCASOM student mentors.
Welcoming our fourth cohort of Undergraduate Plummer Scholars to Mayo Clinic in Arizona was exciting after our virtual program last year. Through shadowing, MCAT prep, mock interviews, and mentorship, the week-long program supplemented what these students learned in this program thus far, ensuring their readiness for a career in healthcare. Following the intensive week, the next few weeks continued virtually. We were thrilled to have our students join us for this unparalleled experience.
Alyx Porter, M.D.
UPS Medical Director
Kayla Wong, a UPS student, shared:
"After much reflection, words alone cannot describe how much gratitude I feel for the experience of a lifetime you and everyone at Mayo have given me this week. When I say that I feel like you have given me the world, I mean it. A world of amazing people, resources, opportunities; a world of access. A world that I would not have even imagined…I have made a set of lifelong friends here. It has been a privilege being surrounded by so many driven, inspiring, passionate individuals who want to make the world a better place."
About the Office for Education Diversity, Equity, and Inclusion
OEDEI pathway programs collaborate with all five Mayo Clinic College of Medicine and Sciences schools. OEDEI also partners with local schools, colleges, and community organizations to continuously increase diversity within education.
For more information on OEDEI programs or to learn about how to get involved, contact us at officeforeducationdiversity@mayo.edu.
We see pathway programming as a viable and impactful best practice to not only expose learners to the various caring careers, but to also provide exploration, familiarization, preparation, motivation, and inspiration to the participants as they engage in program activities. We are committed to this programming and look forward to helping to inform and encourage the healthcare workforce of the future.
Barbara Jordan, M.A.
Administrator, Office for Education Diversity, Equity, and Inclusion