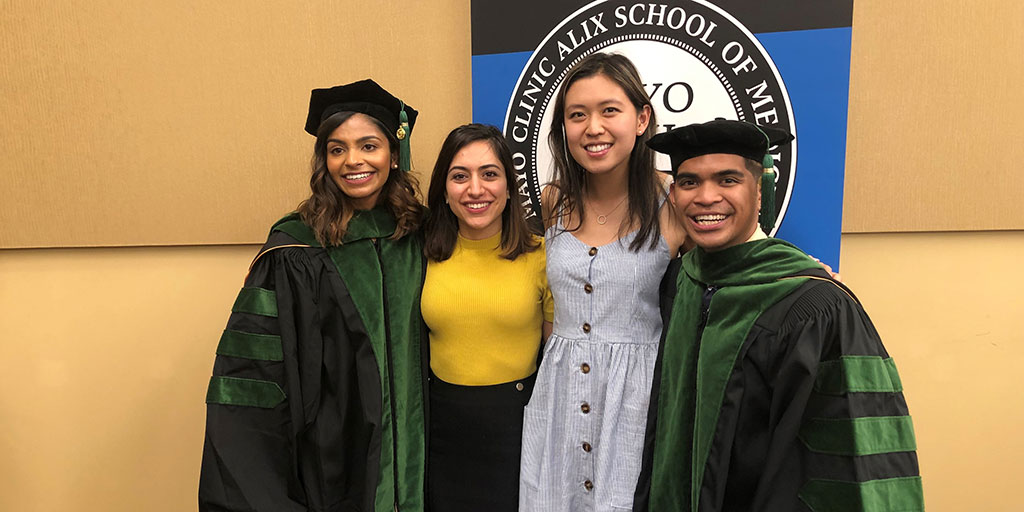 ---
May 17, 2021
---
Nazanin Yeganeh Kazemi, an M.D./Ph.D. student in the Immunology track at Mayo Clinic Graduate School of Biomedical Sciences, was named a 2021 Paul and Daisy Soros Fellow. This prestigious award is given to just 30 immigrants and children of immigrants who are pursuing graduate education in the U.S. Awardees are selected based on their drive, creativity, intellectual spirit, and commitment to the values at the heart of the United States Constitution and Bill of Rights.
"Being selected for this fellowship means a lot to me because it is an opportunity to represent our rich immigrant community and the immeasurable ways in which we contribute to the US, especially at a time when being an immigrant can be difficult and even dangerous," Nazanin said. "I am very grateful to be a part of this year's Paul and Daisy Soros class because their experiences and goals for building a better America for everyone are so well-aligned with my own."
Nazanin Yeganeh Kazemi was born in Iran and raised in the small town of Borujerd on the foothills of the Zagros mountains where her ancestors had lived for generations. Desperate to give Nazanin a better future limited only by her own imagination, Nazanin's parents moved their family to Kansas after winning the United States Green Card Lottery. Starting over with only a few words of English between the three of them, Nazanin and her parents slowly built a life in their new country. Having witnessed the selflessness of her parents in her own upbringing, and in the way that they always helped others even when they needed just as much help themselves, instilled in Nazanin a determination to use her opportunities and privileges to serve others.
I cannot overstate how supportive the Mayo Clinic Medical Scientist Training Program has been to me. I am very grateful for the unwavering support of the program and my Ph.D. mentor, Dr. Svetomir Markovic. Our program is truly one that supports all students in all aspects of their training.
Nazanin Yeganeh Kazemi
M.D./Ph.D. student
Nazanin works in the lab of professor Svetomir Markovic, M.D. Ph.D., where she is focusing on the inflammatory mediators responsible for activation of maternal immunity just before labor and in pregnancy complications which are a major cause of premature birth. Her work has identified cell-free DNA shed from the placenta as a key mediator of inflammation, which may serve as a therapeutic target to prevent premature birth and preeclampsia, leading causes of maternal and fetal death worldwide.
"I am so proud of Nazanin and her work in our lab," Dr. Markovic said. "She is a brilliant young scientist with a bright future ahead of her. We are hopeful that her work in cell-free fetal DNA will not only impact obstetrics, but also broaden our understanding of cancer immunity as well. I look forward to her success."
Read more about Nazanin on the Paul and Daisy Soros website page.