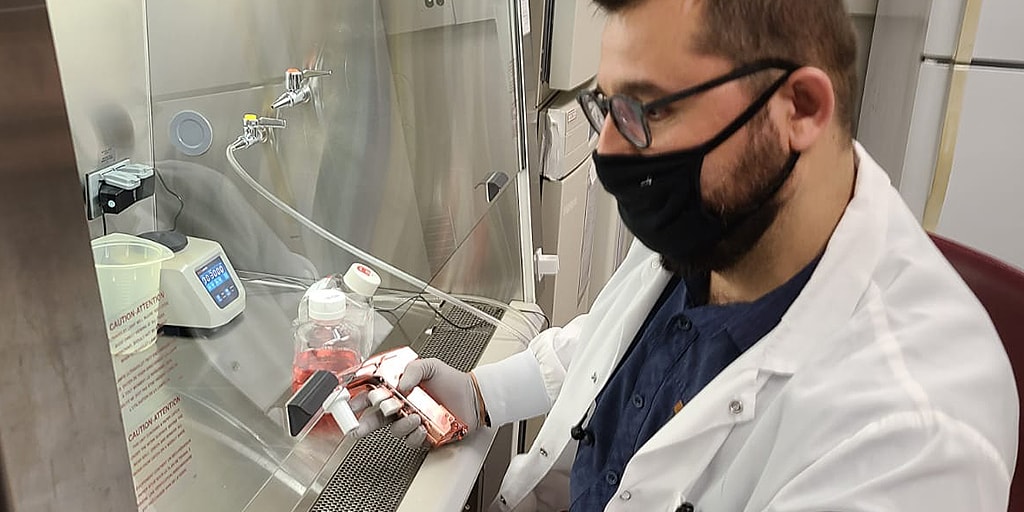 ---
April 8, 2021
---
The 'Meet My Research' series aims to showcase the research our students are involved with and the labs where they work. Join us as we go into the lab, introduce you to some of our learners, and interview them about what they're up to with their research and experience at Mayo Clinic!
Today, meet Ismail Can, a Ph.D. student in the Biochemistry and Molecular Biology Track within the Ph.D. Program of Mayo Clinic Graduate School of Biomedical Sciences on the Minnesota campus.
What draws you to research?
Mystery, reward and the delicate balance between those two have been the driving forces for me to be involved in research. What is more mysterious than science? What is more rewarding than contributing a scientific discovery? I have been thinking about these two questions in my whole adult life and still haven't been able to come up with a single answer. Nowadays, science has been developing in an astounding speed but still what we know is way smaller than what we could know. Here in Mayo Clinic I feel like I have a front row seat in this scientific voyage. My passions about science are to unravel more, improve science, and make the life of others better.
What does your research entail?
One of the major advances in cancer treatments that we are witnessing is chimeric antigen receptor T (CART) cell therapy. CART cells are taken from cancer patients, trained to target cancer cells and infused back to the patients to target malignant cells more efficiently. Like all other treatments, CART cell therapy suffers from several shortcomings that prevent the CART cell therapy to reach its full potential. My research is based on understanding the reasons for failures in treatment and coming up with ways to improve the effectivity of CART cells. We aim not only to improve the effectiveness of this therapy but also to open this therapy to new areas so that more people in need can benefit from it.
How would you describe your research to a 10-year-old?
Our body hosts a constant battle between good and the bad cells. The good cells are our immune cells and their main function is to eliminate the bad cells which can be foreign cells (bacteria, viruses etc.), cells that cannot function correctly or the cells that grow uncontrollably.
Our good cells are pretty successful in keeping the bad cells under control in general, however occasionally they get tired or they fail to recognize the bad cells and let bad cells take over our body. In my research, we aim to train the good cells so that they can recognize the bad cells more successfully and eliminate them without getting tired.
Tell us about your lab or where you do your research. What lab are you in and what is your role?
I have the privilege of working in Kenderian lab. The best description for our lab would be young and dynamic which are the results of Dr. Kenderian's mentoring style. We have liberty of asking our own questions in addition to the questions our lab already has and the opportunity of following them is provided. Our lab is equipped with the most cutting edge technology to perform state-of-the-art research especially related to immunology and we have access to any tool we can ask for.
I joined to the lab as a third year graduate student and since then I can feel my growth as a scientist. In our lab, the problems do not surround us, we surround the problems from multiple fronts!
What are your future career goals?
My career, without any doubt, has been the most astonishing component of my life. I always prioritized it and in return it took me to the most amazing places. I am working towards having my own lab not only to advance the common knowledge we have but also transmit all the experience I gained during my education here at Mayo Clinic to the younger generations.
Here in Mayo Clinic I feel like I have a front row seat in this scientific voyage. My passions about science are to unravel more, improve science, and make the life of others better.
Ismail Can
Ph.D. student, Biochemistry and Molecular Biology Track