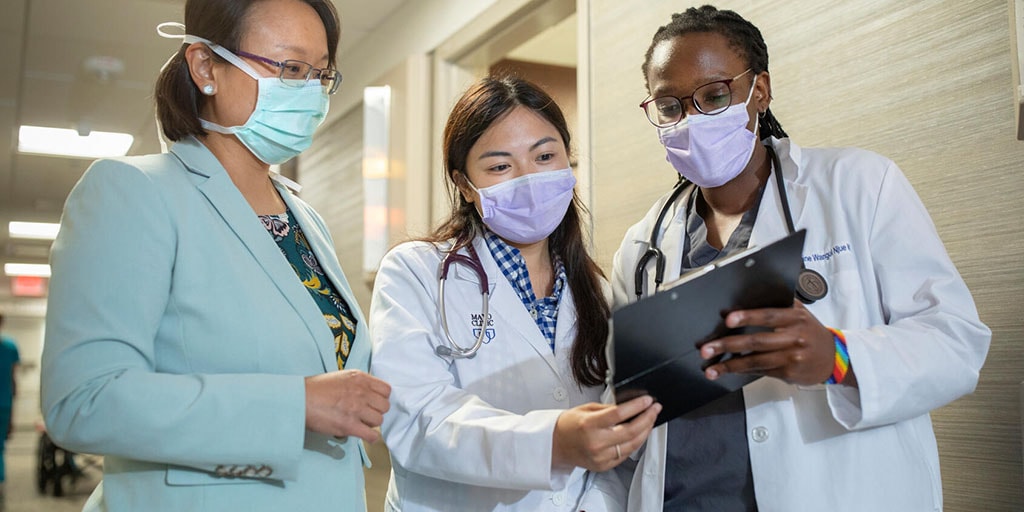 ---
August 10, 2022
---
Mayo Clinic School of Graduate Medical Education has steadily grown to become one of the largest training programs in the country with more than 300 residency and fellowship programs hosting over 1,800 active trainees spread across Mayo Clinic campuses in Minnesota, Wisconsin, Florida, and Arizona.
Residency is the next step in training for M.D. and D.O. graduates – it's typically a three- to five-year commitment depending on the specialty, for example a residency in internal medicine is usually three years while a residency in neurosurgery is much longer at an average of seven years. This period is where doctors get the hands-on, practical training they need to interact with and treat patients as attending physicians. Mayo Clinic School of Graduate Medical Education will welcome nearly 500 trainees to our programs across four states (Minnesota, Florida, Arizona, and Wisconsin).
Kristina Yancey, M.D.
For Kristina Yancey, M.D., the journey to medicine was anything but linear.
Dr. Yancey is a first-generation American and college graduate of Greek-Argentinian-Peruvian descent. Before medical school, she worked as a mathematics and chemistry high school teacher. She initially became interested in pursuing a career in medicine when she experienced health issues and had difficulty navigating the health care system as a low-income, uninsured patient.
She chose to apply for residency at Mayo Clinic in Arizona after discovering that the learning environment at Mayo Clinic was a truly collaborative one, she says.
"I often heard attendings comment that they would need to consult with colleagues at Mayo regarding various challenging cases. I realized what an incredible opportunity it would be to train in a place where I could learn directly from the experts being consulted," she says.
"What made Mayo really stand out was how consistent Mayo was — and is — with its core values of integrated clinical practice, education, and research," Dr. Yancey says. "This was evident in every interaction I had with faculty, residents, and fellows. In fact, every employee I came in contact with was the epitome of professionalism, empathy, and sincerity. I also felt that Mayo valued my unique background, cared about the initiatives that I cared about, and would support me to achieve the professional heights I have always dreamed of."
Jordan Dutcher, M.D.
Jordan Dutcher, M.D., a graduate of Mayo Clinic Alix School of Medicine, was matched to an internal medicine residency at Mayo Clinic in Florida. She says she has spent 21 of her 25 years wanting to be a physician. She had no idea what a career in medicine really meant as a child, but with both of her parents involved in health care, she was drawn to the field.
Dr. Dutcher knew early on in medical school that she hoped to pursue her residency at Mayo Clinic.
"As a student at Mayo Clinic Alix School of Medicine, I have had first-hand experience working with and learning alongside many of the residents who train here," she says. "I'm consistently amazed by their aptitude and passion for medicine and patient care. I believe this is facilitated in part by a supportive culture with invested leadership."
Victoria Kalinoski-DuBose, M.D.
Mentorship plays a pivotal role when trainees are choosing their residencies.
Victoria Kalinoski-DuBose, M.D., credits a long lunch with a mentor for cementing her decision to choose Mayo Clinic in Rochester for residency.
"Sitting in the cafeteria with Vuyisile Nkomo, M.D., for a lunch meeting, we not only discussed residency topics, but he asked about my family life," she says. "We spoke about social injustices that plague the African-American population. After three hours, we realized how much time passed. It meant the world to have a mentor take so much time out of their day to truly get to know me."
She credits her interest in medicine to a caring pediatrician.
"After seeing the way my pediatrician treated my mother with such respect and kindness, I knew I wanted to be the first physician in my family and provide similar compassionate care to patients," she says." "I was raised in the Twin Cities, so Mayo Clinic was the ultimate Mecca of medicine. I believe this camaraderie between residents cultivates a healthy environment where success, ingenuity, and innovation thrive."
Jonathan Jeger, M.D.
Residents come from all over the world and bring with them diverse and innovative ideas that strengthen Mayo Clinic's culture.
Jonathan Jeger, M.D., was born and raised in Antwerp, Belgium, and recently finished medical school at Trinity College Dublin in Ireland. He will continue his training at Mayo Clinic in Arizona as a resident in plastic surgery. He credits the virtual interviewing process with allowing him to successfully apply to Mayo without the worry and burden of taking time off from rotations, booking flights, and paying for accommodations.
What sold him on Mayo was a unique opportunity to complete a four-week internship with the Plastic Surgery team at Mayo Clinic in Arizona last summer.
"I worked closely with the members of the team and learned about everything the program has to offer," he says. "It sounds cliche, but when you join a small residency program, getting along well with the team members really is one of the most important factors. I found the plastic surgery team to be incredibly welcoming. After those four weeks, I knew I could see myself becoming part of the Mayo Clinic family."
Gaetano De Biase, M.D.
Gaetano De Biase, M.D., found that connections were key to finding that Mayo Clinic was the right fit for his neurologic surgery residency. Dr. De Biase grew up in Italy and went to medical school at the Universita Cattolica del Sacro Cuore in Rome.
He credits the chair of neurosurgery at his university with connecting him to Alfredo Quinones-Hinojosa, M.D., at Mayo Clinic in Florida. That connection allowed him to spend the summers of his fourth and fifth years in medical school shadowing and doing research with "Dr. Q," as Dr. Quinones-Hinojosa is known.
"I witnessed the support and investment in resident education and training great surgeons that will be leaders in the field," Dr. De Biase says. "Florida Neurosurgery offers a great complexity of cases and unparalleled research opportunities. I was struck by Mayo's patient-centered philosophy in all areas and the constant multidisciplinary approach to deliver excellent care."
Seidu Mahama, D.O.
There are many meaningful reasons that talented residents choose to become part of the oldest and largest graduate medical education program in the nation, but Mayo's culture and values allow trainees to trust Mayo with the next step of their journeys.
Seidu Mahama, D.O. found the family medicine residency at Mayo Clinic Health System in Eau Claire, Wisconsin, to be the right fit for him.
Dr. Mahama is the sixth of seven children in his family from northern Ghana. The loss of both of his parents and his youngest sister due to the lack of medical care drove his determination to be a family physician.
He chose his residency at Mayo Clinic Health System since rural medicine was near and dear to him.
"It provides opportunities for rural and community medicine while being part of a world-class health care system," Dr. Mahama says. "I felt like I belonged in this program during my interview. The program emphasizes resident wellness. This was evident in how happy the residents were."
Welcome all new trainees to Mayo Clinic School of Graduate Medical Education.