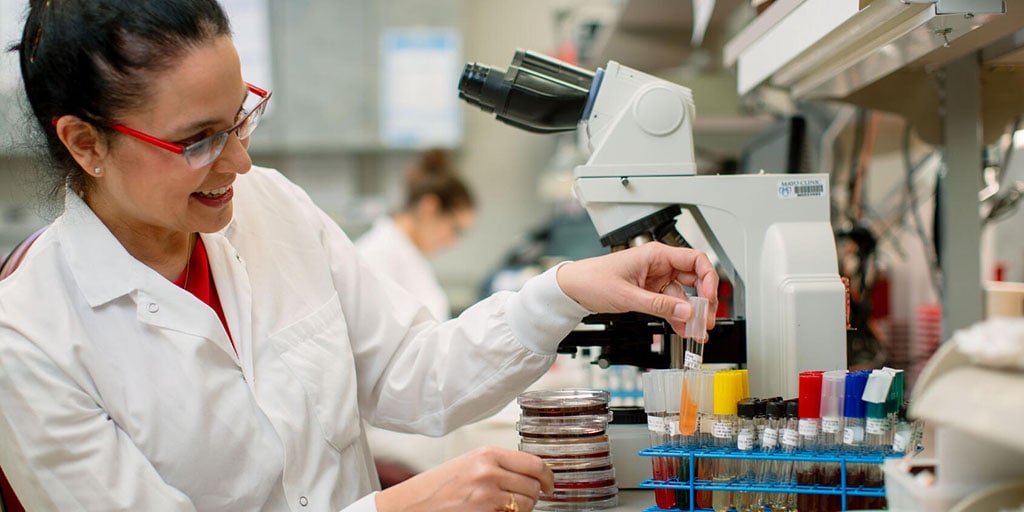 ---
June 2, 2023
---
In this article series, students who are near the end of their Ph.D. training at Mayo Clinic Graduate School of Biomedical Sciences talk about their research journeys, lessons learned, and hopes for the future.
Tory Marks: An approach to real-time seizure detection

Graduate track: Biomedical Engineering and Physiology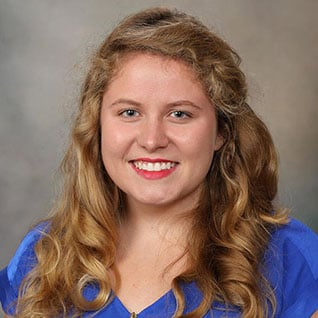 Research mentor: Gregory Worrell, M.D., Ph.D., Mayo Clinic in Rochester
Tell us about your research project. What was the central biomedical issue your work addressed?
The goal of my thesis project was to develop and validate tools for tracking the signs and symptoms of epilepsy. Roughly 1% of the global population has an epilepsy diagnosis, and 1 out of 3 patients with epilepsy has seizures that can't be controlled with medication. Those patients may qualify for surgical resection or a surgically implanted brain stimulation device. Brain stimulation can be an effective treatment, but few patients experience prolonged periods free of seizures. The main problem is that the information that guides stimulation — patients' self-reported seizures — can be notoriously inaccurate.
In my thesis work, I proposed an algorithm compact enough to program directly onto an implanted device in a patient to detect when seizures are occurring. After preliminary studies, I piloted a prospective, real-time seizure detection algorithm for patients who were receiving high-frequency brain stimulation at home. This detector succeeded in having both a high sensitivity and a low false alarm rate. In addition, my patient cohort conducted a simple verbal memory task many times over their two years in the study, which allowed me to directly compare the interactions of stimulation frequency, seizure count, and memory performance.
My thesis resulted in two tools that could be used in a clinical setting to help better address both seizure burden and verbal memory deficits related to epilepsy.
What types of innovative technologies or approaches did you use in your research, and how did they further your project?
Dr. Worrell's lab has a collaboration with Medtronic Inc. using the investigational version of its commercial deep brain stimulation device. Because of the features of the device, including constant data streaming, we could completely annotate a patient's brain activity report with information on seizure activity instead of relying on patient self-reporting. Dr. Worrell's lab is among the few in the world with such access to patient brain data.
What aspects of Mayo's culture and approach to training helped you grow as a scientist and as a thinker?
Everything we do at Mayo falls under the philosophy of "the needs of the patient come first." While my thesis project was heavy on engineering research, I also was embedded in a clinic with patients. I saw firsthand how different aspects of interesting, well-engineered projects may not be intuitive to a clinician or may actually be burdensome to a patient.
My training provided me with the unique ability to speak the language and see the perspectives of multiple stakeholders in device design — engineers, patients, and clinicians. This knowledge will allow me to promote new technologies that are not just useful to research, but also usable in patient care.
Cody Fisher: Taking on antibiotic resistance
Hometown: Owatonna, Minnesota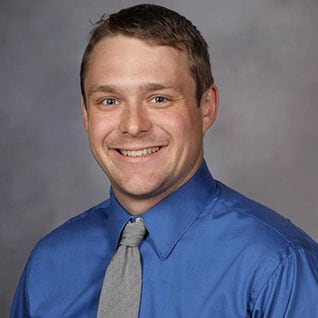 Graduate track: Immunology
Research mentor: Robin Patel, M.D., Mayo Clinic in Rochester
Tell us about the research you conducted as a graduate student. What did your studies find?
I investigated the role of the immune system in responding to joint arthroplasty failure in patients who have artificial knees or hips.
Failure of an artificial joint can be caused by infection, often associated with bacterial biofilm growth, or by non-infectious means, such as instability or aseptic loosening. While assays exist to detect and identify the presence of microbes, the tests can be negative, making it challenging to determine if a patient has an infection. When a diagnosis is ambiguous, patients may receive unnecessarily broad-spectrum — or wholly unneeded — antibiotic treatments. That can contribute to the antibiotic resistance crisis the world is facing and may have harmful effects on patients themselves.
My thesis work aimed to profile the human immune response in artificial joint failure with state-of-the-art approaches: looking at the transcriptome and proteome of the immune cells. The goal is to limit the use of unnecessary antimicrobial treatments and inform the use of novel therapeutics and diagnostics. In the future, Dr. Patel's research team aims to use these findings and others to develop futuristic combinational multi-omics approaches to assess immunological responses and illuminate causes of arthroplasty failure and other infectious diseases.
What opportunities did you take advantage of during graduate school to further your leadership skills and your career path?
I was involved with student government, first as the Graduate School Association's immunology track representative and later as a co-president. I also served as the school's student representative on the board of directors of the Mayo Clinic Alumni Association. In addition, I was involved in mentoring and scientific community outreach as a STEM (science, technology, engineering, and math) mentor and an elected board member of Oraculi, a nonprofit organization that connects young professionals with middle and high school students in Rochester, Minnesota, to foster the development of aspiring scientists.
What's next?
I've grown increasingly interested in using my scientific and leadership training to pursue in a career in science policy at the federal level. Excitingly, I recently accepted a science policy fellowship at the Department of Health and Human Services in Washington, D.C., where I will be working on the National Plan to Combat Antibiotic Resistant Bacteria. I'm excited to share what I've learned at Mayo Clinic Graduate School of Biomedical Sciences to help inform these important objectives.
About Mayo Clinic Graduate School of Biomedical Sciences
Mayo Clinic Graduate School of Biomedical Sciences offers unique training experiences that develop future biomedical scientists, educators, and innovators through the school's Ph.D. and M.D.-Ph.D. programs. Learn more about Mayo's advanced training opportunities in biomedical research.