---
December 29, 2022
---
Throughout her training to become an M.D.-Ph.D. physician-scientist, Catherine "Kit" Knier has been interested in wide-ranging approaches that improve health. But during the Ph.D. component of her education in Mayo Clinic Graduate School of Biomedical Sciences, her research turned to an unexpected topic: a scientific study of happiness and resilience.
Catherine "Kit" Knier, who received her Ph.D. degree this year and is continuing with her M.D. training in the Medical Scientist Training Program at Mayo Clinic Graduate School of Biomedical Sciences, is one of several scientists-in-training across Mayo Clinic who have been taking a fresh look at well-being.
Her investigation, studying local third graders, asked: Can a classroom program that teaches kids to be resilient — and equips them with skills, such as mindfulness — help them feel better, do better, and ultimately experience better health?
I approach this concept as a well-being to wellness continuum. Well-being involves practicing skills to manage emotions and treat ourselves kindly. Wellness is our health and our health outcomes, involving clinical measures, like depressive symptoms. It's not like we're going to eliminate mental illness by teaching kids resilience, but maybe if we provide them with certain skills, we'll prevent clinical disease from emerging or reduce the severity of symptoms.
Catherine Knier
M.D.-Ph.D. student
Clinicians agree that well-being affects all types of health, but little is known about how the areas are interconnected. "It's a much-needed area of research that's still largely undefined at this point," says Christopher Pierret, Ph.D., a Mayo Clinic molecular biologist and Knier's mentor.
Improved happiness
The idea to bring well-being training to classrooms stretches back nearly a decade. Since 2009, Mayo's education outreach program InSciEd Out, launched in partnership with the Center for Clinical and Translational Sciences, has focused on increasing science literacy in underserved schools by offering authentic science experiences in K-12 classrooms. The program began in Rochester, Minnesota, and now reaches classrooms in Florida, Illinois, Puerto Rico, Ghana, and India.
InSciEd Out organizers also were interested in addressing health equity, says Dr. Pierret, who coordinates the program. Working with Mayo pediatricians a few years after the program began, the education team drafted a list of health topics that could be woven into a classroom lesson. Several elementary classroom teachers were particularly interested in addressing students' mental health. Working with Amit Sood, M.D., who, at that time, was a Mayo physician developing a mindfulness and resilience program for children, the team began to offer schools an optional resilience program in tandem with InSciEd Out.
But the education team also committed to studying resilience training. Amid the stress of the pandemic, which required an in-person undergraduate summer program to go virtual, Dr. Pierret's research team found resilience training improved students' perceived happiness and anxiety, and decreased stress. Students also showed improved scientific skills, as measured by a scale known as the Capacities and Research Appraisal Inventory, Dr. Pierret says.
Classroom mindfulness
As Knier became interested in researching resilience, she received enthusiastic responses from third grade teachers. "They'd seen behavioral issues among students, and thought a program might be helpful. And they were open to our studying its effectiveness," Knier says. Four teachers from a Rochester area school joined her pilot study and received training to teach resilience techniques.
Teaching children mindfulness is one component of the resilience training. "Mindfulness is a way of building positive emotions to respond to a stressful event," she explains.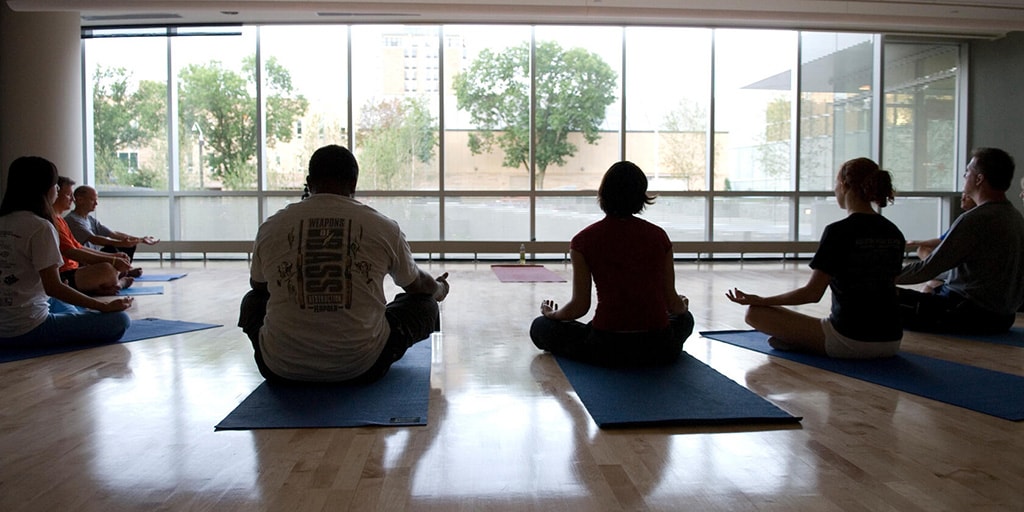 One lesson focuses on breathing; students trace the shape of a star, inhaling and exhaling all the way around. Another lesson addresses feelings. Students learn to reframe negative events — for example, rethinking why they got a bad grade on a test instead of blaming themselves for personal flaws. "The exercises develop the skill of self-compassion, speaking kindly to yourself, which is associated with decreased depression and anxiety," she says.
Surveys in the pilot study showed strong improvement in students' self-compassion and positive emotions. Knier and a research team now are conducting a controlled trial with four schools and 14 classrooms. The team includes another graduate student interested in well-being research, and a Mayo staff member who's considering pursuing a Ph.D. degree, who brings skills in epidemiology and data analysis. Eventually they aim to add studies of health metrics, such as cortisol levels and brain patterns, creating links from well-being to signs of wellness.
Empowered to make healthy choices
Resilience training also may enable kids to make smart health decisions. During her graduate research in Clinical and Translational Science, Joanna Yang Yowler, Ph.D., studied the addition of a mental health module in a Rochester-based alternative middle school, where students often are dealing wit h truancy, trauma, and other issues. "We aimed to encourage students to discuss mental health, combating the stigma, and changing their conversations with adults and with each other," she says. She found the students receptive and that the module increased their knowledge about mental health as well as their intent to seek help when needed.
As she became a Mayo postdoctoral research fellow, Dr. Yang Yowler introduced the InSciEd Out program to underserved area schools near Mayo Clinic in Florida. In a second grade unit exploring habitats, students observed zebrafish in a tank and participated in discussions about the difference between "surviving" and "thriving." As students brainstormed how a zebrafish's life can be enhanced, they discussed places they feel comfortable and circumstances that help them succeed.
That's a creative way of approaching well-being inside the classroom. A student who deeply considers these issues may feel empowered to make healthier choices in their life.
Joanna Yang Yowler, Ph.D.
employed with a nonprofit, advancing science, technology, engineering, and mathematics (STEM) education
Designed for students' needs
Learning resilience skills also may help students' achievement. In Arizona, another Mayo team — including Camila de Avila, Ph.D., who was recently a postdoctoral fellow in neuroscience, and others — thought well-being might be a helpful addition to Mayo's ongoing work with undergraduates at Diné College in Tsaile, Arizona. The faculty at Diné College, which serves a predominantly Navajo student population, aimed to expand the undergraduate cancer biology curriculum, but they also were interested in providing a mental health component, particularly to help students at risk of dropping out.
The collaborative plan was to offer undergraduate students a summer program, learning research with Mayo scientists — along with mindfulness strategies as well as transcendental meditation, a technique practiced in the Navajo Nation that has been shown to improve well-being.
In qualitative interviews, students reported the program helped them handle emotions, such as anxiety, that are disruptive to education. It also helped them feel supported as they considered career goals in medicine and the sciences. The education team will continue to evaluate the program, looking at dropout rates, reported sleep patterns, and students' perception of stress.
Studies that hit home
Without a doubt, studies of well-being are particularly timely now.
The impact of COVID on child health, particularly mental health, is not going away anytime soon. Studies that address the impact and investigate well-being will follow this generation for the rest of their lives.
Lisa Schimmenti, M.D.
Mayo Clinic pediatric genomicist and co-director of the M.D.-Ph.D. program
The field also can have positive effects on researchers. "Through this work, I've definitely learned skills to be kinder to myself and to understand setbacks differently," Knier says.
Dr. Pierret says future steps would involve gathering data on any new resilience component to understand its effectiveness and to determine whether it's just the right healthful addition to help throughout training and set them up for successful careers.