Clinical and Translational Science Track
3
translational science focus areas to choose from
Approving drugs for clinical use takes considerable time and resources, yet there are tens of thousands of diseases in need of treatments and cures. A translational scientist is at the forefront of this work, teaming with an integrated group of experts focused on taking knowledge gained in the lab and translating it for use in doctor's offices and other clinical practice settings. This bench-to-bedside effort is essential to bridging the gap between basic science and patient care.
The Clinical and Translational Science (CTS) Track within the Ph.D. Program at Mayo Clinic Graduate School of Biomedical Science is built upon Mayo's extensive interdisciplinary research and medical environment. It prepares you to lead the biomedical research teams of the future that will rapidly translate discoveries to new treatments and change the paradigms of how we conduct biomedical research.
As a graduate of this program, you'll be able to conduct research leading to meaningful scientific contributions. In addition, you'll be prepared to change and improve how biomedical research is conceptualized and implemented.
The Clinical and Translational Science Track allows students to personalize their studies in one of three concentrations:
Population-based translational science
Patient-based translational science
Laboratory-based translational science
A great strength of Mayo's CTS track is its focus on providing mentored research experiences for each student. The pre-eminent physicians, scientists and educators who comprise the faculty at Mayo Clinic are available as mentors or co-mentors for students in the track.
Curriculum
Forty-two credits made up of core, track and advanced courses area required for graduation. Depending on your area of concentration (laboratory-, patient- or population-based translational science), you'll select additional advanced courses from either track courses or graduate school core courses in the basic science disciplines.
You'll have the opportunity to receive up to $2,000 each academic year for the purchase of NIH-allowable supplies or expenses directly related to your coursework or research.
Year 1
Core required courses (10 credits)
Track required courses (13 credits)
Lab rotations (minimum 6 credits)

Introduction to research projects and methodologies used in the laboratories of clinical/translational investigators
Completion of three research experiences or laboratory rotations, each lasting eight weeks
Selection of laboratory for thesis research

Written Comprehensive Examination
Year 2
Advanced elective courses (areas of interest)
Thesis research

Research gathering preliminary data for a thesis research project
Preparation of a thesis proposal in the format of a grant application
Selection of faculty for the oral qualifying exam committee, followed by defense of the research proposal in the oral exam (to be completed before the end of the fall quarter)

Oral Qualifying Examination (presentation of thesis proposal)
Years 3-5+
Ongoing workshops/seminars/journal clubs
Completion of thesis research and any remaining course requirements
Selection of your Graduate School Thesis Advisory Committee that will evaluate the proposed direction, specific aims and experimental strategies of your project, and meet with you at least twice a year to discuss your research progress
Works-in-progress presentation of research project
Final Oral Examination (thesis defense)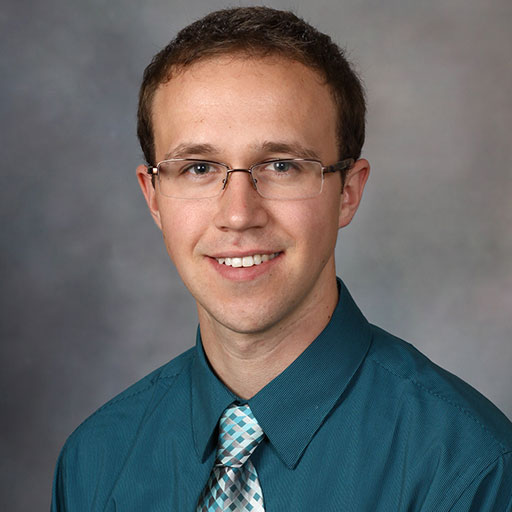 I chose the Clinical and Translational Science Track because of the flexibility of the program. Much of your coursework can be whichever topic helps you most for your research, and there are very few restrictions on the principal investigators you can work under. Also, because Mayo provides access to such unique patient populations, I'm able to use a lot of techniques that I wouldn't be able to at a university or institution.
Kevin Kelly
Ph.D. student, Clinical and Translational Science Track
One thing that attracted me to the CTS Track is how supported I felt as a student and the opportunities we have to learn and grow. We're encouraged to explore career options other than the traditional academic route. I'm interested in translational science, and there have been numerous examples in which discoveries happened at the bench and ended up as clinical trials here at Mayo.
Alaa Koleilat
Ph.D. student, Clinical and Translational Science Track
Having had numerous opportunities to be intimately involved in research support procurement has been a unique opportunity. I built my successful predoctoral fellowship application for the American Heart Association from scratch. I was heavily involved in writing a successful inter-institution collaborative grant from the NIH.
Hirotaka Ata
M.D.-Ph.D. student, Clinical and Translational Science Track
Recent thesis topics
2018
"Neural Circulatory Control and Genetic Pathogenic Variants in Patients with Epilepsy and the Risk of Sudden Unexpected Death," Choudhary Anwar Chahal, Ph.D. (Mentor: Virend Somers, M.D., Ph.D.)
"Antitumor Synergy of Novel Combinatorial Therapy in Anaplastic Thyroid Carcinoma (ATC)," Antoneicka Harris, Ph.D. (Mentor: John A. Copland III, Ph.D.)
2017
"Adolescent Outcomes in Mental Health InSciEd Out," Joanna Yang, Ph.D. (Mentor: Stephen Ekker, Ph.D.)
2016
"In vivo Genome Editing," Jarryd Campbell, Ph.D. (Mentor: Stephen Ekker, Ph.D.)
"Step-Down of Medication Therapy in Asthma: Generation and Translation of New Knowledge," Michael Gionfriddo, Ph.D. (Mentor: Victor Montori, M.D.)
"Sex-specific Mechanisms of Blood Pressure Regulation in Women," Ronee Havey, Ph.D. (Mentor: Michael Joyner, M.D.)
"Cellular Senescence as a Therapeutic Target in Diabetes," Allyson Palmer, Ph.D. (Mentor: James Kirkland, M.D., Ph.D.)
"Early Exposure to Anesthesia and Learning/Behavioral Outcomes in a Population-based Birth Cohort," Danqing Hu, Ph.D. (Mentor: David Warner, M.D.)
"Characterizing the Mechanism Behind Breaking Immune Tolerance in Pregnancy," Elizabeth Ann Enninga, Ph.D. (Mentor: Svetomir Markovic, M.D., Ph.D.)
Your future
Many graduates of the Clinical and Translational Science Track choose to pursue postdoctoral training regardless of whether they intend to pursue careers in academia or industry. Other students choose to enter advanced training programs, such as genetics fellowships.
Meet the director
Clinical and translational science is a rapidly developing area of science. Advances in technology and the way we approach and treat diseases or other conditions have set the stage for improved human health.
Our program combines the clinical and scientific resources of Mayo Clinic, where you'll graduate with an understanding of how research is translated to health care, and ready to carry out research that accelerates medical discoveries into better health.
Anthony Windebank, M.D.
Clinical and Translational Science Track Director
Professor of Neurology
Phone: 507-284-4716
Email: windebank.anthony@mayo.edu
See research interests