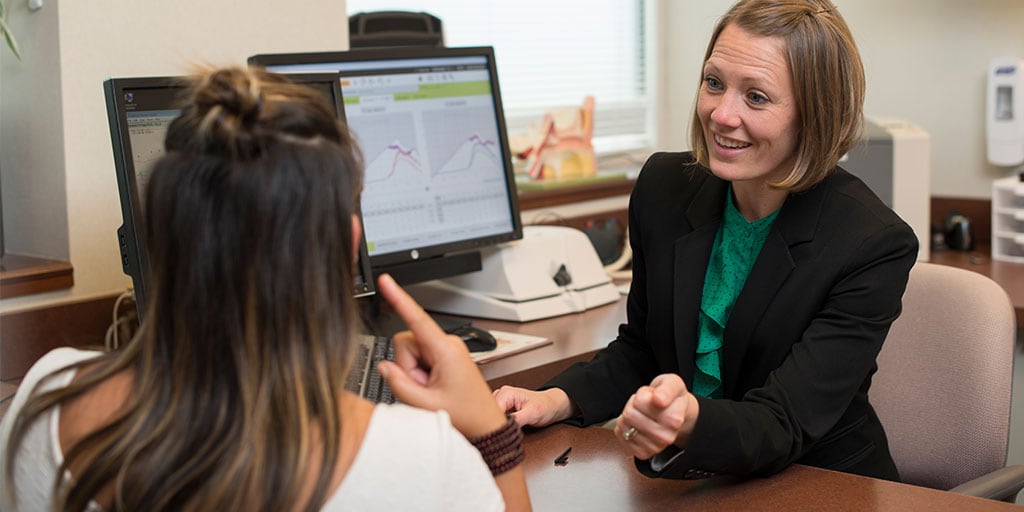 Program overview
Program length: 1 year
Class size: 3 students
Location: Phoenix, AZ
Mayo Clinic School of Health Sciences offers a one-year Audiology Externship at Mayo Clinic's campus in Arizona. This externship provides in-depth clinical knowledge and skills that enable practitioners to provide high-quality comprehensive audiology care. Education focuses on patient care, providing state-of-the-art clinical audiology services to a primarily adult population.
In-depth clinical experiences are provided to develop a well-rounded, competent audiologist, including:
Audiological evaluations
Balance and falls assessment
Computerized dynamic posturography
Concussion evaluation
Dynamic visual acuity test
Pediatric vestibular diagnostics
Vestibular evoked myogenic potentials
Video head impulse test
Videonystagmography
Rotational chair testing
Canalith repositioning procedures
Auditory evoked potentials
Otoacoustic emissions
Hearing aid selection, fitting and dispensing
Assistive listening devices
Adult aural rehabilitation programs
Cochlear implant evaluation and programming
Tinnitus counseling
Opportunity for clinical and bench research
Upon successful completion of the Audiology Externship, you receive a certificate of completion from Mayo Clinic School of Health Sciences.
Application process
Three candidates are selected on a competitive basis each year. The program runs for a year and starts the first week in June.
The application will be open from June 19 to September 22 of the year before you start your externship.
Prerequisites
To be eligible to apply for the Audiology Externship, applicants must be enrolled in an accredited Doctor of Audiology program. It is preferred for candidates to have completed the didactic portion of the degree before being admitted to the externship. Candidates enrolled in accelerated programs will be considered on an individual basis.
How to apply
Your application and all supporting documentation must be received between June 19 and September 22 the year before you start your externship.
Complete the following steps to apply:
Create an account to begin the online Application for Admission

Select – Mayo Clinic School of Health Sciences
Select – Audiology Externship

Complete each section of the application and submit
After submission, view the required Supplemental Items and Documents

Upload each required item in the Supplemental Items section
Complete the Recommendation Request section
Additional required items
CV/resume
Personal Statement of your professional goals
Three letters of recommendation. Two of the letters must be from health care professionals
Unofficial undergraduate and graduate school transcripts
Summary of clinical practicum hours
GRE test scores (optional)
Interview process
Applicants will be contacted for a telephone interview. Applicants considered for acceptance may be invited to Mayo Clinic for a personal or virtual interview with the program director and selected faculty.
Acceptance
Acceptance letters are mailed at the conclusion of the interview process. Your reply is expected within two days. Your admission to the externship is dependent upon successful completion of the health review, drug screen, and background check.
Admission policies
Non-U.S. citizen applicants
Admission to Mayo Clinic School of Health Sciences is open to U.S. workers in the four categories below. Therefore, visa sponsorship is not available.
U.S. citizens
U.S. nationals
Lawful permanent residents
Asylees and refugees
Applicants whose primary language is not English must submit results from the Test of English as a Foreign Language Internet-based test (TOEFL iBT). Scores from the speaking portion of the exam are given particular consideration in admission decisions. Learn more about the exam and register online at the Educational Testing Service.
The Mayo Clinic School of Health Sciences code for the TOEFL iBT is 5784.
Educational transcripts from schools outside the U.S. must be translated (if they are not already in English) and evaluated for U.S. equivalence by an accredited credential evaluation service company prior to submission. Please refer to the National Association of Credential Evaluation Services for a list of qualified companies. The applicant pays for the examination and credential-evaluation services.
See further Mayo Clinic School of Health Sciences admissions policy information.
Stipend and benefits
A stipend of $39,000 for the Audiology Externship is paid in biweekly installments over the course of the 12 months. There are no tuition fees.
Living expenses such as transportation, housing, and meals are the responsibility of the student.
Curriculum
Clinical training
The Audiology Externship consists of comprehensive clinical training, which includes:
Audiological evaluations
Vestibular assessment and therapy
Auditory electrophysiology
Hearing aid dispensing
Adult aural rehabilitation programs
Cochlear implants
You gain experience in the many facets of an active audiology practice. Close and positive relationships with otolaryngologists offer a unique learning environment.
Practice management
During this time, you acquire a thorough understanding of departmental philosophy and mission, and skills to identify and solve practice problems using policy development. You learn the elements of performance improvement and participate in the process through departmental initiatives, especially as they relate to patient safety.
Didactic training
You have the opportunity to participate in a monthly teleconference with audiologists from Mayo Clinic's campuses in Rochester, Minnesota, and Jacksonville, Florida, as research and clinical cases are presented.
In addition, a monthly multidisciplinary vestibular conference allows further education and integration. The Section of Audiology staff, in combination with the otolaryngology staff, also meets monthly for a journal group to discuss current research literature in their fields of interest.
Schedule
For the majority of the externship, your learning schedule includes eight-hour days, five days a week. You may hold outside employment during the externship, as long as it does not conflict with your academic activities.
Grading or evaluation
Mayo Clinic School of Health Sciences uses evaluative tools that include:
Written examination
Demonstration of skills
Self-assessment exercises
Faculty reviews
Mayo's system of evaluation provides students and faculty with a comprehensive look at individual performance. This allows faculty and administrative staff to direct students who are experiencing academic difficulty to the appropriate support resources, including tutoring programs and counseling opportunities.
Facilities
Mayo Clinic has two main campuses and three family medicine centers in Arizona. On the Mayo Clinic campus in Phoenix is the state-of-the-art Mayo Clinic Hospital, the first hospital entirely designed and built by Mayo Clinic. It has been recognized several times by Phoenix magazine as the "Best Hospital in Phoenix." Services in numerous medical and surgical disciplines are provided, including outstanding programs in cancer treatment and organ transplantation.
The Mayo Clinic campus in Scottsdale is centered around a beautiful, five-story outpatient clinic. This modern facility contains extensive exam rooms, an outpatient surgery center equipped for general anesthesia, a full-service laboratory, pharmacy, patient education library, endoscopy suite, and a 188-seat auditorium for patient, staff and student education programs.
Mayo Clinic Family Medicine — Arrowhead offers family medicine services, including audiology.
Faculty
The Audiology Externship draws its faculty from Mayo Clinic's clinical, scientific, and technical staff. Mayo Clinic School of Health Sciences' faculty members are chosen for their commitment to teaching, as well as clinical practice and research. Many have published and lectured extensively and are highly regarded in their fields. They bring a vast amount of knowledge and experience to share with you.
The Section of Audiology employs 13 people, including nine audiologists. The staff includes two Ph.D.-level and eight Au.D.-level audiologists. You have direct access to these individuals throughout your training, giving you the opportunity to learn directly from some of today's best practitioners in audiology.
Accreditation
See accreditation information for Mayo Clinic College of Medicine and Science.