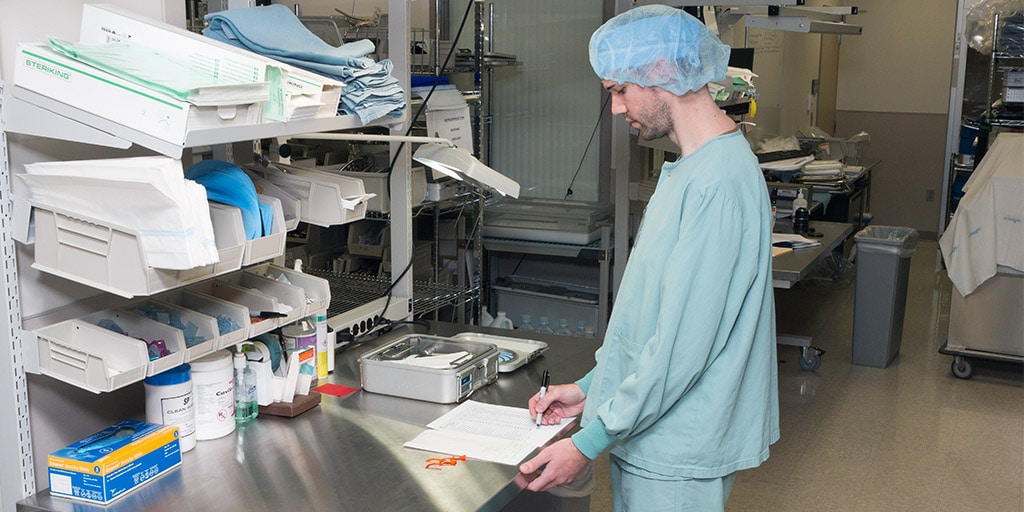 Program overview
Program length: 6 months
Class size: 3-5 students
Location: Phoenix, Arizona
This internship is for students enrolled in the Hospital Central Service Technology Program at GateWay Community College. A central services technician is responsible for decontamination, cleaning, processing, assembling, sterilizing, storing, and distributing medical devices and supplies.
Graduation and certification
After completing your central service clinical rotation, you receive a certificate of completion from Mayo Clinic School of Health Sciences. Upon completion of the Hospital Central Service Technology Program, you receive a certificate of completion from GateWay Community College.
Upon completion of the program and 400 hours of hands-on experience, you are eligible to take the International Association of Healthcare Central Service Materiel Management examination to become a Certified Registered Central Service Technician.
Application process
Once you are enrolled in the Hospital Central Service Technology Program at GateWay, you are eligible to participate in the clinical rotation by making arrangements through your college program director.
Admission is based on academic performance and other criteria. Students are accepted once each year in the fall term.
Prerequisites
The prerequisites are determined by GateWay Community College. You must successfully complete the required program course work before you are eligible to complete the clinical rotation.
In addition to certain health care and medical terminology courses, you must have your:
High school diploma or GED
Current health care provider CPR card
How to apply
Our affiliated school, GateWay Community College, processes the admissions and applications for its Hospital Central Service Technology Program. Review GateWay's website for complete details.
The Mayo Clinic School of Health Sciences program director works with GateWay Community College to fill the clinical rotation positions at Mayo Clinic.
Tuition and financial aid
Tuition rates are determined by and paid to GateWay Community College. Mayo Clinic does not charge additional fees for the Central Service Technician Clinical Rotation.
Mayo Clinic provides your scrub attire during your rotations.
You are responsible for your own living accommodations and transportation.
You may hold outside employment during the program if it does not conflict with your program responsibilities.
Curriculum
Specialty surgical teams provide care to patients requiring procedures involving the neck, breast, stomach, small bowel, liver, pancreas and spleen. In the general surgery area, gallbladder surgery, appendectomies and many bowel resections are performed using laparoscopic technology. Other laparoscopic procedures include inguinal hernia repair, cholecystectomy, splenectomy, adrenalectomy and lymph node biopsy prior to liver resection. Many specialty surgical instruments are handled on this rotation.
The outpatient clinic rotation includes processing instruments for ophthalmic surgeries with low-risk patients who do not require general anesthesia or hospitalization. One such example is cataract surgery. You also process instruments and equipment used in the various specialties at the clinic.
Schedule
For the majority of the rotation, your learning schedule includes eight-hour days, two to five days a week.
Accreditation information
See accreditation information for Mayo Clinic College of Medicine and Science.