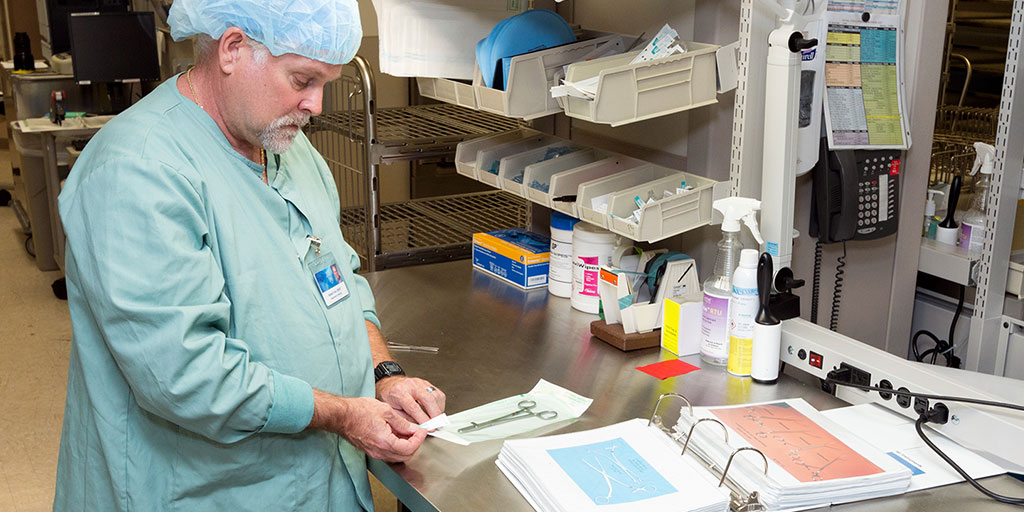 What does a central service technician do?
Central service technicians, also called sterile processing technicians or central service (CS) professionals, play a critical role in preventing infection by sterilizing, cleaning, processing, assembling, storing, and distributing medical supplies. The central service department of a health care facility is the hub of all activity surrounding supplies and equipment needed for surgery and patient care.
Central service technicians learn the principles of sterilization and sterile processing. Sterile processing is the process of cleaning medical supplies and preparing them to be used again. First, tools are disassembled, cleaned, and disinfected using both manual and mechanical techniques. Tools and equipment are inspected for any damages to ensure they can be reused. Once a piece of medical equipment is completely cleaned and disinfected, it will be sterilized and packaged for reuse. Tools are then reissued and stored in a sterile storage area.
Scope of practice
The role of a central service technician varies and can change depending on their work environment. It can even change on a day-to-day basis, depending on where they work. In general, their responsibilities revolve around preventing infection in patients through:
Decontaminating, cleaning, and sterilizing surgical instruments, supplies, medical devices, and equipment
Processing, assembling, packaging, storing, and keeping inventory of medical devices and surgical supplies (including gloves, surgical masks, and needles)
Distributing supplies and equipment to departments that need them
Work environment
Hospitals are the primary employer of central service technicians, though some employment growth is expected in offices and clinics of physicians, including outpatient care centers, and ambulatory surgical centers, as well as nursing homes and assisted living facilities.
They work in a behind-the-scenes role in a constantly changing, fast-paced environment. Though they play a vital role in preventing infection, technicians have very little direct patient contact. There can be a high risk of exposure, however. Due to the nature of the role, they need to protect themselves from exposure to blood, bodily fluid, or harsh cleaning agents while they work to decontaminate tools and equipment. They often need to wear personal protective equipment (PPE) such as gowns, gloves, and face masks.
Most facilities offer a day, evening, or night shift schedules for technicians. Working some weekends and holidays may be expected.
Becoming a central service technician
Individuals that enjoy detailed, behind-the-scenes work in a fast-paced environment may enjoy a career as a central service technician. It is the perfect role for someone who is interested in the health care industry, but would prefer not to have high-levels of interactions with patients.
Higher education requirements
To become a central service technician you need a high school diploma (or equivalent) and you need to complete a central service technician program. Program lengths vary, but are typically between four to eight months in length. You may need to pass a standardized test for certification as well.
Certification for central service technicians
After completing a certification program and the required number of hours of hands-on experience, you will be eligible to take the International Association of Healthcare Central Service Materiel Management exam to become a Certified Registered Central Service Technician (CRCST).
Career opportunities and outlook
Central service is an emerging profession and is expected to grow as the number of surgeries increases. With technological advancements in medical supplies, instruments, devices, and equipment, there is a high demand for central service technicians in hospital and clinical settings.
According to the Bureau of Labor Statistics, central service technicians can expect a salary of $42,420.
With additional training, a technician could advance to a senior central service technician who supervises a team.
By the numbers
1-4
years of higher education
9%
job growth projected from 2020-2030