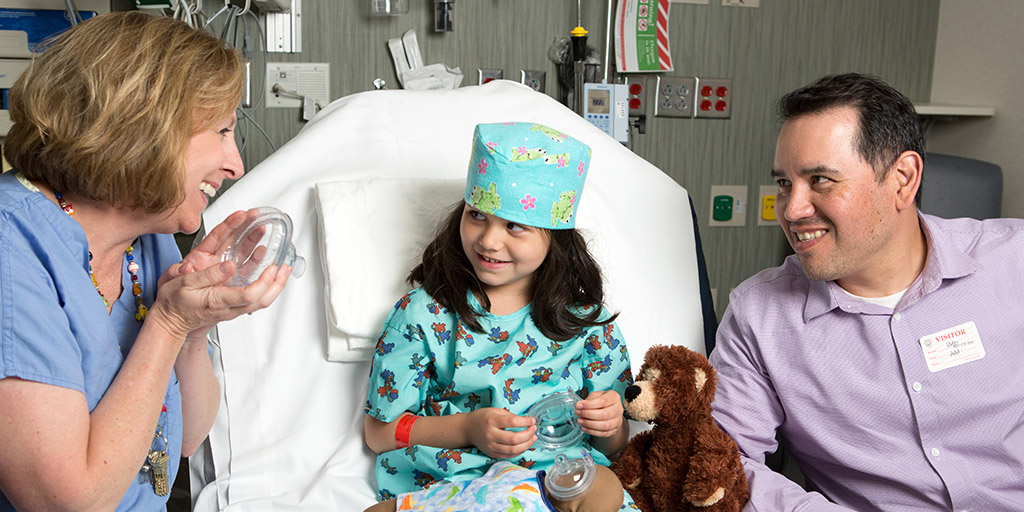 Program overview
Program length: 16 weeks
Session offered: Only offered one time a year during Winter/Spring session
Class size: 2 students
Location: Rochester, Minnesota
The Child Life Specialist Internship is designed to provide a hands-on experience coupled with educational opportunities. Each intern will participate in a 16-week (640-hour) experience, under the supervision of a Certified Child Life Specialist, to develop clinical skills in therapeutic play techniques, preparation, procedural support, assessment, and education.
Graduation and certification
Students receive a degree from their college or university commensurate with their didactic and clinical training.
Students are responsible for scheduling their certification exams through the Association of Child Life Professionals. It is recommended that you schedule and sit for your exam after completion of necessary eligibility requirements. Many institutions require entry-level child life specialists to pass the certification exam within their first year of employment, if not before.
Application process
The program begins in January and runs through April. For the Winter/Spring 2024 Internship, your application and all supporting documentation must be postmarked by Sept. 7, 2023.
We comply to the dates and deadlines recommended by the Association of Child Life Professionals (ACLP):
Eligibility assessment documents must arrive at the ACLP office: August 21, 2023
Application deadline: Sept. 7, 2023
Initial offer date: Oct. 10, 2023
Acceptance date: Oct. 11, 2023
Second offer date: Oct. 12, 2023
Prerequisites
To be eligible for the internship, you must be a senior in college or have completed a bachelor's or master's degree with a major in:
Child life
Child development
Human growth and development
Child psychology
Other related fields
Confirmation of classes taken is approved by the Association of Child Life Professionals via the online Eligibility Assessment. Applicants must have successfully completed child life coursework inclusive of all curriculum topics, as required by the ACLP. Applicants will have completed the academic coursework portion of the eligibility assessment or are actively enrolled in an ACLP endorsed academic program.
Non-U.S. citizen applicants
Admission to Mayo Clinic School of Health Sciences is open to U.S. workers in the four categories below. Therefore, visa sponsorship is not available.
U.S. citizens
U.S. nationals
Lawful permanent residents
Asylees and refugees
Applicants whose primary language is not English must submit results from the Test of English as a Foreign Language Internet-based test (TOEFL iBT). Scores from the speaking portion of the exam are given particular consideration in admission decisions. Learn more about the exam and register online at the Educational Testing Service.
The Mayo Clinic School of Health Sciences code for the TOEFL iBT is 5784.
Educational transcripts from schools outside the U.S. must be translated (if they are not already in English) and evaluated for U.S. equivalence by an accredited credential evaluation service company prior to submission. Please refer to the National Association of Credential Evaluation Services for a list of qualified companies. The applicant pays for the examination and credential-evaluation services.
How to apply
Visit the application portal and follow the steps to apply to the Child Life Specialist Internship at Mayo Clinic's campus in Rochester, Minnesota. Completed applications should be emailed to rstchildlifestu@mayo.edu.
Tuition and financial aid
There is no tuition for the internship.
You are responsible for providing your living accommodations and transportation.
Curriculum
One week of orientation will be followed by two six-week rotations: one in an inpatient setting and the other in an outpatient setting. The remaining three weeks provide opportunities for observation and experience in clinical areas of interest.
The child life student is responsible for:
Planning and implementing therapeutic play activities, both one-to-one and in a group setting
Serving as an advocate for patients and families
Completing comprehensive assessments that support individualized interventions in the context of the family support system
Establishing and maintaining a professional relationship with patients who have diverse needs and backgrounds
Applying theoretical knowledge to daily clinical experiences
Gaining an understanding of the impact of health care encounters on patients and family members and implementing strategies to diminish the impact of medical stressors
Communicating observations of the patient's behavior and interactions with the child life supervisor and relevant members of the health care team
Completing all required reading and assignments
Managing and organizing time, while demonstrating adherence to identified deadlines
Attending and actively participating in educational in-services
In addition, interns participate in educational seminars throughout the 16-week experience. Topics relate directly to practice and service delivery and may include child development theory and the impact of hospitalization, assessment, documentation, and medical play, just to name a few.
Hours
The interns' schedule will match the schedule of their clinical rotation supervisor. Hours will vary depending on the clinical rotation assigned. Evenings and weekends are included in the schedule. Students will be scheduled 40 hours a week of clinical experience with the expectation of completing assignments and projects on their own time.
Accreditation information
The Child Life Specialist Internship is an ACLP accredited internship program.
See accreditation information for Mayo Clinic College of Medicine and Science.