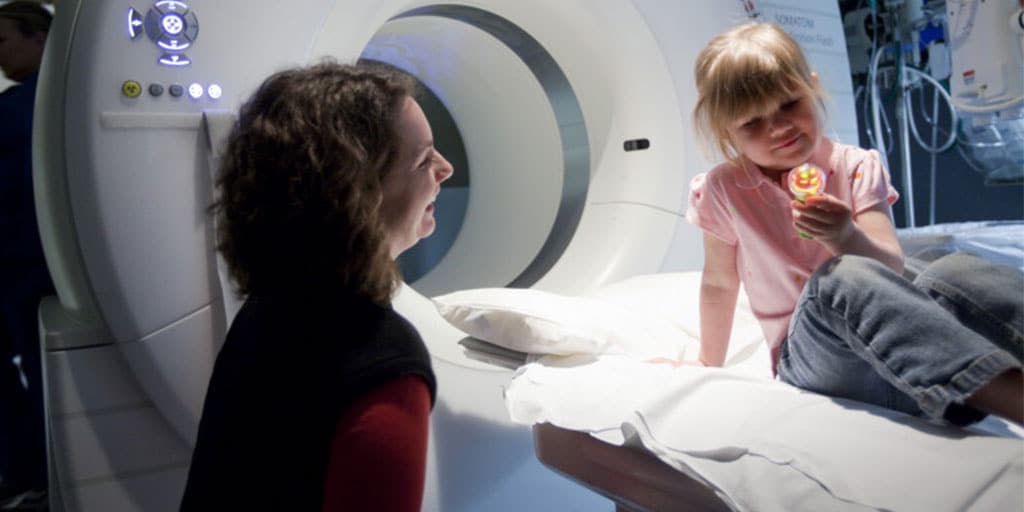 What does a child life specialist do?
Child life specialists are health care professionals who help children and families navigate the process of illness, injury, disability, trauma, or hospitalization. They are an integral part of the health care team, as they provide additional support resources to children and families to help process the often times stressful situation of an illness or injury.
Scope of practice
Work for a child life specialist changes daily and allows for a lot of creativity in developing coping plans. Child life specialists are different from many other health care providers as they focus on the psychosocial needs of the patient, including mental, emotional, and social needs.
The roles and responsibilities of a child life specialist include:
Supporting children and their families by using a variety of tactics to help them better understand a process, procedure, or other element of their medical experience
Developing age-appropriate strategies to minimize trauma and increase understanding of a medical diagnosis through treatments plans using therapeutic play, education, preparation, and activities that promote growth and development
Advocating for the special needs of children and their families
Helping children and their families process and cope with medical situations
Providing information, support, and guidance to parents and family members
Collaborating with the health care team to coordinate and manage care
Non-direct patient care tasks, such as presenting learning opportunities to members of the health care team, coordinating student education, and maintaining therapeutic supplies and activity spaces
Child life specialists are highly involved with patient care and work with children and their families. They also commonly work with social workers, chaplains, nurses, doctors, and other members of the health care staff.
Specializations
Depending on the size of the organization they work in, child life specialists may work with a broad range of patients, or they may work in a particular department where they focus on working with cardiac patients, outpatient surgery patients, emergency department patients, or a patient population with a specific medical diagnosis.
Work environment
Child life specialists primarily work in hospitals, but may also find opportunities working in medical clinics, hospice, dental offices, schools, camps, and potentially even the homes of their patients. Their days are busy and child life specialists are almost always on the go, making rounds to assess patient needs and providing direct interventions to patients and families.
Typically working full time, 40 hours per week, child life specialists most often work Monday through Friday; however, weekend or holiday hours may also be required.
Becoming a child life specialist
Successful child life specialists have a passion for working with children, possess excellent communication skills, and are able to manage the emotional stress that comes with working with children who have life-threatening diseases.
Higher education requirements
Common degree requirements and other prerequisites for child life specialist jobs include:
Bachelor's degree in child life studies (or a related field such as child development, child and family studies, psychology, or early childhood education)
Education requirements as determined from the Association of Child Life Professionals (ACLP)
Previous experience working with children
600-hour child life specialist internship
Certification is organized through the Association of Child Life Professionals (ACLP). Once certified, child life specialists can operate as a certified child life specialist (CCLS).
Career opportunities and outlook
Child life specialists can expect a median salary of $60,380.
The field of child life services began to flourish in the U.S. and Canada in the early 1960s through the pioneering work of Emma Plank and others, who trained with Maria Montessori and used the principles of child development to promote appropriate care for hospitalized children. Before then, it was not uncommon for parents to be barred from the pediatric wards except for brief visitation hours. The Bureau of Labor Statistics expects this profession to grow at an average rate over the next decade.
Today, the special emotional and educational needs of children are acknowledged by providing an environment and programs that recognize family members as integral members of the health care team.
To learn more about this career, the Association of Child Life Professionals is a great resource.
In terms of career advancement, many child life specialists move into management and supervisory roles.
By the numbers
4-6
years of higher education
7%
job growth projected from 2016-2026
Child life specialist program at Mayo Clinic
Mayo Clinic offers a 16-week Child Life Specialist Internship in Rochester, Minnesota, to prepare students for a career as a child life specialist.
Browse similar careers