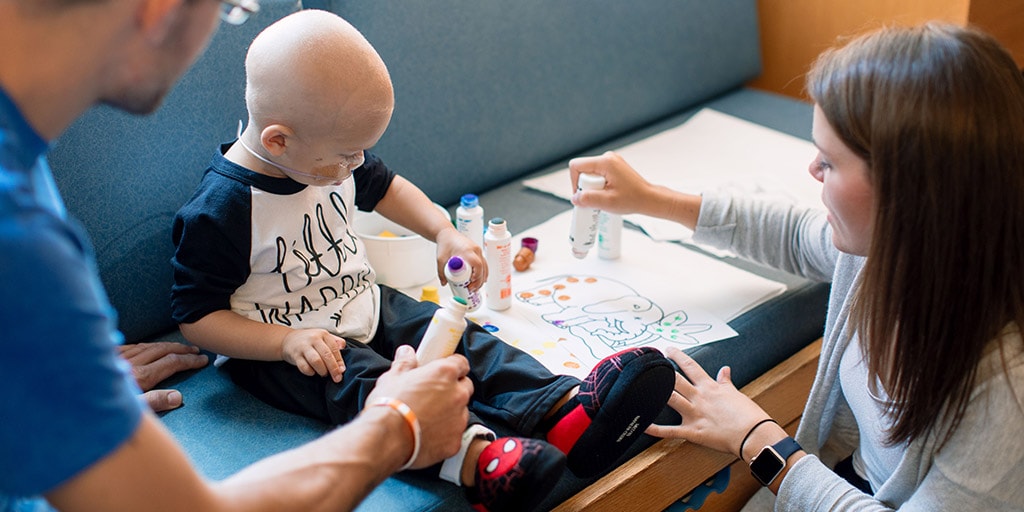 Program overview
Program length: Minimum of 120 hours between the months of May-August
Class size: 2 students
Location: Rochester, Minnesota
The Child Life Specialist Practicum at Mayo Clinic's campus in Rochester, Minnesota, is an introductory experience for individuals interested in pursuing a career as a child life specialist.
Through experiential learning and observation of certified child life specialists, you will begin to increase your knowledge of evidence-based, developmentally-appropriate interventions to reduce fear and anxiety for infants, children, youth, and families as they cope with the stress and uncertainty of illness, injury, and treatment. Through these experiences, you will enhance your knowledge of the child life profession and investigate the process of applying child life and developmental theory to practice.
Schedule and hours
As a child life practicum student, your schedule will mirror the schedule of your assigned Certified Child Life Specialist. Hours assigned could be daytime, evening, weekday, or weekend shifts. Hours will be determined with acceptance to the child life practicum program. Orientation and completion of institutional required policies will be completed prior to the 120 hour practicum experience.
The program is completed within the months of May through August. Two scheduling options will be available:
Option A: Three weeks, 40 hours/week (120 hours)
Option B: Fifteen weeks, 8 hours/week (120 hours)
Prerequisites
To be eligible for the practicum, you must be at least a junior in college or have completed a bachelor's or master's degree with a major in:
Child life
Child development
Human growth and development
Child psychology
Other related fields
Applicants must have minimum of 50 hours of experience with well infants, children, youth, and/or families.
Applicants must have a minimum of 50 hours of experience with infants, children, youth, and/or families in stressful situations, health care settings, and/or programs designed for children with special needs.
Non-U.S. citizen applicants
Admission to Mayo Clinic School of Health Sciences is open to U.S. workers in the four categories below. Therefore, visa sponsorship is not available.
U.S. citizens
U.S. nationals
Lawful permanent residents
Asylees and refugees
Applicants whose primary language is not English must submit results from the Test of English as a Foreign Language Internet-based test (TOEFL iBT). Scores from the speaking portion of the exam are given particular consideration in admission decisions. Learn more about the exam and register online at the Educational Testing Service.
The Mayo Clinic School of Health Sciences code for the TOEFL iBT is 5784.
Educational transcripts from schools outside the U.S. must be translated (if they are not already in English) and evaluated for U.S. equivalence by an accredited credential evaluation service company prior to submission. Please refer to the National Association of Credential Evaluation Services for a list of qualified companies. The applicant pays for the examination and credential-evaluation services.
Application process
Application instructions
All supporting documentation must be received by January 1.
Complete the following steps to apply:
Create an account to begin the online Application for Admission

Select - Mayo Clinic School of Health Sciences
Select - Child Life Specialist Practicum

Complete each section of the application and submit
After submission, view the required Supplemental Items and Documents
Upload each required item in the Supplemental Items section
Additional required items
Unofficial transcripts from all attended institutions

Official transcripts will be required upon acceptance

Documentation of experience - Add to the "Additional Documentation" supplemental item

All hours of experience should be documented utilizing the Verification of Child Life Experience Form
Minimum of 50 hours of experience with well infants, children, youth, and/or families
Minimum 50 hours of experience with infants, children, youth, and/or families in health care settings or stressful situations (such as hospital/child life volunteer, camps for children with chronic illness, programs for children with special needs, advocacy programs, or bereavement/hospice experience)

Child life practicum essay questions - Limit responses to 200 words or less

Explain your understanding of the role of a child life specialist in the healthcare setting.
Describe a time you used play during an interaction with a child or teen.
What have you done to prepare for and increase your knowledge of both the child life profession and this practicum experience?
Why are you interested in Mayo Clinic?
What do you hope to gain from your child life practicum? Please state 2-3 goals.
What sets you apart from other applicants as being a good fit for this educational opportunity?

Resume
If admitted, official copies of all transcripts will be required prior to the start of the program. They must be sent directly from the institution by email to childlife@mayo.edu (preferred) or by postal mail to:
Mayo Clinic Child Life Program
Francis 3C-116
200 First St. SW
Rochester, MN 55905
To confirm receipt of application materials, send your submissions via certified U.S. mail, FedEx, or UPS, all of which provide tracking options.
Curriculum
As instructed by the Association of Child Life Professionals, the child life practicum experience will be a largely observational experience with child life practicum students beginning to engage in independent play and developmentally supportive interventions with infants, children, youth, and families as deemed appropriate by the supervising CCLS.
Learning assignments include:
Reflective journaling
Educational in-services and discussions
Specific structured readings
Personal philosophy of child life statement
Additional assignments focused on individual learning needs may be assigned
The child life practicum includes observation opportunities for you to explore the following theory and interventions related to child life practice: child life assessments, developmental theory integration, therapeutic play interventions, rapport building, procedural preparation, and introducing positive coping techniques.