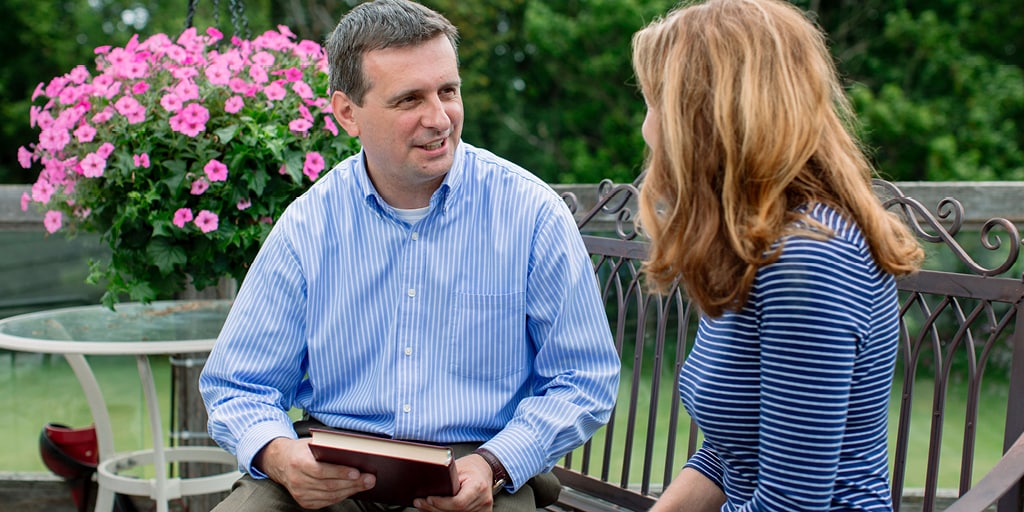 Program overview
Duration: 11 weeks
Class size: 6 students
Location: Rochester, Minnesota
The Clinical Pastoral Education Internship at Mayo Clinic's campus in Rochester, Minnesota, is an 11-week intensive program that provides one unit of clinical pastoral education. Each year, Mayo Clinic School of Health Sciences admits up to six individuals to this internship. They are supervised by an Association for Clinical Pastoral Education (ACPE) certified educator.
The unit provides at least 400 hours of supervised clinical education and fulfills all of the necessary accreditation standards.
To be eligible to apply for the Clinical Pastoral Education Internship Program, you must:
Have a high school diploma. A college degree and some theological education from a CHEA or an ATS accredited institution is preferred. Current seminary students, as well as local pastors, are urged to apply. Members in a religious order may also be considered.
Show motivation for clinical pastoral education training and the health care ministry.
Demonstrate the potential for advanced training.
Have clearly defined educational objectives for the experience.
Have a faith group endorsement or recommendation from a local faith community's spiritual leader.
Upon successful completion of the Clinical Pastoral Education Internship, you will receive a certificate of completion from Mayo Clinic School of Health Sciences.
Application process
Up to six individuals are accepted on a competitive basis each year for the Clinical Pastoral Education Internship. The program begins in early June and continues through mid-August of the same year.
Our 2020 summer internship is full as of March 16, 2020.
Applications are reviewed on a rolling basis beginning in October for the following June.
Applicants will need to complete items 1-11 in the ACPE application which will be uploaded as one document to your CPE Internship application.
How to apply
1. Create an account. Prior to submission an application, you must create an account. Note the following as you create an account and begin completing an application.
On the Create an Account page:

For School of Study → School of Health Sciences
For Location → Rochester, MN
For Area of Interest → Clinical Pastoral Education Internship
For Start Date → Choose date
For Entry Term → Select term available

On the My Account page:

Scroll down to Next Steps → select "Start an Application"

On the Online Application page:

Verify that the program listed is what you want
Click "Continue with Application Selected Above"

On the Application Listing page:

Select "Start a New Full Application"
2. Online application. The sections below are located in the application. You may complete them in order or click on the section you want on the left.
Program of interest:

Review populated data for accuracy
Complete "Reapplying and Education Completed" questions

Personal information:

Review populated data
Complete any other fields
If you didn't enter an address or phone number before, you will be required to enter it now

Demographic data:
Education:
Employment:
Standardized testing:

Please input information regarding the ACT, SAT, and/or GRE as they apply to you. Please check your program website to see if these are required.

Professional licensing and registration:

Enter any professional licenses you hold

Essay:
Signature and submit:

Certify and sign your application
Submit your application
3. Complete the recommendations/supplemental items. After submitting the application, click "Click here to upload program-specific supplemental item(s)."
Upload your completed ACPE application with all responses (1-11) as one document.
If you do not complete these at the time of submission, please visit your "My Account" page and navigate to your application for a link to complete.
Interviews and acceptance
The selection committee carefully reviews each application and the accompanying documentation. Individuals considered for an appointment are interviewed.
Tuition and benefits
Tuition is $750 for the Clinical Pastoral Education Internship.
This position is not eligible for Mayo Clinic's benefit package.
Living expenses such as transportation, housing, and meals are the responsibility of the intern.
Curriculum
The Clinical Pastoral Education Internship offers:
Small group participation and learning three to four days a week
Weekly individual supervision
Daily opportunities for pastoral ministry on patient units as well as on-call clinical experiences
An opportunity to lead worship and preach for the interfaith services at both hospitals
Daily opportunities for dialogue and collaboration with the interdisciplinary team on your assigned unit
Teaching, preaching, and faith community leadership experiences
You will participate in daily interdisciplinary rounds in the morning and in educational groups in the afternoons.
Reflection on clinical experiences will help you develop and increase your pastoral assessment skills, listening and responding skills, and your competence in delivering pastoral interventions and strategies. Opportunities for mentoring and collaboration exist with staff chaplains and other members of the interdisciplinary healing team.
Didactic training
Clinical presentations, seminars, and small group discussions are integral parts of the program. Lectures and seminars are given by staff chaplains and certified educators, as well as interdisciplinary guest faculty. There are opportunities for one or two didactic seminars a week.
Curriculum topics are determined by the objectives of APCE Level I and Level II outcomes. Below you will find a list of subjects that are planned for the summer unit.
Listening and spiritual reflection skills
Developing a theological framework for spiritual care
Spiritual needs assessment
Theodicy
Epic electronic medical record charting
Medical ethics
Family systems
Group dynamics
Ministry with the mentally ill
Ministry with pediatric patients
Simulation lab — on-call scenarios
Ministry in a multi-faith context
Rotations
First-time interns usually serve on general medical units, as well as serving in the on-call rotation that gives them experience throughout the hospital. Interns with previous Clinical Pastoral Education units may serve on service lines commensurate with their skill level. Some of those more specialized units include:
Addictions
Cardiology
Emergency trauma care
Gynecology
Hematology
Hospice
Intensive care units
Long-term rehabilitation
Neurology
Oncology
Pediatrics
Psychiatry
Surgery
Transplantation
Hours
The internship requires 40 hours a week. Around 10 hours are spent in small group, individual supervision, and didactic work, with the remaining 30 hours committed to clinical work including visitation of patients, leadership of worship, and weekly on-call rotations. Each intern is assigned to work with a board-certified staff chaplain.
Grading or evaluation
Mayo Clinic School of Health Sciences uses student evaluative tools that include:
Clinical reflections
Demonstration of skills
Self-assessment exercises
Faculty feedback
Evaluation of the ministry experience occurs during group sessions. Each week, you will summarize your learning in writing and review your observations in "process notes" that will be shared with your supervisor. At final evaluations, students and supervisors write written ACPE accredited appraisals. Ample opportunity is given for you to evaluate progress on your learning goals.
Mayo Clinic's system of evaluation provides students and faculty with a comprehensive look at individual performance. This allows faculty and administrative staff to direct students who are experiencing academic difficulty to the appropriate support resources, including tutoring programs and counseling opportunities.
Faculty
This internship draws primary program faculty from certified supervisors credentialed by the Association for Clinical Pastoral Education and/or the National Association of Catholic Chaplains.
The adjunct faculty also includes staff chaplains in the Department of Chaplain Services and presenters from Mayo Clinic's clinical, scientific, and technical staffs. They are chosen for their commitment to teaching, as well as clinical practice and research.
Mayo Clinic is a large academic medical center with numerous renowned clinical instructors. Many faculty members have published and lectured extensively and are highly regarded in their fields. Interns have direct access to these individuals throughout the training program. This gives trainees the opportunity to learn directly from some of today's best clinical pastoral education practitioners.
Many prominent professors visit Mayo Clinic each year to lecture on their areas of medical and scientific expertise. You are encouraged to attend all relevant conferences, lectures and seminars prepared for students, interns, residents, fellows, and consulting staff.
Accreditation
The Clinical Pastoral Education Internship is accredited by the Association for Clinical Pastoral Education (ACPE)
This accrediting agency has authorized Mayo Clinic Hospital — Rochester, Methodist Campus and Mayo Clinic Hospital — Rochester, Saint Marys Campus, to carry on training programs under its auspices. The programs undergo annual evaluations and an intensive re-accreditation process regularly.
Mayo Clinic's Clinical Pastoral Education Internship is accredited to offer Level I ACPE training.
See accreditation information for Mayo Clinic College of Medicine and Science.