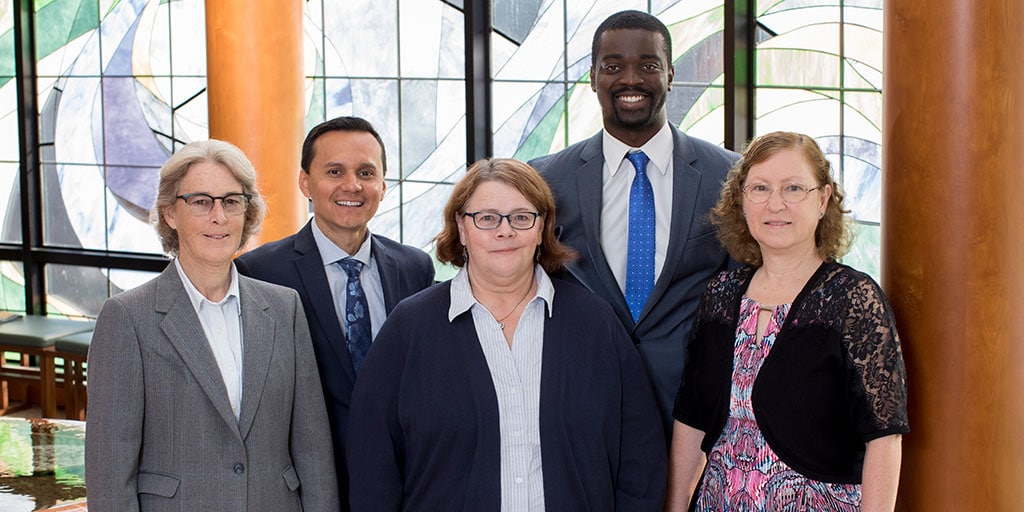 Program overview
Program length: 11 weeks
Class size: 6 students
Location: Rochester, Minnesota
The Clinical Pastoral Education (CPE) Summer Internship is an 11-week intensive, 400+ hour course that includes didactic/group process time and clinical work designed to introduce seminarians and graduates to the fine art of providing spiritual care in the hospital setting. Interns earn one unit of ACPE Clinical Pastoral Education. They are supervised by an Association for Clinical Pastoral Education (ACPE) certified educator.
The unit provides at least 400 hours of supervised clinical education including at least 100 hours of didactic/group process time and 300 hours of clinical work with patients, families and staff, fulfilling all the necessary accreditation standards for a unit of ACPE CPE.
Graduation and certification
Upon successful completion of the Clinical Pastoral Education Internship, each student receives a certificate of completion from Mayo Clinic School of Health Sciences and one CPE unit is duly registered with ACPE.
Application process
Up to six individuals are accepted on a competitive basis each year for the Clinical Pastoral Education Internship. Applications are accepted beginning Sept. 1 with a March 31 deadline for the program start date in May. Acceptance to the program is on a hybrid rolling admission and early applications are encouraged.
Prerequisites
To be eligible to apply for the Clinical Pastoral Education Internship Program, you must:
Have a high school diploma. A college degree and some theological education from a CHEA or an ATS accredited institution is preferred. Current seminary students, as well as local pastors, are urged to apply. Members in a religious order may also be considered.
Show motivation for clinical pastoral education training and the health care ministry.
Demonstrate the potential for advanced training.
Have clearly defined educational objectives for the experience.
In order to establish a cohort that reflects both the organization Mayo Clinic seeks to be and the patients we serve, Mayo Clinic School of Health Sciences Clinical Pastoral Education especially encourages applications from students who belong to any of the following groups:
First-generation college graduates
Black or African-American
Hispanic or Latino
American Indian or Alaska Native
Native Hawaiian or U. S. pacific Islander
All faith traditions
All gender orientations
Non-U.S. citizen applicants
Admission to Mayo Clinic School of Health Sciences is open to U.S. workers in the four categories below. Therefore, visa sponsorship is not available.
U.S. citizens
U.S. nationals
Lawful permanent residents
Asylees and refugees
Applicants whose primary language is not English must submit results from the Test of English as a Foreign Language Internet-based test (TOEFL iBT). Scores from the speaking portion of the exam are given particular consideration in admission decisions. Learn more about the exam and register online at the Educational Testing Service.
The Mayo Clinic School of Health Sciences code for the TOEFL iBT is 5784.
Educational transcripts from schools outside the U.S. must be translated (if they are not already in English) and evaluated for U.S. equivalence by an accredited credential evaluation service company prior to submission. Please refer to the National Association of Credential Evaluation Services for a list of qualified companies. The applicant pays for the examination and credential-evaluation services.
Application timeline
| Application window | Program start date | Apply |
| --- | --- | --- |
| Sept. 1 - March 31 | May 28, 2024 | Online application |
How to apply
Complete the following steps to apply:
Create an account to begin the online Application for Admission

Select – Mayo Clinic School of Health Sciences
Select – Clinical Pastoral Education Internship

Complete each section of the application and submit
After submission, view the required Supplemental Items and Documents

Upload each required item in the Supplemental Items section
Additional required items
CV/resume
Applicants will need to complete items 1-11 in the ACPE application and a signed Use of Clinical Materials Consent Form which will be uploaded as one document to your CPE Internship application. Upload your completed ACPE application with all responses (1-11) as one document. If you have difficulty uploading documents, after the online application is submitted, applicants may email the ACPE application documents to mccm@mayo.edu.
Interviews and acceptance
The selection committee carefully reviews each application and the accompanying documentation. Individuals considered for acceptance are interviewed.
Tuition and financial aid
Tuition for the CPE Internship is $500, with $250 non-refundable deposit due three weeks after acceptance to hold a place in the group. This position is not eligible for Mayo Clinic's benefit package.
Living expenses
Living expenses such as transportation, housing, and meals are the responsibility of the resident. Some nearby housing is available on a month-by-month basis.
Curriculum
Clinical training
The Clinical Pastoral Education Internship offers:
10-12 hours small group didactic and small group process weekly
One-hour weekly individual supervision
Clinical work on assigned units, with orientation and mentoring by a Board Certified Chaplain
Daily opportunities for pastoral ministry on patient units as well as on-call clinical experiences
Daily opportunities to work with the Interdisciplinary Team for student's unit
Reflection on clinical experiences helps students become more self-aware, develop and increase their listening skills, spiritual assessment skills, and their competence in providing meaningful interventions. Through this transformative process, students find and claim their pastoral identity and authority. Experienced staff chaplains and other members of the interdisciplinary healing team provide opportunities for mentoring and collaboration. Interns are assigned to one or two general medicine floors each summer.
Didactic training
Clinical presentations, seminars, and small group process are integral parts of the Clinical Pastoral Education Internship. Lectures and seminars are given by staff chaplains, interdisciplinary team members, and Certified Educators, as well as guest faculty. There are opportunities for one or two didactic seminars a week after orientation is complete.
Curriculum topics are:
Listening skills
Theological reflection
Theodicy (why bad things happen)
Pastoral identity
On-call scenarios in the state-of-the-art medical simulation center
Enneagrams
Family systems
Genograms
Medical ethics
End of life care and grief
Opportunity to lead worship or offer meditation for morning huddle
Rotations
In general, interns are assigned to general medicine floors, but could be called to any place in the hospital while on-call. Clinical experiences may include:
Cardiology
Cancer
Gynecology
General Internal Medicine
Hematology
Dialysis
Hospice
Intensive care
Long-term rehabilitation
Neurology
Oncology
Pediatrics
Psychiatry
Surgery
Transplantation
Addictions
Curriculum enhancements
Mayo Clinic School of Health Sciences is committed to developing and maintaining the best education programs. The curriculum and other aspects of this program are assessed constantly and changed as necessary to ensure the highest quality training.
For the majority of the classroom instruction, the learning schedule includes eight-hour days, five days a week. Variations come from the on-call schedule which requires evening and weekend shifts.
Interns work with Mayo's Spiritual Care Department staff to provide on-call ministry for the inpatient and outpatient services of Mayo Clinic. Trainees participate in all service shifts, including days, evenings, nights, and weekend on-call coverage. Worship and preaching opportunities are an optional part of the weekend schedule.
The Clinical Pastoral Education Internship at Mayo Clinic's campus in Rochester, Minnesota, draws primary program faculty from certified educators credentialed by the Association for Clinical Pastoral Education. The adjunct faculty also includes staff chaplains in the Spiritual Care Department and presenters from Mayo Clinic's clinical, scientific, and technical staffs. They are chosen for their commitment to teaching, as well as clinical practice and research.
Mayo Clinic is a large academic medical center with numerous renowned clinical instructors. Many faculty members have published and lectured extensively and are highly regarded in their fields. Interns have direct access to these individuals throughout the training program. This gives trainees the opportunity to learn directly from some of today's best clinical pastoral education practitioners.
Visiting professors and lecturers
A hallmark of higher education excellence is the breadth and depth of information and experience provided to students by faculty and visiting experts. Many prominent professors visit Mayo Clinic each year to lecture on their areas of medical and scientific expertise. Students at Mayo Clinic School of Health Sciences are encouraged to learn from these valuable resources by attending relevant conferences, lectures and seminars prepared for students, interns, residents, fellows and consulting staff.
Accreditation
The Clinical Pastoral Education Residency and Internship are accredited by Association for Clinical Pastoral Education (ACPE), the gold standard in CPE.
This accrediting agency has authorized Mayo Clinic Hospital, Methodist Campus, and Mayo Clinic Hospital, Saint Marys Campus, to carry on training programs under its auspices. The programs undergo annual evaluations and an intensive re-accreditation process regularly.
Mayo Clinic's Clinical Pastoral Education Residency is accredited by ACPE to offer Level I and Level II CPE training as well as Certified Educator Training.
See accreditation information for Mayo Clinic College of Medicine and Science.