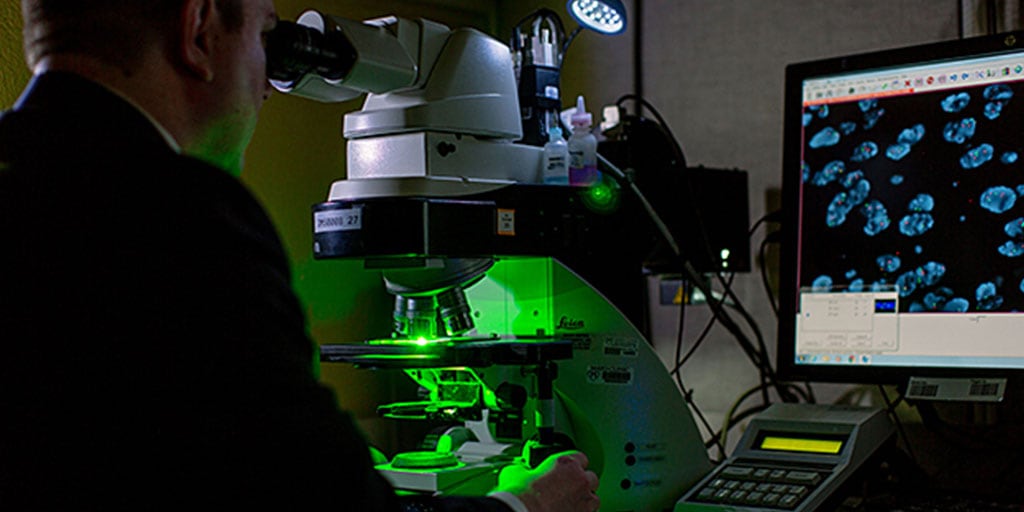 Program overview
Program length: 12 weeks
Class size: 1-2 students
Location: Rochester, Minnesota
This internship prepares you for a career in a cytogenetic laboratory. To be eligible for the internship you must be a diagnostic genetics student at Northern Michigan University.
You obtain a bachelor's degree in diagnostic genetics by completing seven semesters of coursework at Northern Michigan University and a 12-week practicum in the Genomics Laboratory on the Mayo Clinic campus.
Graduation and certification
After successfully completing this internship, you receive a certificate of completion from Mayo Clinic School of Health Sciences.
Students from Northern Michigan University are eligible to receive a bachelor's degree in diagnostic genetics and to become a certified Technologist in Cytogenetics, CG(ASCP), by taking the certification exam through the American Society for Clinical Pathology Board of Certification.
Non-U.S. citizen applicants
Admission to Mayo Clinic School of Health Sciences is open to U.S. workers in the four categories below. Therefore, visa sponsorship is not available.
U.S. citizens
U.S. nationals
Lawful permanent residents
Asylees and refugees
Applicants whose primary language is not English must submit results from the Test of English as a Foreign Language Internet-based test (TOEFL iBT). Scores from the speaking portion of the exam are given particular consideration in admission decisions. Learn more about the exam and register online at the Educational Testing Service.
The Mayo Clinic School of Health Sciences code for the TOEFL iBT is 5784.
Educational transcripts from schools outside the U.S. must be translated (if they are not already in English) and evaluated for U.S. equivalence by an accredited credential evaluation service company prior to submission. Please refer to the National Association of Credential Evaluation Services for a list of qualified companies. The applicant pays for the examination and credential-evaluation services.
Application process
Applicants are selected based on grades, work, and volunteer experiences, leadership qualities, and representation of personal qualities and skills in a personal letter.
Application instructions
Complete the following steps to apply:
Create an account to begin the online Application for Admission

Select - Mayo Clinic School of Health Sciences
Select - Cytogenetic Technology Internship

Complete each section of the application and submit
After submission, view the required Supplemental Items and Documents

Upload each required item in the Supplemental Items section
Complete the Recommendation Request section
Additional required items
Essay is to include a statement of your personal goals and then be uploaded in the Supplemental Items section.
Two letters of recommendation are required and must be completed in the Recommendation Request section. Each recommender will receive an email with a link to complete a rating form and upload a letter.

Professional: Choose individuals who are familiar with your professional qualifications and your potential for success in the field of cytogenetic technology. References may include individuals who are/were an authority figure in your current/previous schooling or place of employment (i.e. supervisor, teacher).

Official transcripts must be provided directly from the institution(s).

Electronic official transcripts are preferred and should be sent to mccm@mayo.edu.
Paper official transcripts can be mailed to:

Mayo Clinic School of Health Sciences
Attn: Amy Koenigs
Mayo Clinic
Siebens Building, 5th Floor, Room D-E
200 First St. SW
Rochester, MN 55905
Interview and acceptance
The selection committee carefully reviews each application. Individuals considered for acceptance complete a personal interview — either in-person or via phone or video.
Tuition and financial aid
Northern Michigan University pays Mayo Clinic School of Health Sciences $1,000 per student for clinical rotation tuition sharing before you begin your internship. You pay all tuition to Northern Michigan University.
Students are responsible for their own living accommodations and transportation. You may hold outside employment during the training program if it does not conflict with your program responsibilities. Work study, performed in the Genomics Laboratory (cytogenetics), may be available. Contact the program director if interested.
Curriculum
You are assigned hands-on rotations with specific assays and techniques practiced in the field and unique to the Mayo Clinic Genomics Laboratory. During the program, learning experiences allow you to observe or perform:
Specimen cell culture and harvest
Congenital chromosome analysis
Hematologic chromosome analysis
Fluorescence in situ hybridization (FISH) sample analysis
Chromosomal microarray analysis
New, cutting-edge molecular cytogenetic techniques
Hours
During the internship, the learning schedule is Monday through Friday, with hours varying based on rotation.
Accreditation information
The diagnostic genetics program at Northern Michigan University is accredited by the National Accrediting Agency for Clinical Laboratory Sciences (NAACLS).
See accreditation information for Mayo Clinic College of Medicine and Science.