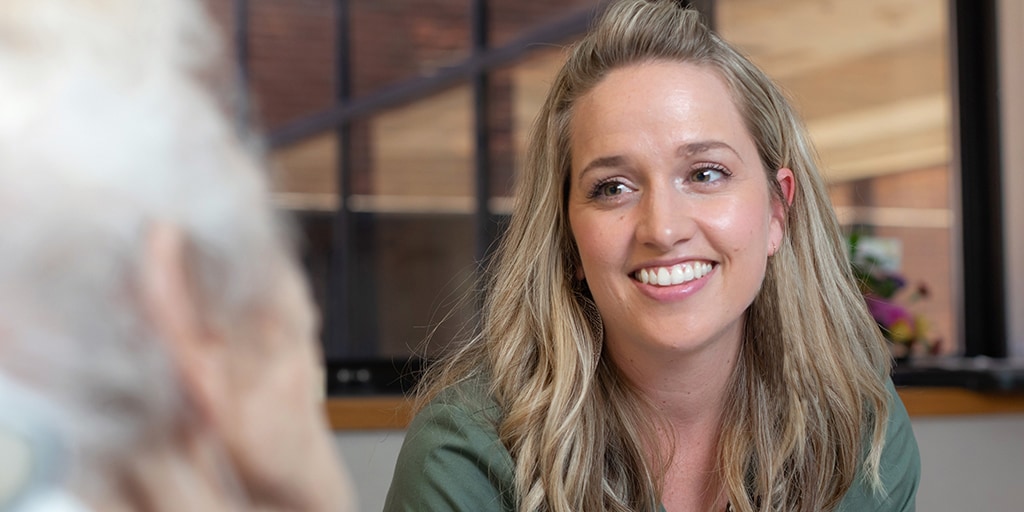 Program overview
Program length: 11 months
Class size: 8 students
Location: Rochester, Minnesota
This internship prepares graduates to enter the field as competent registered dietitians with an expertise in medical nutrition therapy. The emphasis on medical nutrition therapy is due to the high acuity level and complexity of care required by our patients. This internship prepares students to work in hospitals, clinics, public health agencies, and food service management.
The program begins the first week in October.
Application process
Applicants are selected based on a culmination of grades (GPA of 3.0 or higher on a 4.0 scale), work and volunteer experiences, leadership qualities, and representation of personal qualities and skills in a personal statement and phone interview.
We are looking for well-rounded applicants who can work well with clients and staff, in addition to being able to learn quickly and maintain previously taught information.
Prerequisites
To be eligible for the internship, you must have:
A bachelor's or advanced degree from an accredited college or university with a major in nutrition and food science or dietetics that meets the Accreditation Council for Education in Nutrition and Dietetics approved coursework requirements established by the Academy of Nutrition and Dietetics.
A verification statement completed by a didactic program director.
Completed Didactic Program in Dietetics (DPD) course requirements within the last five years. Additional coursework may be required if your degree was completed more than five years ago.
Requirements and process to become an RDN
The Commission on Dietetic Registration (CDR) establishes the requirements for eligibility to take the CDR credentialing examination for dietitian nutritionists. Current requirements consist of academic preparation (minimum of a bachelor's degree at a U.S. regionally accredited university of college or foreign equivalent) and completion of coursework and supervised practice in programs accredited by the Accreditation Council for Education in Nutrition and Dietetics (ACEND). Effective Jan. 1, 2024, the CDR will require a minimum of a master's degree to be eligible to take the credentialing exam to become a registered dietitian nutritionist (RDN).
Verification of academic and didactic requirements is necessary for entry in Mayo Clinic's Dietetic Internship in Rochester. Completion of the internship enables the student to meet the CDR requirement of completing an ACEND-accredited supervised practice. Graduates who successfully complete the ACEND-accredited dietetic internship at Mayo Clinic Rochester are eligible to apply to take the CDR credentialing exam to become a RDN. Graduates should contact their state dietetic affiliate for information regarding licensure for that state.
For more information about educational pathways to become a RDN, visit the Academy of Nutrition and Dietetics' website.
How to apply
The Mayo Clinic Dietetic Internship participates in the Dietetic Internship Centralized Application Services (DICAS). For more information, email DICASinfo@DICAS.org.
Online application. The online application must be completed for our program by 11:59 p.m. Central time on the date assigned by the Accreditation Council for Education in Nutrition and Dietetics (ACEND). The fee to use the DICAS is $50 for the first designation submitted and $25 for each additional designation.
Supporting documentation. Complete the following:

Transcripts. Official transcripts from every U.S. and Canadian institution attended should be sent directly from the university to the DICAS. Transcript request forms can be found on the DICAS website.
Personal statement. The DICAS application to the internship requires completion of a personal statement in 1,000 words or fewer. Items to be addressed include:

Reasons for entering the dietetics profession
Experiences that have helped to prepare you for your career
Short-term and long-term goals
Strengths and weaknesses or areas needing improvement
Other information you consider important for the selection decision

Letters of recommendation. Applicants must submit three letters of recommendation:

Two from instructors of courses in nutrition or dietetics
One from an employer who supervised paid or volunteer work

The DICAS service allows you to request letters from your recommenders, who will then upload their letters directly to the service. Our program does not require supplemental materials.

Match registration and interviews. Appointments to the Dietetic Internship are made through the Academy of Nutrition and Dietetics computerized internship match. All candidates must register online through D&D Digital, pay the $55 computer match fee by credit card, and enter their contact information and dietetic internship preferences by the deadline to participate in the April match.

Refer to the D&D Digital website for the exact dates and to register for a match:

D&D Digital
3100 S. Riverside Drive
P.O. Box 887
Ames, IA 50010
Phone: 515-292-0490
Email: dnd@sigler.com
Interviews
Completed applications are evaluated by a Mayo Clinic internship selection committee, which determines whether Mayo's application criteria have been met. Candidates considered for acceptance are contacted to schedule a telephone interview with a member of Mayo Clinic's internship selection committee. Interviews last approximately 30 to 45 minutes.
Acceptance
Applicant matching results are posted on the D&D Digital website on the notification day. You must telephone or email the Dietetic Internship program director by 6 p.m. Central time of the appointment day to accept or reject the computer match. Please refer to the D&D Digital website for the exact dates.
Tuition and financial aid
For 2020-2021 program tuition is $325 per credit. There are 33 credits in the program. The estimated tuition and fees for the full program are $10,725.
Total estimated cost of attendance
$10,725 — tuition and fees
$83* — other expenses
$19,808 — total estimated cost of attendance**
Other mandatory expenses
$58 — dues for Academy of Nutrition and Dietetics student membership
$25 — registration for Minnesota Academy of Nutrition and Dietetics Legislative Day
Personal automobile liability insurance
Personal health insurance
*Plus your insurance costs.
**Program tuition rates, fees, and related expenses are subject to change. These estimated expenses represent a good faith effort to disclose the true costs of attendance.
Although outside employment is discouraged, you may be employed on a supplemental basis as long as it doesn't interfere with the training program and your academic and clinical performance is satisfactory.
Financial aid
Mayo Clinic School of Health Sciences offers financial incentives for students to participate in many of its health sciences training programs. Scholarships, grants, and low-interest loans may be available for those who demonstrate financial need.
The can provide more details about financial aid or incentives offered for the Dietetic Internship.
Estimated cost of living (Rochester, Minnesota)
Living expenses, such as housing, transportation and meals, are the student's responsibility. These expenses are not paid to the school but are considered for purposes of processing financial aid, when applicable.
$1,000 to 1,500 a month — rent and utilities (two-bedroom apartment)
$250 a month — personal expenses
$220 a month — food
$110 a month — transportation
You must have access to an automobile, as several community learning experiences require transportation. You are responsible for the cost of transportation and must have personal auto liability insurance.
Curriculum
Learning experiences and rotations
The Dietetic Internship prepares you for professional practice in hospitals, clinics, public health agencies and food service management.
Learning experiences
During this program, learning experiences allow you to:
Assess the nutritional status of patients with complex medical conditions; diagnose nutrition problems; plan and implement nutrition interventions; and monitor and evaluate problems, etiologies, signs and symptoms, and the impact of nutrition interventions
Establish collaborative relationships with patients, caregivers and health professionals
Use effective education and counseling skills to facilitate behavior change
Develop time management and critical thinking skills
Function as the clinical staff dietitian in various areas to assess nutritional status and to develop and implement an appropriate care plan for each client
Provide nutritional care for individuals and groups in community-based settings
Develop and provide food and nutrition services in a health care setting
Perform management functions related to safety, security and sanitation that affect employees, customers, patients and food
Demonstrate and promote responsible use of resources, including employees, money, time, food and disposable goods
Select and design a learning experience in a special interest area of dietetics
Rotations
Each week, you'll spend 36 hours in supervised practice rotations and four hours in didactic classes during October through May. Between June and August, you spend 40 hours each week in supervised practice rotations.
The rotation schedule includes:
General Orientation - 2 weeks
Medical Nutrition Therapy Core Experience (Module 1) - 9 weeks

Consists of three week rotations in three of these areas: Neurology, General Surgery, Cardiac, Oncology, Colorectal Surgery, and Gastroenterology

Medical Nutrition Therapy Advanced Experience (Module 2) - 13 weeks

Consists of all of these areas: diabetes, trauma, thoracic surgery, nutrition support, renal, pediatrics, outpatient clinic, and research

Clinical Staffing Experience – 6 weeks
Clinical Management – 1 week
Self-Selected Experience - 1 week
Community – 7 weeks

Consists of a selection from these areas: WIC, school lunch, skilled nursing home, community hospital, and grocery store

Food Service Management – 5 weeks
Vacation – 3 weeks
Total of 47 weeks = 44 weeks (learning experiences) + 3 weeks (vacation)
Dietetic Internship Schedule (sample)
Rotations to other sites
Through the community service rotations, you have the opportunity to work with people of different ages and socioeconomic conditions. There are placements in public schools; skilled nursing facilities; Women, Infants and Children (WIC); and area community hospitals and clinics.
Schedule
For the majority of the internship, your learning schedule includes eight-hour days, five days a week. While the regular workweek is usually 40 hours, additional projects and homework are assigned. The program is a full-time commitment for class and clinical work. You work primarily weekdays. However, you may be required to work three to four weekends and holidays throughout the year as established for learning experiences. Hours vary depending on the work experience. No credit is given for previous work experience.
Didactic coursework
Weekly classes cover current nutrition and dietetics-related knowledge and principles to supplement the supervised practice learning experiences. Lectures, workshops, in-service training, case studies, field trips and informal discussions will help you pass the Academy of Nutrition and Dietetics registration examination.
As an intern, you also present nutrition programs to community audiences, which increases your skills in public speaking and working with community groups.
Vacation and holidays
During your internship, you are granted two weeks of vacation around the Christmas and New Year holidays as well as one week of vacation in the spring. You work two holidays a year.
Facilities
Mayo Clinic's campus in Rochester, Minnesota, includes an extensive outpatient complex, Mayo Clinic Hospital — Rochester, and substantial research and education facilities. This Mayo Clinic site is among the largest, most advanced medical centers in the world.
Primarily, education for this internship is conducted at Mayo Clinic Hospital, Saint Marys Campus, a 1,265-bed facility that was founded in 1889. Within the Saint Marys Campus is the 85-bed Mayo Eugenio Litta Children's Hospital. Interns also have rotations at Mayo Clinic outpatient facilities and Mayo Clinic Hospital, Methodist Campus.
Faculty
The Dietetic Internship is coordinated and taught by the medical and dietetic staff of Mayo Clinic with assistance from community-based dietitians. Faculty members are chosen for their commitment to teaching, as well as their clinical practice and research. Many have published and lectured extensively and are highly regarded in their fields. You have direct access to these individuals throughout your training, giving you the opportunity to learn from some of today's best dietetics practitioners.
Brenda Sanderson, M.S., RDN, LD
Interim Program Director
Brenda graduated from Miami University in Oxford, Ohio, and completed her dietetic internship at Virginia Tech, Roanoke campus. She received her master's degree in Human Nutrition in 2006 from the University of Bridgeport, Bridgeport, Connecticut. She has been the program director for the Dietetic Internship in Rochester since December 2020.
In addition to overseeing the Dietetic Internship, Brenda provides medical nutrition therapy to adult patients at Mayo Clinic Hospital — Rochester, Saint Marys Campus. She also enjoys precepting and holds the academic rank of assistant professor of nutrition.
Visiting professors and lecturers
A hallmark of higher education excellence is the breadth and depth of information and experience provided to you by faculty and visiting experts. Each year, many prominent professors visit Mayo Clinic to lecture in their areas of medical and scientific expertise.
As a student at Mayo Clinic School of Health Sciences, you are encouraged to learn from these valuable resources by attending all relevant conferences, lectures, and seminars prepared for students, interns, residents, fellows, and consulting staff.
Graduation and certification
Grading and evaluation
Mayo Clinic School of Health Sciences uses these evaluative tools:
Written examination
Demonstration of skills
Self-assessment exercises
Faculty reviews
Mayo Clinic's system of evaluation provides students and faculty with a comprehensive look at individual performance. This allows faculty and administrative staff to direct students who are experiencing academic difficulty to the appropriate support resources, including tutoring programs and counseling opportunities.
Program completion
After successfully completing your 1,519 supervised practice hours, you receive a certificate of completion from Mayo Clinic School of Health Sciences and a verification statement that allows you to take the professional registration exam administered by the Commission on Dietetic Registration (CDR).
Internship program graduation requirements
Complete 44 weeks of practicum experience and classes
Satisfactorily complete all assignments, projects, and requirements of each rotation
Reach or surpass the minimum passing grade of 80 percent on post-tests and case studies
Achieve at least a "competent" rating on rotation performance evaluations based on established criteria
Attend all required classes and conferences scheduled throughout the year
It is the student's personal responsibility to be aware of and to understand all assignments and requirements of the program and to achieve those requirements before graduation. Students who have not satisfactorily completed the graduation requirements may be required to stay for a longer period of time or to complete additional assignments.
Graduates will be eligible to take the Registration Examination for dietitians after receiving a verification statement of successful completion of the internship program from the program director. Eligible candidates are submitted through REPS (Registration Eligibility Processing System) to CDR within one week following the graduation date. Interns are responsible for submitting their demographic data online during the last week of the program. Thereafter, candidates will receive authorization to take the exam.
Accreditation information
The Dietetic Internship at Mayo Clinic's campus in Minnesota is accredited by the Accreditation Council for Education in Nutrition and Dietetics (ACEND) of the Academy of Nutrition and Dietetics.
Accreditation Council for Education in Nutrition and Dietetics (ACEND)
Mission and program goals
Mission of the Dietetic Internship program
Provide a high-quality training program which prepares graduates to enter the field as competent entry-level registered dietitian nutritionists who participate in professional activities and have expertise in medical nutrition therapy.
Program goals
Goal 1: Prepare graduates to be competent entry-level dietitian nutritionists who can practice in a variety of settings.
At least 80% of program students complete the program requirements within 16.5 months (150% of the program length)
85% of program graduates take the CDR exam for dietitian nutritionists within 12 months of program completion
The program's one year pass rate (graduates who pass the registration exam within one year of first attempt) on the CDR credentialing exam for dietitian nutritionists is at least 80%
Of graduates who seek employment, 70% are employed in nutrition and dietetics or related field within 12 months of graduation
80% of graduates rate themselves as prepared for entry-level practice on one-year post-graduate surveys
Goal 2: Prepare dietitian nutritionists with knowledge and skills in medical nutrition therapy.
80% of graduates in entry-level clinical dietitian nutrition positions rate themselves as competent on one-year post-graduate surveys
Goal 3: Prepare graduates who recognize the need to continue their education and participate in professional and community organizations.
80% of graduates will continue their education and/or be involved in nutrition-related professional/community organizations within 3 years of graduation
Annual program evaluation and outcome data are available on request by contacting the internship director.