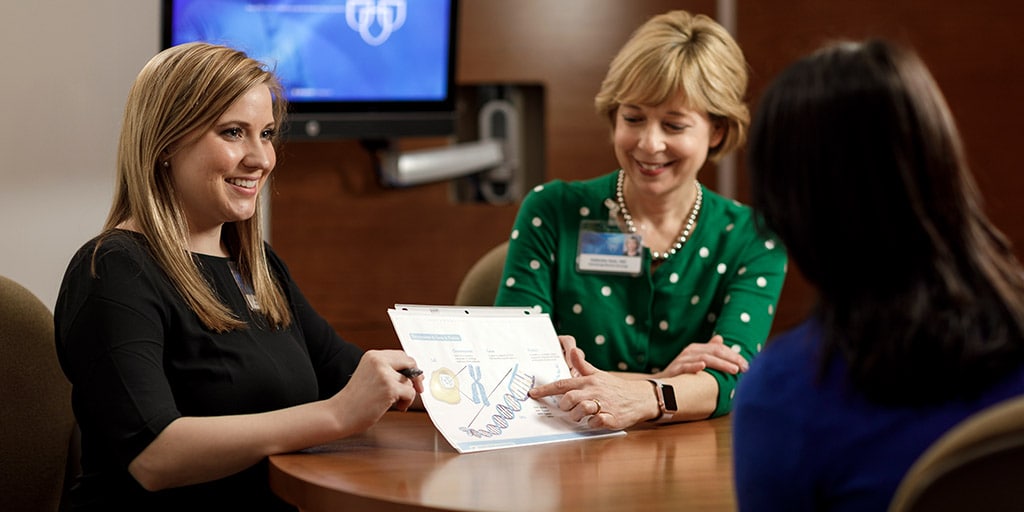 Program overview
Program length: 2 weeks
Class size: 6 students a year
Location: Rochester, Minnesota
This internship gives students direct exposure to the genetic counseling role in clinical genetic laboratories over the course of two weeks.
Graduation and certification
After successfully completing this internship, you receive a certificate of completion from Mayo Clinic School of Health Sciences.
Application process
For 2020, a two-week summer internship is available June 1-12, 2020.
The application process is available starting Dec. 27, 2019. Applications and all supporting documentation must be received by midnight Jan. 17, 2020.
Prerequisites
To be eligible for the internship, you must be currently enrolled in an accredited two-year master's degree program in genetic counseling.
Candidates are selected based on personal qualities and skills represented in an application essay and the quality of references. The amount of exposure to the role of the laboratory genetic counselor that is alternatively available to the applicant is also taken into account, in standing with our goal of increasing exposure for qualified students who may not have other access.
How to apply
1. Create an account. Prior to submission of an application, you must create an account. Note the following as you create an account and begin completing an application.
On the Create an Account page:

For School of Study → School of Health Sciences
For Location → Rochester, MN
For Area of Interest → Genetic Counseling Laboratory Internship
For Start Date → Choose date
For Entry Term → Select term available

On the My Account page:

Scroll down to "Next Steps" → select "Start an Application"

On the Online Application page:

Verify that the program listed is what you want
Click "Continue with Application Selected Above"

On the Application Listing page:

Select "Start a New Full Application"
2. Complete the online application. The sections below are located in the application. You may complete them in order or click on the section you want on the left.
Program of interest

Review populated data for accuracy
Complete "Reapplying and Education Completed" questions

Personal information

Review populated data
Complete any other fields
If you didn't enter an address or phone number before, you will be required to enter it now

Demographic data
Education
Employment
Standardized testing
Professional licensing and registration
Essay

Write a one-page personal letter addressing these areas and questions (a maximum of 500 words):

Describe your interest in laboratory genetic counseling.
What are your goals for this laboratory internship?
How do you plan to use the knowledge and skills gained from this internship?
What type of exposure to the role of the laboratory genetic counselor does your current program provide?
What type of exposure is available to you outside of your program?

Signature and submit

Certify and sign your application
Submit your application
3. Submit any required recommendations or supplemental items. After submitting the application, select "Click here to upload program-specific supplemental item(s)." If required by the program, upload any supplemental items under the "Supplemental Items" box.
Please email one document addressing the following information to mitchell.elyse@mayo.edu:
Rank the following focus areas in order of preference (on a scale of 1 to 3, with 1 indicating the area of greatest preference). If you do not wish to be considered for a particular area, include a brief statement of reasoning.

Biochemical genetics
Diagnostic odyssey (chromosomal microarray and whole exome sequencing)
Prenatal genetic testing (cytogenetic and molecular testing on amnio, CVS, and POC specimens)

Include a list of courses, clinical rotations, and laboratory experiences that will be completed by the proposed start date.
Enter email addresses for recommendations under the "Recommendation Requests." Two professional references are required. One of these references should be your program director. Please follow the guidelines in the online application carefully.
**If you do not complete these at the time of submission, please visit your "My Account" page and navigate to your application for a link to complete.
Tuition and financial aid
There is no tuition for the Genetic Counseling Laboratory Internship.
Housing accommodations are provided to students for the duration of the internship. Transportation to and from Rochester, food, and local transportation are the student's responsibility.
Curriculum
The internship allows graduate students in genetic counseling an opportunity to prepare for professional practice in genetic testing and laboratory genetic counseling. During the program, learning experiences are provided to allow the intern to:
Work collaboratively with board-certified laboratory genetic counselors and other laboratory professionals
Obtain knowledge and experience in the field of genetic testing and laboratory genetic counseling
Identify appropriate use of tests, and articulate limitations, accuracy, and possible testing outcomes
Review clinical and family information necessary for scheduling of appropriate tests and proper interpretation of test results
Observe and review result reporting and interpretation
Observe communications with a third party and partake in mock phone calls
Develop and present informational seminar to Mayo Clinic staff
Attend in-house genetic conferences if available and appropriate
Hours
For the majority of the internship, you are expected to be present Monday through Friday during normal business hours. Hours vary by rotation.
You should expect to spend time during the evenings and weekends working on the many assignments and presentations to be performed as part of the internship. Interested students may contact Elyse Mitchell, LCGC, for sample schedules and expectations.
Accreditation information
See accreditation information for Mayo Clinic College of Medicine and Science.