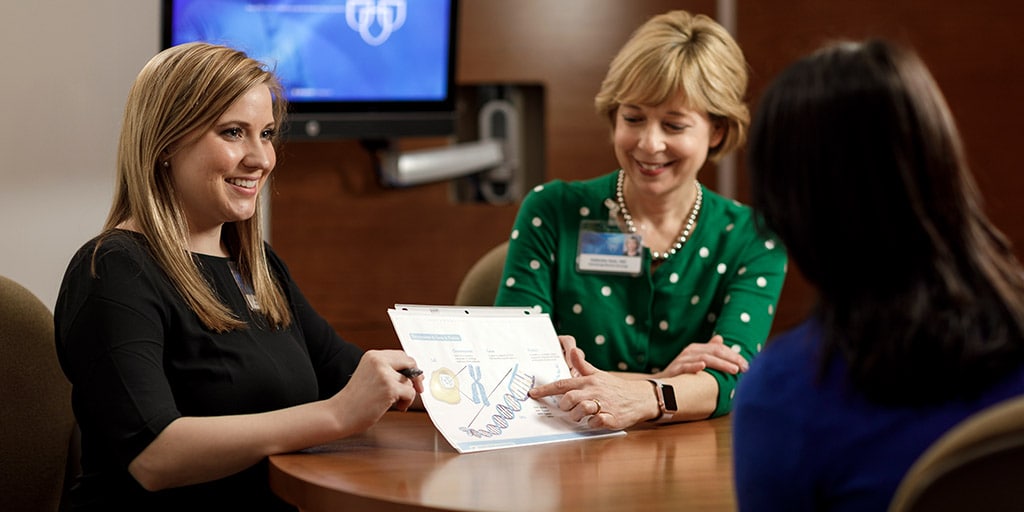 Program overview
Program length: 2 weeks
Class size: 6 learners a year
Location: Virtual
This virtual program gives learners exposure to the genetic counseling role in clinical genetic laboratories over the course of two weeks.
Graduation and certification
After successfully completing this program, you receive a certificate of completion from Mayo Clinic School of Health Sciences.
Application process
The Genetic Counseling Laboratory Internship is not taking applications at this time.
Prerequisites
To be eligible for the program, you must be currently enrolled in an accredited two-year master's degree program in genetic counseling.
Candidates are selected based on the content of an application essay and quality of references.
Non-U.S. citizen applicants
Admission to Mayo Clinic School of Health Sciences is open to U.S. workers in the four categories below. Therefore, visa sponsorship is not available.
U.S. citizens
U.S. nationals
Lawful permanent residents
Asylees and refugees
Applicants whose primary language is not English must submit results from the Test of English as a Foreign Language Internet-based test (TOEFL iBT). Scores from the speaking portion of the exam are given particular consideration in admission decisions. Learn more about the exam and register online at the Educational Testing Service.
The Mayo Clinic School of Health Sciences code for the TOEFL iBT is 5784.
Educational transcripts from schools outside the U.S. must be translated (if they are not already in English) and evaluated for U.S. equivalence by an accredited credential evaluation service company prior to submission. Please refer to the National Association of Credential Evaluation Services for a list of qualified companies. The applicant pays for the examination and credential-evaluation services.
How to apply
Complete the following steps to apply:
Create an account to begin the online Application for Admission

Select - Mayo Clinic School of Health Sciences
Select - Genetic Counseling Laboratory Internship

Complete each section of the application and submit. Note that information regarding standardized testing and professional licensing are not required.
After submission, view the required Supplemental Items and Documents

Upload each required item in the Supplemental Items section
Complete the Recommendation Request section
Additional required items
Essay is to be one page (500 word maximum) and include the following. Upload it in the Supplemental Items section.

Describe your interest as well as the knowledge and skills you already have developed in laboratory genetic counseling.
What knowledge and skills do you want to foster or expand by participating in a laboratory internship?
How do you plan to use the knowledge and skills gained from this program?
Describe other opportunities available, both within and external to your training program, which will allow you to develop the skills of a laboratory genetic counselor.

Two professional letters of recommendation are required and must be completed in the Recommendation Request section. One of these letters should be from your program director. Each recommender will receive an email with a link to complete a rating form and upload a letter.
Tuition and financial aid
There is no tuition for the Genetic Counseling Laboratory Internship.
Curriculum
The internship allows graduate students in genetic counseling an opportunity to prepare for professional practice in genetic testing and laboratory genetic counseling. During the program, learning experiences are provided to allow the learner to:
Work collaboratively with board-certified laboratory genetic counselors
Obtain knowledge and experience in the field of genetic testing and laboratory genetic counseling
Identify appropriate use of tests, and articulate limitations, accuracy, and possible testing outcomes
Review clinical and family information necessary for scheduling of appropriate tests and proper interpretation of test results
Observe and review result reporting and interpretation
Gain knowledge of panel design, algorithm building, and report writing
Hours
For the majority of the program, you are expected to be virtually present Monday through Friday during normal business hours. Hours vary by rotation.
You should expect to spend time during the evenings and weekends working on the many assignments and presentations to be performed as part of the program. Interested learners may contact Elyse Mitchell, LCGC, for sample schedules and expectations.
Accreditation information
See accreditation information for Mayo Clinic College of Medicine and Science.