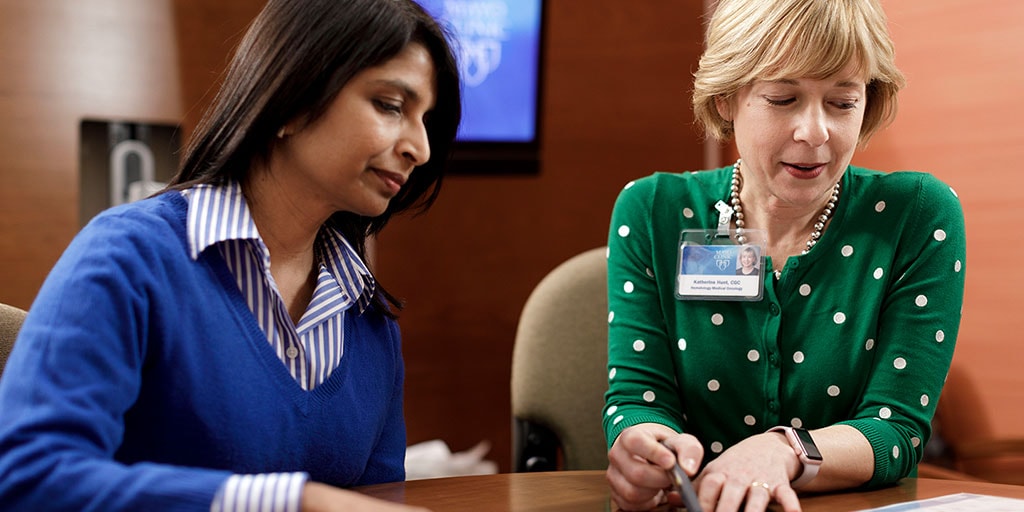 What does a genetic counselor do?
Genetic counselors are health care professionals who have specialized education and training in the field of medical genetics. Using family history, a genetic counselor will assess individual or family risk of an inherited condition, such as a genetic disorder or a birth defect.
Genetic counselors educate patients and professionals about genetic diseases and genetic testing options. They also advise patients on the social and ethical issues associated with a genetic disorder or genetic test result, and help patients cope with a diagnosis of a genetic disease.
Scope of practice
As members of the health care team, genetic counselors serve as educators to patients, physicians, other health care providers, and society. In a typical day, genetic counselors:
Determine risk for certain diseases or disorders
Analyze family health history to look for inherited health risks
Educate individuals regarding their chance for inheriting genetic diseases
Guide and support individuals that are adjusting to the medical, psychological, and familial effects of genetic diseases
Advocate on behalf of a patient with their insurance company to ensure genetic testing is covered
Specializations
Genetic counselors might choose to specialize in a particular area or they may provide general care. Some areas they might specialize in include:
Cardiology
Neurology
Oncology
Pediatrics
Preconception
Prenatal
Work environment
Employers of genetic counselors include hospitals, universities, private practices, labs, and a variety of clinical settings. Forty-hour work weeks are typical for genetic counselors and they generally are not required to work evenings or weekends.
Becoming a genetic counselor
Genetic counseling is a great career path for someone that is interested in a rewarding career with a high degree of patient interaction. Due to the limited number of accredited genetic counseling programs, it is recommended that individuals interested in genetic counseling prepare for a highly selective admission process with high school and undergraduate classes in chemistry, biology, genetics, and psychology. Prior experience either through paid work or volunteer experience is recommended (and may be required) when enrolling in the graduate program.
Higher education requirements
Common higher education requirements for a genetic counselor include:
Completion of a bachelor's degree; many genetic counselors choose to major in biology, social sciences, or a related field (but these majors are not necessarily required for entry into a genetic counseling program)
Completion of a Master of Science degree from an accredited graduate program in genetic counseling
Certification of a genetic counselor
To become certified as a genetic counselor, you must complete an accredited master's program in genetic counseling. This program is typically two years in length and includes courses such as molecular genetics, counseling ethics, and research methods; as well as clinical training experience and a research project. After completing the program, students must take and pass a certification exam in order to become a certified genetic counselor.
Career opportunities and outlook
Genetic counselors typically earn around $80,150 a year. The annual salary depends on their position, level of expertise, and area of the U.S. or world where they practice.
Job growth for genetic counselors in the U.S. is expected to grow much faster than average, according to the Bureau of Labor Statistics. The emphasis on personalized medicine and ongoing technological innovations will increase the demand for genetic counselors who can translate complex medical and scientific information for families and other health professionals.
In terms of career advancement, some genetic counselors become professors, and others find opportunities to conduct and publish research.
By the numbers
6
years of higher education
26%
job growth projected from 2020-2030
Genetic counselor programs at Mayo Clinic
Mayo Clinic offers three internships to prepare students for a career as a genetic counselor:
Browse similar careers