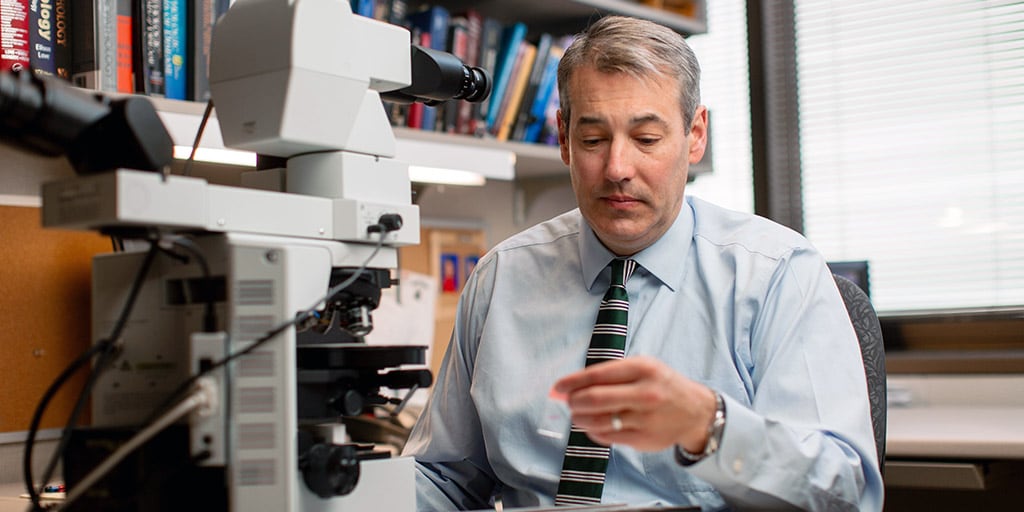 Program overview
Duration: 3-10 weeks
Class size: 1 student
Location: Rochester, Minnesota
This internship brings students who are entering the general field of forensics into the medical examiner's office, introducing them to a variety of the responsibilities, specifically that of a medicolegal death investigator. You'll experience many aspects of this profession including the death investigation itself, the autopsy examination, and the interactions with adjacent agencies including, but not limited to, the funeral home, law enforcement, and families.
Through the internship, you will:
Create and build relationships within the field of forensics
Learn skills and techniques of death investigation
Understand death certification including determination of cause and manner of death
To participate in the Medical Examiner's Office Internship, you must be enrolled at one of these affiliated academic institutions:
Upon successful completion of the rotation, you receive a letter of completion from Mayo Clinic School of Health Sciences.
Graduates may be eligible to sit for the Registry Certification through the American Board of Medicolegal Death Investigators (ABMDI).
Application process
The Medical Examiner's Office Internship admits one trainee each semester. Up to five candidates are accepted on a competitive basis each year. This ensures that you receive tailored instruction and a comprehensive educational experience.
Prerequisites
To be eligible for the Medical Examiner's Office Internship, you must:
Be currently enrolled at one of the program's academic affiliates as a third or fourth year student in the criminology, criminal justice, forensic science, or natural science programs
Have a minimum cumulative GPA of 3.0 on a 4.0 scale
Be at least 18 years of age before starting the program
Candidates are selected based on grades and work experiences, as well as representation of personal qualities and skills and a genuine interest in the forensic field of medicolegal death investigation in a purpose statement.
Technical standards
Candidates must meet the technical standards (with or without reasonable accommodation) necessary to acquire or demonstrate competence in health professions as outlined in the Medical Examiner's Office Internship technical performance standards.
Non-U.S. citizen applicants
See the Mayo Clinic School of Health Sciences non-U.S. citizen applicant's policy.
How to apply
The program begins at the start of each semester.
Your application and all supporting documentation must be received two months prior to the start date.
1. Online application. Complete the online application. After you create an account in ApplyYourself, sign in and select Application for Admission (not Lite Application).
2. Supporting documentation. Submit these materials:
Official college transcript
CV/Resume
Letters of recommendation (two)
Purpose statement
Send any required materials (e.g. official college transcript) that are not submitted online directly to:
Courtney Hyland, PA(ASCP), F-ABMDI
Program Director
Mayo Clinic School of Health Sciences
Siebens Building, Fifth Floor
200 First St. SW
Rochester, MN 55905
Email: hyland.courtney@mayo.edu
3. Interviews. The selection committee carefully reviews each application. Individuals considered for an appointment are invited for an interview by phone.
4. Acceptance. Appointment letters are mailed approximately two months prior to start of semester. Your reply is expected within three days.
Curriculum
The Medical Examiner's Office Internship prepares you for professional practice in a medical examiner's/coroner's office, or related areas such as autopsy or toxicology laboratories, office of decedent affairs, or other forensic area.
During this program, learning experiences allow you to:
Participate in death investigation (scene and phone)
Participate in autopsy/postmortem examination
Observe toxicology, cardiac, pulmonary, and/or neuropathology conferences
Interact with law enforcement, funeral homes, caregivers, and families
Prepare for possible registry certification through the ABMDI
Hours
For the majority of the internship, your learning schedule includes 10–40 hours per week, with either four- or eight-hour days, and between one to five days per week (dependent upon semester and course work).
Facilities
The Medical Examiner's Office Internship primarily takes place in the Stabile Building where the investigative work is performed and where the autopsy laboratory is housed.
Tuition and financial aid
There is no tuition for the Medical Examiner's Office Internship. You are responsible for your living accommodations and transportation.