Curriculum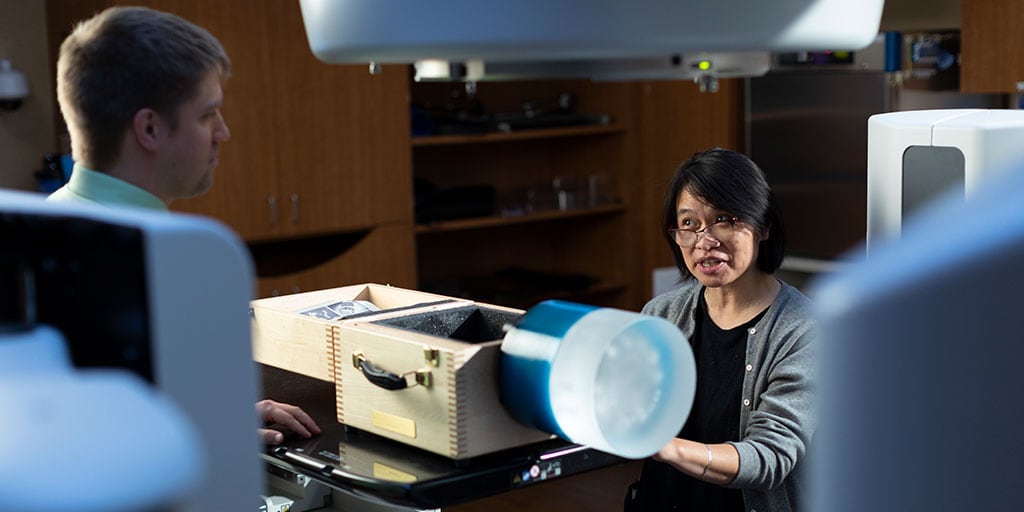 Trainee experience
The Medical Physics Residency prepares individuals for professional practice in hospitals, clinics and private practice. During the program, learning experiences allow the resident to:
Measure and calibrate a variety of treatment machines and imaging devices
Troubleshoot real-world problems with computers and equipment
Interact with a variety of other Department of Radiation Oncology staff, including physicians, therapists, dosimetrists, and nurses
Create, modify, and measure radiation therapy treatment plans and check them for quality assurance
Work independently or in groups on projects related to new technology or upgrades of existing technology
Interact with vendors, government agencies, and professional organizations
Prepare for board certification through practice and mentoring
Clinical training and rotations
The 12 modules that residents complete include seven modules designed to fit into rotations of two to six months.
During these rotations, the resident concentrates in-depth on a particular topic. Each rotation's topic builds on the previous rotation topic. The resident is advised by a physicist who has a depth of knowledge specific to the topic at hand.
Rotational modules
These modules are the main exposure to clinical knowledge. Residents are systematically stepped through different aspects of the clinic, to ensure book knowledge is connected to the day-to-day activities of Medical Physicists in the clinic.
R1 — Orientation, simulation, and basic treatment planning (July – August)

Non-Physics shadowing (nursing, therapy, physicians, radiation safety, radiology), general orientation, hand calculations, CT sim immersion

R2 — Advanced treatment planning (September – February)

2D, 3D, IMRT, proton treatment planning

R3 — Quality systems (March – May)

Statistical Process Control, Failure Modes and Effects Analysis, 6 Sigma, Plan Do Study Act, LEAN Quality Improvement, Incident Learning, Practice Quality Improvement

R4 — Dose measurements (June – September)

Absolute calibration of external beam systems, device intercomparison, experience with a spectrum of dosimeters, small field measurements, in-vivo dosimetry, proton beam measurements

R5 — Brachytherapy (October – December)

HDR (Intracavitary, Interstitial), LDR Eye plaques,

R6 — Clinical project (January – March)

IRB familiarization, clinical research or development project approved by the committee

R7 — Acceptance and commissioning (April – June)

Acceptance and commissioning for LINACs, treatment planning systems, and insights into proton beam commissioning
Continual modules (spread out over two years)
These modules build expertise through repetition and clinical service.
C1 — Routine QA

Machine QA (daily, monthly, annual), Chart QA, IMRT QA, IMPT QA

C2 — Education and teaching

Presentations utilizing the AAPM Virtual Library, in-services, journal club with other Mayo Clinic sites, mock oral exam, Raphex, etc.

C3 — Special procedures

SRS, SBRT, TBI, TSET, 10RT, 4DCT, Gating, DIBH, etc.
Milestones for various special procedures are spread across both years of the residency
Independent modules (milestone-based, independently paced projects)
These modules cover topics that are either subtle in their nature or happen so rarely that a resident would be unlikely to see them live in a two-year period.
I1 — Shielding and radiation protection

Shielding calculation principles, Radiation Oncology specific safety issues

I2 — Professional duties, ethics, and additional radiation safety

Ethics, FDA, Joint Commission, regulations vs recommendations, solo practice, working with regulators, ACR accreditation, ABR MoC
Curriculum enhancements
Mayo Clinic School of Health Sciences is committed to developing and maintaining the best education programs. The curriculum and other aspects of this program are assessed constantly and changed as necessary to ensure the highest quality training.
Schedule and hours
Residents are expected to arrive between 7-8 a.m. and leave between 4-5 p.m. IMRT QA and LINAC QA will occasionally require the resident to stay late. Work-life balance is very important to Mayo Clinic and to our program.
Facilities
Mayo Clinic has two sites in Arizona. The Phoenix campus includes the state-of-the-art Mayo Clinic Hospital, the first hospital entirely designed and built by Mayo Clinic. It is currently undergoing a 600 million dollar expansion that includes joint research buildings in partnership with Arizona State University. When the expansion is complete the campus will have roughly doubled in size and capacity. Mayo Clinic's campus in Scottsdale is centered around a beautiful, five-story outpatient clinic. It houses multiple research labs and Mayo Clinic Alix School of Medicine — Arizona Campus.
Medical physics residents spend all of their time in the Department of Radiation Oncology on the Phoenix campus, which includes 4 Varian TrueBeam linear accelerators, Nucletron HDR brachytherapy, intraoperative radiation therapy, and a four-gantry Hitachi proton beam facility. ARIA and Eclipse are used for record and verify and treatment planning.
Evaluation
Mayo Clinic School of Health Sciences uses these evaluative tools:
Annual oral examination in the style of the American Board of Radiology
Annual written examination (Raphex)
Monthly panel-based oral assessment of knowledge by staff
Demonstration of skills
Self-assessment exercises
Faculty reviews
Mayo's system of evaluation provides students and faculty with a comprehensive look at individual performance. This allows faculty and administrative staff to direct students who are experiencing academic difficulty to the appropriate support resources, including tutoring programs and counseling opportunities.