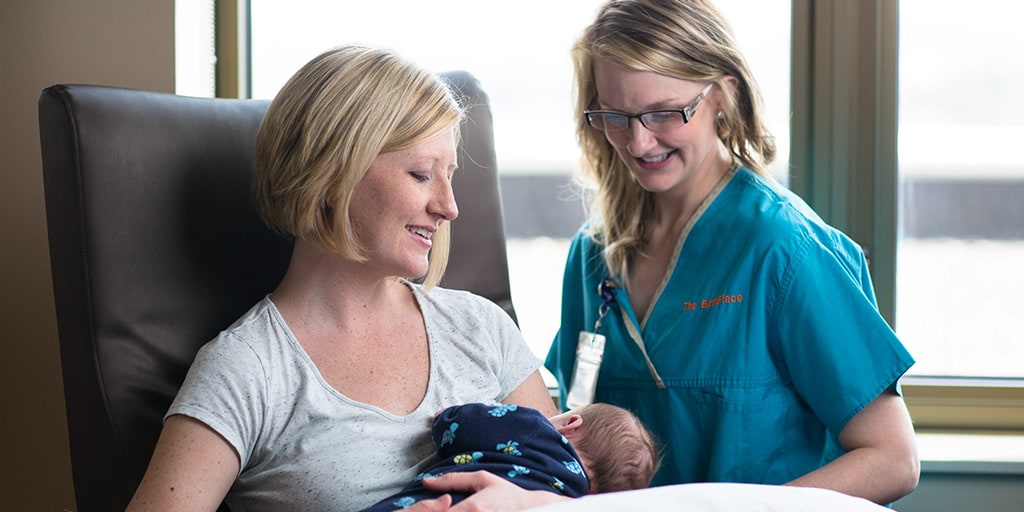 Program overview
Program length: Varies
Class size: 2-3 students at a time
Location: Rochester, Minnesota
This rotation gives nurse-midwife students a challenging and diverse clinical experience. The clinicals are led by professional nurse-midwifery staff and provide the opportunity for you to work alongside other professionals in a multidisciplinary health care environment.
Students observe and experience the delivery of patient care in a comprehensive health care center that offers:
A caring, collaborative environment
State-of-the-art diagnostic, therapeutic, and research facilities
A large, diverse patient population
An environment based on a team approach and with a commitment to mutual respect
Graduation and certification
When you successfully complete the master's- or doctorate-level degree in nursing criteria and the nurse-midwifery course work at your affiliated school, you are eligible to take the national certifying exam offered by the American Midwifery Certification Board. National certification is required in all states for licensed certified nurse-midwives to practice.
American College of Nurse-Midwives (ACNM) rules state that only graduates of ACNM-accredited programs are eligible to take the certification exams, which are given periodically throughout the country.
You also receive a certificate from Mayo Clinic School of Health Sciences indicating your successful completion of the Nurse-Midwifery Clinical Rotations Program.
Application process
For admission to the rotation, you must:
If your institution is not currently affiliated with Mayo Clinic, an affiliation agreement needs to be obtained by Mayo Clinic School of Health Sciences prior to your being accepted to the program.
How to apply
Submit an application and all supporting documentation as soon as possible but at least six months prior to your desired time frame of the year you wish to begin classes. Clinical rotations might include a September or January start, if on the traditional college semester tracks, though other times are accommodated for students on nontraditional tracks.
Once you and your college have identified Mayo Clinic as an appropriate site for your clinicals, you may apply online to the clinical rotation program. In most instances, appointment to the program is made within two to six months, though the time frame can vary depending upon affiliation agreement status.
| Program start | Application period |
| --- | --- |
| September start | Jan. 1 - Mar. 1 |
| January start | Mar. 1 - May 1 |
Discuss with adviser. Discuss participation in the clinicals with your nursing program adviser.


Online application. Prior to submission of an application, you must create an account. Note the following as you create an account and begin completing an application:

On the Create an Account page:

For School of Study → select School of Health Sciences
For Location → select Rochester, MN
For Area of Interest → select Nurse Midwifery Clinical Rotation
For Start Date → Choose date
For Entry Term → Select term available

On the My Account page:

Scroll down to Next Steps → select "Start an Application"

On the Online Application page:

Verify that the program listed is what you want.
Click "Continue with Application Selected Above"

On the Application Listing page:

Select "Start a New Full Application"

Complete the online application. Once you have created an account, you will be able to continue with the application. The sections below are located in the application. You may complete them in order or click on the section you want using the navigation menu on the left.
Program of interest:

Review populated data for accuracy.
Complete "Reapplying and Education Completed" questions.

Personal information:

Review populated data.
Complete any other fields.
If you didn't enter an address or phone number before, you will be required to enter it now.

Demographic data:
Education:
Employment:
Standardized testing:
Professional licensing and registration:

Please enter your R.N. license information

Essay:

Please answer the questions within the application. Please include which rotation you are interested in — antepartum, intrapartum, or integration — in your essay as well.

Signature and submit

Certify and sign your application.
Submit your application.


Complete the recommendations and supplemental items. After submitting the application, select "Click here to upload program-specific supplemental item(s)."
Please upload your CV/resume
Enter email addresses for recommendations under the Recommendation Requests
Two professional references are required

Educational reference. Choose a professor in your current program who is familiar with your educational qualifications and yourpotential success in the midwifery field.
Work reference. Please provide a recommendation from your current nursing supervisor.

If you do not complete these at the time of submission, please visit your "My Account" page and navigate to your application for a link to complete


Submit transcripts. Send official transcripts of any college or university you have attended and received credits to the address below.

Mayo Clinic School of Health Sciences
Nurse-Midwifery Clinical Rotations Program
Siebens Building, Fifth Floor
200 First St. SW
Rochester, MN 55905
Interviews
Applicants considered for acceptance may be invited for a personal interview or phone call. If there are several applicants, a panel interview also may be included.
Acceptance
You will be notified of your acceptance approximately two to six months before your desired rotation time.
Tuition and financial aid
Tuition is paid to your college or university. Mayo Clinic School of Health Sciences charges a clinical coordination fee. This is an amount based upon number of weeks in the program.
| Rotation length | Fee |
| --- | --- |
| Less than 2 weeks | $250 |
| 2 to 4 weeks | $500 |
| 5 to 25 weeks | $1,000 |
| 26 to 52 weeks | $2,000 |
These rates are approved as clinical coordination fees charged to affiliated academic institutions sending students to Mayo Clinic School of Health Sciences for clinical rotation experiences. If the affiliate chooses not to pay the fee, students are charged directly.
The fees are evaluated and set each year by the Mayo Clinic School of Health Sciences Education Committee, according to the Mayo Clinic School of Health Sciences tuition policy.
No stipend is provided for nurse-midwifery students. Students are responsible for their living accommodations and transportation.
The Office of Student Financial Aid and Registrar can provide more details about financial aid or incentives offered for the Nurse-Midwifery Clinical Rotations Program.
Curriculum
The clinical rotation prepares you to develop in the role of an advanced practice nurse in the care of obstetric and gynecologic patients. Detailed clinical objectives are set forth by the affiliated colleges.
Intensive clinical practicums include clinical rotations in obstetrics:
Antenatal care focusing on low-risk healthy pregnancy
Intrapartum care focusing on low-risk labor and deliveries
Postpartum care focusing on the normal healthy postpartum
You rotate regularly between the outpatient clinic and the inpatient labor and delivery unit during your experience. During these clinical rotations, you may be under the supervision of qualified nurse-midwives, nurse practitioners and physician preceptors.
Our clinical rotation prepares you to work both independently and collaboratively as a member of a health care team.
Schedule
Your clinical needs are determined by your college. They may include eight-hour clinical days, as well as 12-hour shifts in the labor and delivery unit. Your schedule depends on your needs, your college requirements and midwife staff availability.
Accreditation information
The Nurse-Midwifery Clinical Rotations Program is accredited by the Accreditation Commission for Education in Nursing.
See accreditation information for Mayo Clinic College of Medicine and Science.