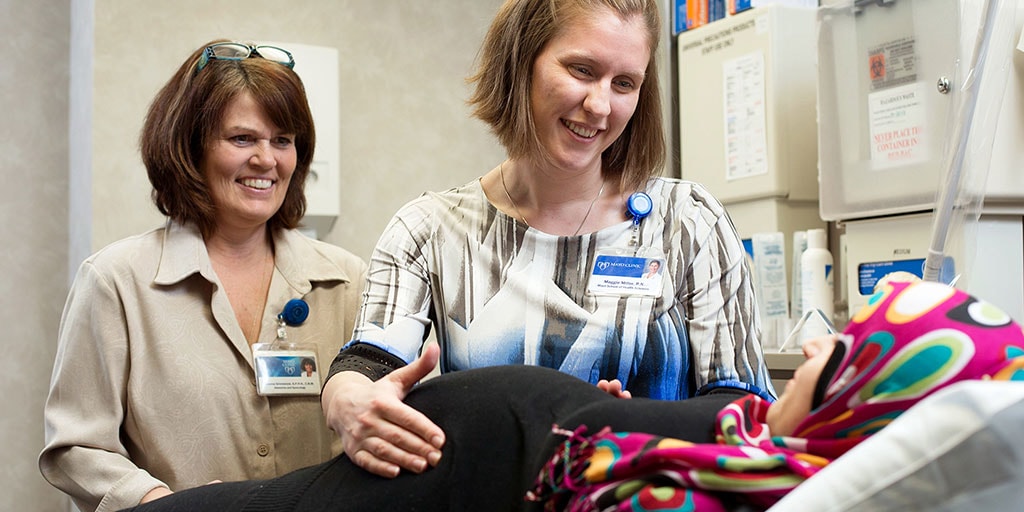 What does a nurse midwife do?
A nurse midwife specializes in women's reproductive health and childbirth. Nurse midwives provide care to women from adolescence through menopausal years. For pregnant women, they provide care during prenatal visits, attend the birth, and provide care after the baby is born. Nurse midwives have similar roles to OB/GYNs but focus on natural techniques for childbirth and reproductive care.
Scope of practice
Nurse midwives work with doctors, social workers, dietitians, physical therapists, educators, and nurses. Common tasks and duties include:
Confirming and dating pregnancy
Providing prenatal and postpartum care
Caring for women during childbirth including monitoring the mother and fetus during labor, assessing labor progress, managing complications, assisting with pain management, performing episiotomies if needed, and delivering the newborn and placenta
Providing education for new parents on infant care
Supporting new mothers that are breastfeeding with education and training
Preparing pregnant women for what to expect during the birthing process
Performing preventive health screenings and tests
Diagnosing and treating gynecological disorders such as sexually transmitted diseases and infertility
Work environment
Hospitals, clinics, birthing centers, health departments, and private practices hire nurse midwives to provide care for patients in regards to women's reproductive health and childbirth.
Typical working hours can vary depending on the organization the nurse midwife works with and can include eight or 12-hour shifts. Depending on the facility, they may be required to work evening, weekend, holiday, and on-call hours. Nurse midwifery can be a stressful and emotionally draining role, but it is also found to be quite rewarding to help new parents prepare for childbirth and welcome their newborn into the world.
Becoming a nurse midwife
Nurse midwifery may be the career path for you if you enjoy promoting holistic health and working with women of various backgrounds. Nurse midwives are great and building relationships, work well in stressful situations, and are able to provide unbiased support during emotionally charged situations.
Higher education requirements
Individuals interested in becoming a nurse midwife must first obtain a Bachelor of Science in Nursing degree (BSN) and pass the NCLEX-RN licensing exam to become a registered nurse. After that, you can complete a Master of Science in Nursing (MSN) or a Doctor of Nursing Practice degree (DNP), then apply and test for certification to become a nurse midwife.
Certification process
To become certified, you must take the certification exam through the American Midwifery Certification Board (AMCB). In order to qualify to take the exam, you must:
Submit proof of licensure as a registered nurse or nurse practitioner
Complete an accredited nurse midwifery graduate or post graduate program
Certification is valid for five years.
Career opportunities and outlook
Nurse midwives can expect a median annual salary of $112,830.
Nurse midwives are in high demand to provide obstetrics and gynecology services for low-risk patients. The Bureau of Labor Statistics expects employment of nurse midwives to grow much faster than average.
With additional training and experience, a nurse midwife may move into a managerial or administrative role or go into education. Others may even own their own practices.
By the numbers
$113k
median annual salary
6-8
years of higher education
45%
job growth projected from 2020-2030