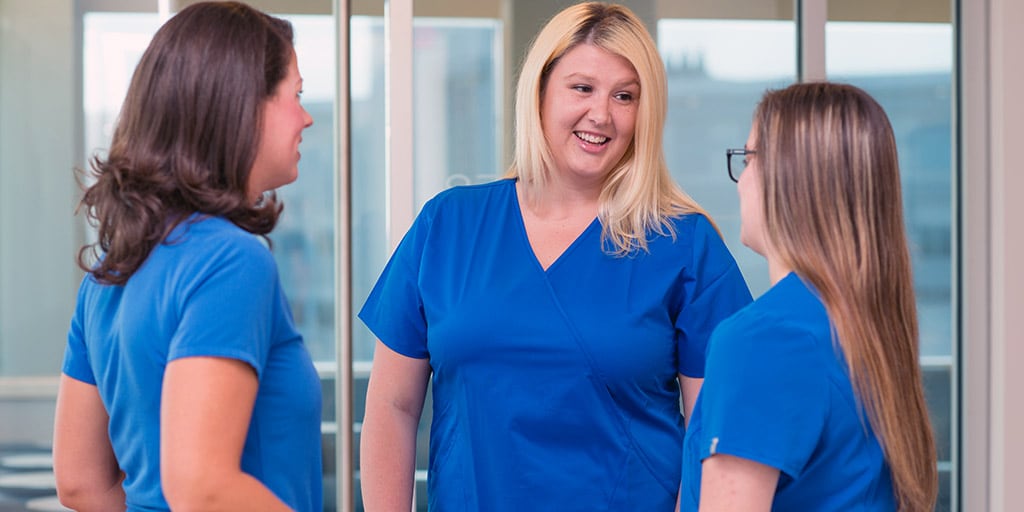 Program overview
Program length: 1 semester (16 weeks)
Class sizes: Varies
Location: Jacksonville, Florida
This rotation gives nursing students a challenging and diverse clinical experience. The clinicals are led by professional nursing staff and provide the opportunity for you to work alongside other professionals in a multidisciplinary health care environment.
Over the years, nursing education at Mayo Clinic has evolved from a practical need for the best nursing care for Mayo patients. Consequently, Mayo has played an integral role in providing opportunities for nursing education since its earliest days. Mayo's first allied health professional — Edith Graham Mayo, wife of Mayo co-founder Dr. Charles H. Mayo — was trained as a nurse anesthetist in 1889.
Today, nursing undergraduate programs are offered at a variety of affiliated colleges and universities, with Mayo Clinic's campus in Florida providing vital clinical experiences as students advance in their education. Mayo Clinic does not offer undergraduate nursing degree programs, but rather collaborates with area colleges and universities to provide comprehensive educational opportunities.
At Mayo Clinic's campus in Florida, you observe and experience patient care delivery in a comprehensive health care center that offers:
A caring, collaborative environment
State-of-the-art diagnostic, therapeutic, and research facilities
A large, diverse patient population
An environment based on a team approach and with a commitment to mutual respect
Clinical experiences are arranged between the student's school and the Mayo Clinic School of Health Sciences education coordinator for nursing clinical education. They are co-facilitated by Mayo Clinic professional nursing staff and affiliated nursing faculty. These educational experiences provide nursing students with opportunities to work alongside other professionals in a multidisciplinary health care environment.
Graduation and certificate
As Mayo Clinic does not have a school of nursing, it does not confer credits or certification upon completion of nursing clinical education within Mayo facilities. But when you successfully complete the nursing program at your affiliated school, you will receive your nursing degree.
Application process
Prerequisites
For admission to the rotation, you must:
Non-U.S. citizen applicants
Admission to Mayo Clinic School of Health Sciences is open to U.S. workers in the four categories below. Therefore, visa sponsorship is not available.
U.S. citizens
U.S. nationals
Lawful permanent residents
Asylees and refugees
Applicants whose primary language is not English must submit results from the Test of English as a Foreign Language Internet-based test (TOEFL iBT). Scores from the speaking portion of the exam are given particular consideration in admission decisions. Learn more about the exam and register online at the Educational Testing Service.
The Mayo Clinic School of Health Sciences code for the TOEFL iBT is 5784.
Educational transcripts from schools outside the U.S. must be translated (if they are not already in English) and evaluated for U.S. equivalence by an accredited credential evaluation service company prior to submission. Please refer to the National Association of Credential Evaluation Services for a list of qualified companies. The applicant pays for the examination and credential-evaluation services.
How to apply
Appointments to the Nursing Clinical Education Program are made through the nursing program adviser at your affiliated college or university.
You must first apply to and be enrolled in a nursing program at one of our academic affiliates.
The nursing academic liaison approves the clinical experience participants and works with the affiliated institutions to place the accepted students.
Tuition and financial aid
Tuition is paid to your college or university. Mayo Clinic charges no additional fees.
Mayo Clinic provides appropriate scrub or surgical attire as required for rotations.
You are responsible for your living accommodations and transportation.
Curriculum
During the clinical rotation, you have the opportunity to rotate through a variety of care settings. Your experiences may include time in:
Cardiovascular diseases
Critical care
Emergency medicine
Transplant (bone marrow, heart, kidney, liver, lung, pancreas)
Hematology/oncology
Interventional radiology
Maternal-child medicine
Medical, surgical, and telemetry units
Orthopedics
Students may choose one of these areas or indicate a specialty area of interest in approved independent study rotations with our affiliated schools. Mayo Clinic will try to place you in clinical rotations that match your needs and interests.
Our clinical rotation experience prepares you to work independently and collaboratively as a member of a health care team.
Schedule
The hours required vary depending on the availability of nurse preceptors and your affiliated school schedule and class requirements. Some clinical hours occur during the daytime and some during the evening.
Accreditation information
Mayo's affiliated nursing education programs are accredited by the Accreditation Commission for Education in Nursing or the American Association of Colleges of Nursing.
See accreditation information for Mayo Clinic College of Medicine and Science.