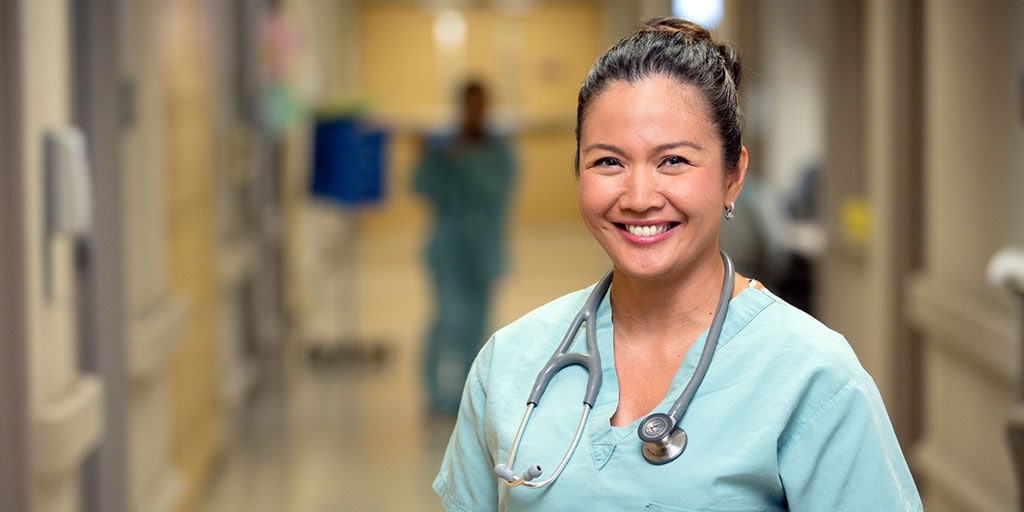 What does a nurse do?
The fundamentals of nursing are to deliver direct patient care and act as an advocate and health educator for patients, families, and communities.
Nurses work to promote health, prevent disease, and help patients with illnesses. When treating a patient, they observe, assess, and record symptoms, reactions, and progress. Nurses work alongside doctors when it comes to treatment plans and exams, administering medications, and monitoring patient recovery.
Scope of practice
Nurses can work in any specialty area across many different areas of the hospital. Each area will have a different set of responsibilities, but a common set of duties includes:
Patient intake and obtaining measurements, vitals, and health histories
Monitoring patient vitals regularly
Giving medication and recording doses and timing
Performing hands-on technical, medical duties, as assigned
Communicating with patients about their care plan
Charting and working with electronic health record software
Relaying important information to the treating physician and other health care staff as needed
Unless you are a nurse practitioner, nurses do not prescribe medication or make diagnoses, but they do carry out physicians' orders for administering medication and other items on a patient's care plan.
Types of nurses
There are several different types of nurses. Nurses are needed in virtually every area of medicine. Depending on your level of education, interests, and experience level, you can excel in any area of medicine.
Different types of nursing degrees by level of education or certification
The field of nursing offers several levels of practice, each with different educational requirements.
Licensed practical nurse (L.P.N.)
Under the supervision of registered nurses and physicians, L.P.N.s may care for patients of all ages. Using learned technical skills, L.P.N.s assist patients in meeting their physical and psychosocial needs. They also administer medications and perform treatments.
Many employment opportunities are available to L.P.N.s in hospitals, clinics, nursing homes and home care. Graduates are awarded a diploma or certificate in practical nursing and are eligible to apply to take the National Council Licensure Examination for Practical Nurses (NCLEX-PN).
Registered nurse (R.N.): Associate degree
The associate degree nursing program is designed to prepare graduates who administer safe, patient-centered nursing care in hospitals, home settings, nursing homes, clinics and other health care facilities. Graduates are awarded an Associate of Science degree in nursing and are eligible to apply to take the National Council Licensure Examination for Registered Nurses (NCLEX-RN).
Registered nurse (R.N.): Bachelor's degree with a major in nursing
The bachelor's degree in nursing is designed to provide opportunities for students to develop a sound theoretical and clinical foundation for the practice of professional (registered) nursing. Graduates are prepared for a variety of roles in hospitals, nursing homes, and community health settings. Graduates are awarded a Bachelor of Science degree in nursing and are eligible to take the National Council Licensure Examination (NCLEX-RN).
Advanced clinical practice registered nurse (A.P.R.N.): Master's and doctoral degrees
Registered nurses with advanced training in education, research, administration, transcultural nursing, nursing leadership, and information technology — master's and doctoral degrees
Advanced clinical practice registered nurse and other advanced training: Master's degree and doctoral degree (Ph.D., D.N.P.)
Graduate study in nursing is designed to expand students' base of theoretical knowledge in nursing. Through scholarly inquiry, nurses in the master's program are prepared to manage and facilitate complex health care in many settings. The master's-prepared nurse may assume roles such as clinical nurse specialist, nurse educator, nurse practitioner, nurse-midwife, nurse anesthetist, or nurse administrator.
Doctoral programs prepare nurse scholars who generate, expand and disseminate nursing knowledge. They assume roles in practice, research, and education as advanced clinicians, administrators, educators, researchers, or policymakers.
Nursing is a profession in which your education, knowledge, skills, and experiences provide career flexibility and variety and can offer continued advancement and growth.
Different types of nurses by medical specialty field, department, or population
Nurses have the flexibility to work throughout the hospital or medical clinic in a variety of medical specialties. Working in a specific specialty or with a specific population of patients means you'll typically work with patients experiencing common symptoms or being treated for similar conditions.
Another way to decide which type of nurse you want to become is by how the work unit is organized within the hospital. Working in a specific department still allows you to see and help treat a wide variety of patients with a variety of conditions and symptoms.
Common areas of specialization by medical specialty, department, or population include:
Cardiac care nurse
Emergency room nurse
Family medicine nurse
Geriatric nurse
Intensive care unit (ICU) registered nurse
Labor and delivery nurse
Neonatal intensive care unit (NICU) nurse
Neurology nurse
Obstetrics (OB) nurse
Oncology nurse
Operating room (OR) nurse
Pediatric nurse
Surgical nurse
Women's health nurse
Among many others
Work environment
On a given day, nurses may work with doctors, residents, nursing assistants, home health aides, speech therapists, occupational therapists, other nurses, and patients of all ages, from infants to the elderly.
Hospital work environment: In hospitals, nurses may be assigned to several patients from their unit and will check in on the patients throughout their shift, administering medications as needed, as well as writing down any symptoms or information on their condition.
Clinic work environment: In a clinic setting, nurses will often do patient intake, which involves taking vitals and entering basic health information for patients before they see the doctor, administering vaccinations, and may deliver medications.
Laboratory work environment: Nurses in laboratory roles will mainly draw blood for a variety of tests and may monitor patients for urine tests or gather other fluid samples.
Positions can be anywhere from 10 to 40+ hours a week, and nurses often need to cover shifts on some holidays and weekends. Nurses are employed in hospitals, medical clinics, schools, nursing homes, and home health agencies.
Becoming a nurse
All paths to becoming a nurse require post-secondary education. Candidates for careers in nursing should be comfortable working closely with people from diverse backgrounds, and should be motivated to help sick patients feel better.
In any nursing role, multitasking and time management are essential skills to being successful at managing patients in a fast-paced health care environment. Empathy and good communication are important factors in providing quality nursing care; developing positive relationships with your patients and their families helps patients feel better and more comfortable in a clinic or hospital.
Many nurses choose their profession based on a desire to work in health care and are determined to make a difference in the lives of others on a daily basis. Regardless of the setting — hospital, clinic, or laboratory — nurses may spend significantly more time with a patient than the treating physician, so there are daily opportunities to leave a lasting impression on people from your community.
Higher education requirements
The field of nursing offers several levels of practice, each with different educational requirements. To practice, some nurses earn a certificate while others complete a doctorate.
After completing high school and receiving a high school diploma (or equivalent), the career path of a nurse typically includes the following:
A licensed practical nurse (L.P.N.) must earn a certificate, complete clinical training, and pass an exam to practice.
A registered nurse (R.N.) must earn an associate degree or a bachelor's degree, complete clinical training, and pass an exam to practice. Many R.N.s choose to get certified in a specialty area, which can increase earnings and career opportunities.
An advanced practice registered nurse (A.P.R.N.) typically has several years of experience as an R.N. and then goes on to acquire further graduate-level training.
Career opportunities and outlook
The Bureau of Labor Statistics expects employment of nurses to grow as fast average, and jobs may increase by 9 percent until 2030. Opportunities should be excellent for nurses with advanced education and training. Some states report current and projected shortages of nurses, primarily due to an aging workforce and recent declines in nursing school enrollments.
The median salary nationwide is around $77,600 for registered nurses and $48,070 for L.P.N.s, though pay will differ based on location and employer. Since nursing degrees can be applied to many sectors of health care or industry, there is a consistent potential for salary growth with greater experience and promotion to leadership roles.
With experience, L.P.N.s may advance to supervisory positions or complete an education program to become an R.N.
With experience and continuous education, R.N.s can move into supervisory or leadership roles such as assistant clinical nurse manager, charge nurse, head nurse, assistant director or director of nursing, vice president of nursing, or chief nursing officer.
Some R.N.s complete a graduate degree to become A.P.R.N.s, while some nurses move into the business side of health care or work as professors or researchers at colleges and universities.
By the numbers
1-8
years of higher education
9%
job growth projected from 2020-2030
Nursing programs at Mayo Clinic
Mayo Clinic School of Health Sciences provides exceptional clinical training experiences through many affiliated nursing education programs.
Browse similar careers