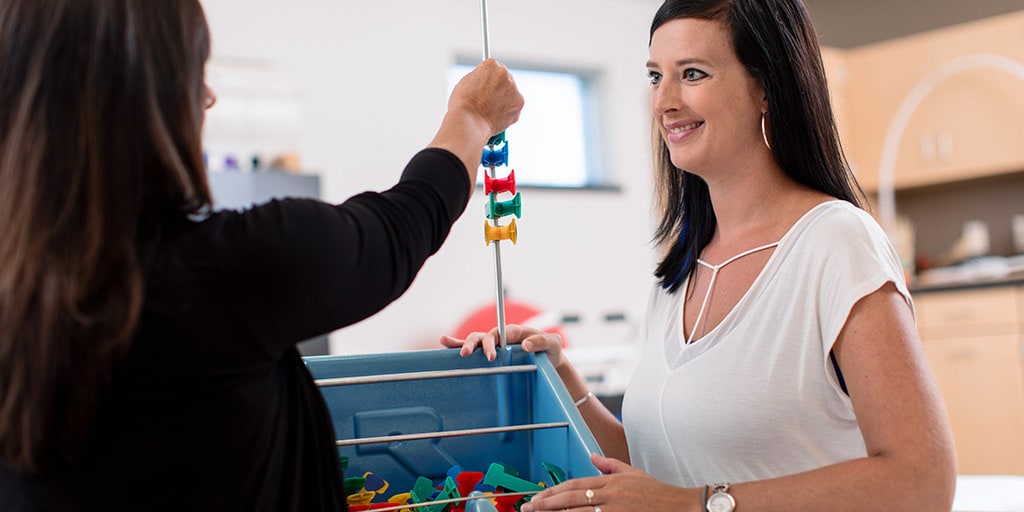 Program overview
Program length: 1-2 weeks (level one) or 12 weeks (level two)
Class size: 10 students a year
Location: Phoenix, Arizona
This internship prepares students for a career as an occupational therapist in hospitals, clinics and private practice. Through this internship, you are exposed to a variety of evaluation tools, adaptive training activities, therapy interventions, equipment, videos, and resources. These experiences prepare you for treating adult patients.
Graduation and certification
Occupational therapy interns graduate from their respective university upon successful completion of their fieldwork.
Graduates are then responsible for scheduling and completing their certification tests through the National Board for Certification in Occupational Therapy. Those who pass the test are awarded the title of registered occupational therapist. Individual states also may require licensure.
Application process
The internship is arranged by the academic fieldwork coordinator from your university and is offered after you complete the academic portion of your degree program. Both level one (one to two weeks) and level two (12 weeks) internships are available.
Prerequisites
You must be enrolled in an accredited, affiliated occupational therapy education program to apply for the Occupational Therapy Internship. The academic fieldwork coordinator at your college or university arranges admission to the internship.
In addition to meeting general admissions standards, occupational therapists should be comfortable working with people who have physical limitations. Therapists must be patient, tactful, and persuasive when working with people who have a variety of physical needs and highly specific occupational needs.
How to apply
Your occupational therapy fieldwork must be arranged and approved by the academic fieldwork coordinator from your college or university.
Contact your school's fieldwork coordinator to arrange to participate in the Occupational Therapy Internship at Mayo Clinic School of Health Sciences.
Once accepted, your fieldwork coordinator will contact Judy Cimochowski, Education Coordinator, Mayo Clinic School of Health Sciences, at mcamshs@mayo.edu in order to complete the application process.
Tuition and financial aid
There is no tuition or fees for the internship. You do need to purchase a lab coat to wear during hospital rotations.
You are responsible for providing your living accommodations and transportation.
You may hold outside employment during the internship if it does not conflict with your program responsibilities.
Curriculum
Through patient care responsibilities and clinical experiences, this internship offers rotations in:
Acute care. Treating diagnoses ranging from generalized weakness to complex organ transplant rehabilitation, including in the intensive care unit and critical care unit.
Rehabilitation. Helping patients who can benefit from daily therapy by multiple disciplines and therapy types, such as occupational therapy, physical therapy, and speech therapy.
Orthopedics. Treating inpatients with orthopedic limitations.
Hospital-based outpatient occupational therapy and hand therapy. Treating patients who require outpatient therapy one to five times a week. Some unique treatments provided are for amyotrophic lateral sclerosis (ALS, also known as Lou Gehrig's disease), vestibular visual perception, and complex hand diagnoses.
You gain experience in treating patients with special occupational therapy needs that may include:
Amputee rehabilitation
Back-related symptoms evaluation and treatment
Brain injury rehabilitation
Musculoskeletal disorders, including shoulder and knee problems
Neck pain evaluation and treatment
Postmastectomy lymphedema management
Rehabilitation of disabling neurological conditions
Rehabilitation of neuromuscular disorders
Spinal cord injury
Sports medicine and rehabilitation
Stroke rehabilitation
Trunk or extremity bracing problems
Vestibular rehabilitation
Weekly classes cover current trends in occupational therapy. These learning experiences may include lectures, workshops, in-service training, case studies, field trips, and informal discussions.
Schedule
For the majority of the internship, the learning schedule includes eight-hour days, five days a week, and corresponds with your clinical instructor's schedule. Students also are required to work weekends that correspond with the clinical instructor's schedule.
While the regular workweek is usually 40 hours, additional projects, patient activities, and homework may be assigned.
Accreditation information
See accreditation information for Mayo Clinic College of Medicine and Science.