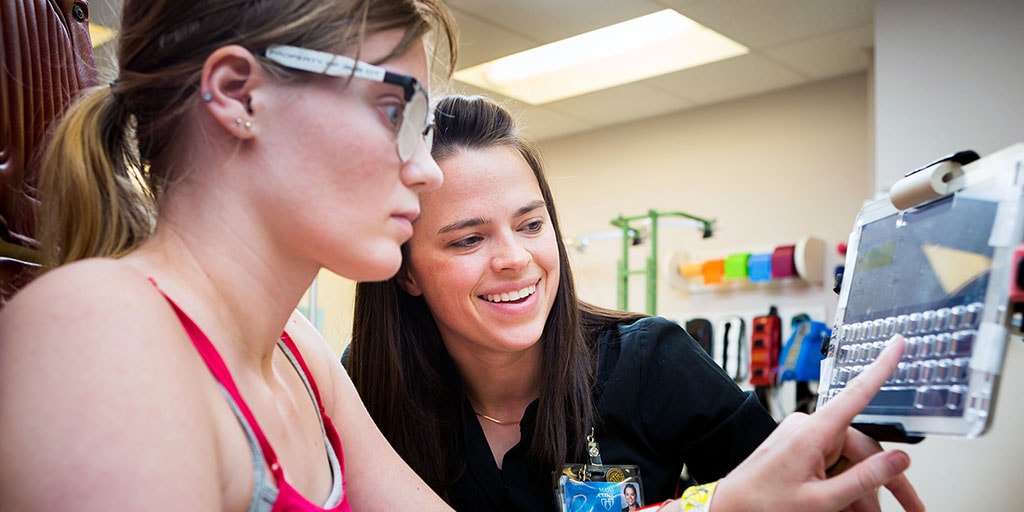 What does an occupational therapist do?
An occupational therapist works with patients who have conditions that are mentally, physically, developmentally, or emotionally disabling. They help these patients develop, recover, or maintain the skills needed for daily living and working.
The goal of an occupational therapist is to help patients with medical issues and complications to live more independently. Therapists are skilled in the social, emotional, and physical effects of an illness, injury, or disability. In doing so they may plan treatment programs and teach patients how to use adaptive equipment.
Scope of practice
Occupational therapists work with doctors, nurses, physical therapists, and occupational therapy assistants, and other team members to treat patients of all ages, from infants to the elderly. Common tasks and duties include:
Evaluating patients and determining goals for treatment
Customizing treatment to each patient's current ability and goals
Re-evaluating patients to ensure goals are being met
Adjusting treatment plans to reflect changes in ability
Specializations
Occupational therapists can seek board and specialty certifications from the American Occupational Therapy Association, including the following.
Board areas:
Gerontology
Mental health
Pediatrics
Physical rehabilitation
Specialty areas:
Driving and community mobility
Environmental modification
Feeding, eating, swallowing
Low vision
School systems
Work environment
Occupational therapists work in hospitals, rehabilitation hospitals, psychiatric hospitals, offices and clinics, school systems, nursing homes, and home health agencies. They typically work 40 plus-hour weeks during daytime hours, including some weekends and holidays. Occupational therapists work most of their hours on their feet while treating their patients.
Becoming an occupational therapist
Individuals interested in becoming an occupational therapist typically have excellent communication and interpersonal skills. They are very compassionate, patient people with a desire to help others improve their lives. High school students would set themselves up for success by taking science and communication courses, and spending time volunteering helping children or the elderly.
Higher education requirements
Occupational therapists need to obtain a bachelor's degree which can be any major but is typically biology, psychology, sociology, kinesiology, or a health science major as certain prerequisite courses are required for admission to graduate school.
Master's degree program in occupational therapy
Optional doctoral program in occupational therapy
There are some programs that combine the bachelor's and master's degree into one occupational therapy program that can be completed in a total of five years.
Certification process
After completing your graduate-level occupational therapy program, you must pass the National Board for Certification of Occupational Therapy (NBCOT) exam in order to become certified as an occupational therapist. Occupational therapists are required to complete continuing education credits each year to keep their license current.
Career opportunities and outlook
Occupational therapists can expect a median annual salary of $85,570.
The Bureau of Labor Statistics expects job openings for occupational therapists in the U.S. to grow much faster than average. This is due to the growth in the number of people with disabilities who require therapy services and as the large baby-boom generation ages and remain active later in life. There is also employment growth in schools that need therapists to serve children with disabilities.
With additional training and experience, some occupational therapists move into management roles with more responsibilities or start their own practices. Some therapists complete a doctorate degree and become professors while others earn specializations to increase career opportunities.
By the numbers
6-8
years of higher education
17%
job growth projected from 2020-2030
Occupational therapist programs at Mayo Clinic
Mayo Clinic offers several occupational therapy programs to prepare students for a career as an occupational therapist, including:
Browse similar careers