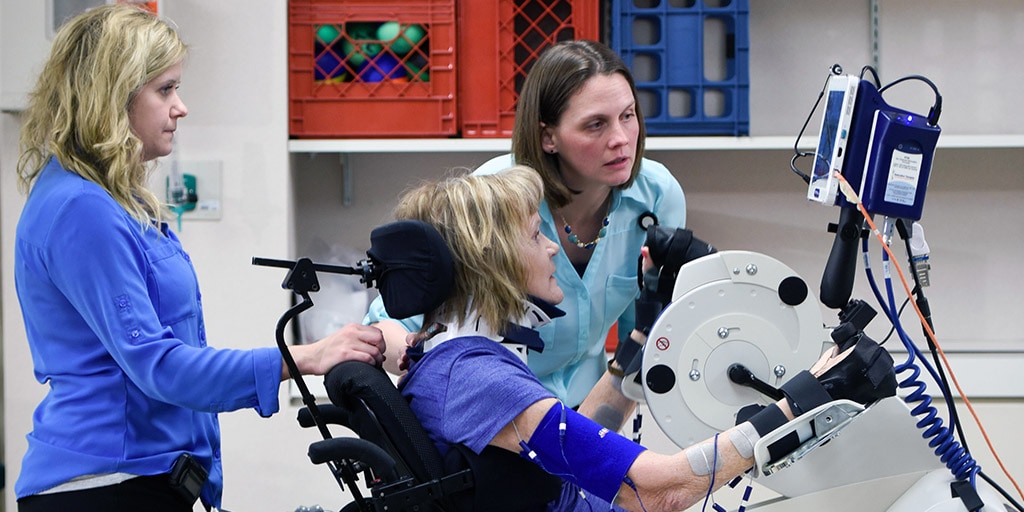 Program overview
Program length: 12 weeks
Class size: Varies
Location: Rochester, Minnesota
This internship provides the high-quality educational and clinical fieldwork needed to create a well-rounded, fully competent occupational therapist or occupational therapy assistant. To be eligible for the internship, you must be currently enrolled in an accredited occupational therapy education program. The academic fieldwork coordinator at your college or university arranges admission to the internship.
Throughout your internship, you are exposed to adaptive training activities, equipment, videos, and resources. These prepare you for treating individuals with medical diagnoses typically seen in the rehabilitative clinical setting, such as stroke, spinal cord injury, traumatic brain injury, multiple sclerosis, cancer, cardiac, orthopedic, general medical conditions, and neurological impairments.
There are two levels of practice in occupational therapy:
Occupational therapist. To prepare for a career as an occupational therapist, you must complete a professional education program accredited by the Accreditation Council for Occupational Therapy Education (ACOTE). You may choose:

A professional master's degree program
A professional doctorate of occupational therapy degree program

Occupational therapy assistant. To become an occupational therapy assistant, you must complete an educational program accredited by ACOTE.
The American Occupational Therapy Association Inc. (AOTA) provides a list of schools that offer accredited occupational therapy education programs. All courses of study require a period of supervised clinical experience and successful completion of a certification examination. Those who pass are awarded the title of occupational therapist or occupational therapy assistant.
Application process
Non-U.S. citizen applicants
Admission to Mayo Clinic School of Health Sciences is open to U.S. workers in the four categories below. Therefore, visa sponsorship is not available.
U.S. citizens
U.S. nationals
Lawful permanent residents
Asylees and refugees
Applicants whose primary language is not English must submit results from the Test of English as a Foreign Language Internet-based test (TOEFL iBT). Scores from the speaking portion of the exam are given particular consideration in admission decisions. Learn more about the exam and register online at the Educational Testing Service.
The Mayo Clinic School of Health Sciences code for the TOEFL iBT is 5784.
Educational transcripts from schools outside the U.S. must be translated (if they are not already in English) and evaluated for U.S. equivalence by an accredited credential evaluation service company prior to submission. Please refer to the National Association of Credential Evaluation Services for a list of qualified companies. The applicant pays for the examination and credential-evaluation services.
How to apply
Your application and all supporting documentation must be received at least 90 days prior to the start of the internship. The occupational therapy fieldwork must be arranged and approved by the academic fieldwork coordinator from your college or university.
Arrange internship participation. Contact your program's academic fieldwork coordinator to arrange to participate in the Occupational Therapy Internship at Mayo Clinic School of Health Sciences.
Begin the application process. Once your participation is approved by both your academic fieldwork coordinator and the Mayo Clinic School of Health Sciences Occupational Therapy Internship director, you receive an instructional email to begin the formal application process approximately six months prior to your start date.
Complete the application process. Follow and complete all the steps in this application email. Approximately one to two months prior to your start date, you will receive an email with additional application documents to complete from Mayo Clinic School of Health Sciences.
Your complete application and supporting documentation must be returned by email in a timely manner to ensure your ability to begin this internship on the scheduled date. No interviews are held for internship positions unless notified by the Center Coordinator of Clinical Education.
Tuition and financial aid
You pay tuition to the school that you are attending. Mayo Clinic charges no additional fees and does not offer financial aid for the internship.
You are responsible for providing your living accommodations and transportation.
You may hold outside employment during the internship if it does not conflict with your program responsibilities.
Curriculum
Mayo Clinic offers occupational therapy internships in these practice areas:
Geriatrics
Hand clinic
Inpatient acute care
Inpatient rehabilitation unit
Intensive care unit
Oncology
Pain Rehabilitation Center
Pediatric rehabilitation
Mental health
You may work in a collaborative model where one clinical instructor supervises more than one student. In other areas, a one-on-one model of clinical instruction is provided. You have a primary staff supervisor and interact with occupational therapy staff members.
You gain experience in treating patients with special occupational therapy needs, which may include:
Acute care complex medical conditions
Amputee rehabilitation
Brain injury rehabilitation
Cardiac care
Cognitive and safety evaluations
Musculoskeletal disorders, including shoulder and knee problems
Orthopedic trauma and general orthopedic needs
Pelvic health
Postmastectomy lymphedema management
Rehabilitation of disabling neurological conditions
Rehabilitation of neuromuscular disorders
Spinal cord injury
Stroke rehabilitation
Trunk or extremity bracing problems
Educational sessions covering current trends in occupational therapy are periodically offered with student participation welcomed. These learning experiences may include lectures, workshops, in-service training, case studies, Grand Rounds, and informal discussions.
Schedule
For the majority of the internship, the learning schedule includes eight-hour days, five days a week. While the regular workweek is usually 40-45 hours, additional projects, patient activities, and homework may be assigned.
Faculty
The Occupational Therapy Internship is coordinated and taught by the clinical, scientific, and technical staffs of Mayo Clinic. Faculty members are chosen for their commitment to teaching, as well as clinical practice or research. Many have published and lectured extensively and are highly regarded in their fields. You will have direct access to these individuals throughout your training, giving you the opportunity to learn from experienced practitioners in the field of occupational therapy.
Accreditation information
See accreditation information for Mayo Clinic College of Medicine and Science.