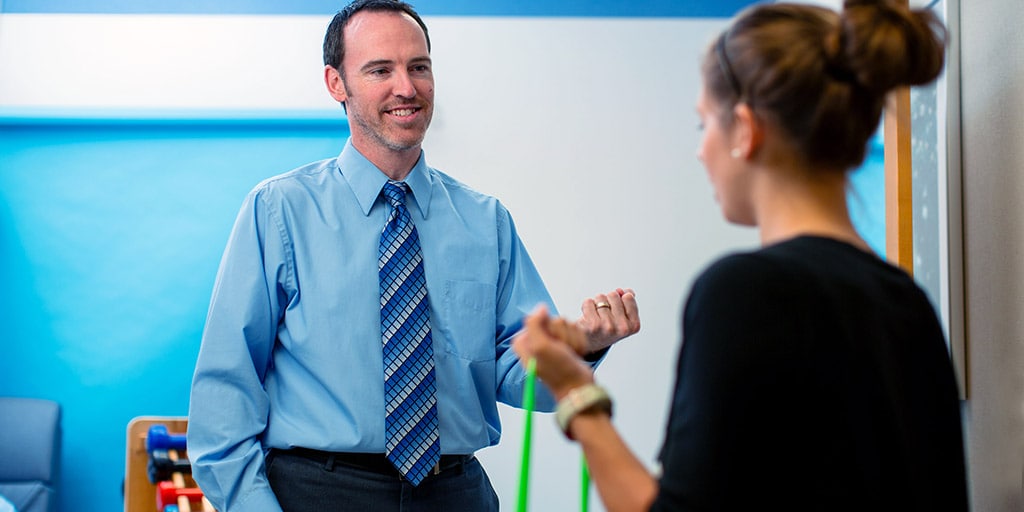 Program overview
Program length: 10-12 weeks
Class size: Varies
Location: Phoenix, Arizona
This internship provides the high-quality clinical experiences you need to become a competent entry-level physical therapist in clinical settings offered within our practice such as acute care, outpatient, or sports medicine.
As a physical therapy intern, you will study and work at Mayo Clinic Hospital or other Mayo Clinic facilities in the Greater Phoenix area. The internship provides one-to-one instruction, guidance and supervision from your clinical instructor, collaboration within our therapy and health care teams, and clinical experiences to challenge your application of skills and patient management in the transition from classroom to practice.
Application process
Prerequisites
To participate in the internship, you must be in your final clinical practicum and enrolled in a physical therapy program at one of these affiliated academic institutions:
Please note: All visiting students are required to be fully vaccinated against COVID-19 and provide proof of vaccination, with no exceptions. Mayo Clinic does not accept declinations of any kind for this internship.
Non-U.S. citizen applicants
Admission to Mayo Clinic School of Health Sciences is open to U.S. workers in the four categories below. Therefore, visa sponsorship is not available.
U.S. citizens
U.S. nationals
Lawful permanent residents
Asylees and refugees
Applicants whose primary language is not English must submit results from the Test of English as a Foreign Language Internet-based test (TOEFL iBT). Scores from the speaking portion of the exam are given particular consideration in admission decisions. Learn more about the exam and register online at the Educational Testing Service.
The Mayo Clinic School of Health Sciences code for the TOEFL iBT is 5784.
Educational transcripts from schools outside the U.S. must be translated (if they are not already in English) and evaluated for U.S. equivalence by an accredited credential evaluation service company prior to submission. Please refer to the National Association of Credential Evaluation Services for a list of qualified companies. The applicant pays for the examination and credential-evaluation services.
How to apply
Applications are accepted between April 1 and May 31 each year.
Application instructions
Complete the following steps to apply:
Create an account to complete the Mayo Clinic School of Health Sciences Application for Admission


Select – Mayo Clinic School of Health Sciences
Select – Physical Therapy Internship

Complete each section of the application and submit
After submission, review the required Supplemental Items and Documents

Upload each required item in the Supplemental Items section
Complete the Recommendation Request section
Additional required items
CV/Resume (to include GPA)
One letter of recommendation is required and must be completed in the Recommendation Request section. The recommender will receive an email with a link to complete their recommendation.

School faculty or a clinician with whom you have worked in a former job or internship

Personal statement. Please limit to two pages (1,000 words, 12 font, single spaced), which will include the following questions:

What are your career objectives in therapy and specific to the practice setting for this rotation?
How has your previous education or training prepared you for this area of therapy practice?
Describe any personal qualities or experiences that make you a competitive candidate for this clinical rotation.
What do you envision you can contribute to the Mayo Clinic Therapy practice during your clinical rotation?
Describe you learning style and ideal mentor?
What are the date ranges (months) that you are requesting?
Interview process
Applications will be reviewed after the deadline date, and applicants selected for a Zoom interview will be contacted. Successful candidates will be notified approximately four weeks after their interview.
Acceptance
Applicants are selected based on grades and work experiences, as well as volunteer experiences, leadership qualities, and representation of personal qualities and skills in a personal letter.
Tuition and financial aid
You pay tuition to the college or university you are attending. Mayo Clinic charges no additional fees.
You are responsible for providing your living accommodations and transportation. You may hold outside employment during the program, if it does not conflict with your program responsibilities.
Curriculum
Mayo Clinic offers physical therapy clinical experiences in:
Inpatient acute care (orthopedics, neurology, oncology, transplant, critical care, emergency department consultation, geriatrics, and cardiovascular and pulmonary disorders)
Outpatient care (orthopedics, neurological conditions, vestibular rehab, oncology and related conditions, post critical illness, geriatrics, and sports medicine)
You will also gain experience in treating patients with special therapy needs, which may include:
Post-operative care and management
Consultations for post-acute care
Critical care early intervention/mobilization
Spine-related injury and post-operative care
Musculoskeletal and joint disorders
Lymphedema management
Degenerative neurologic conditions and stroke
Rehabilitation of neuromuscular disorders
Sports medicine and rehabilitation
Vestibular rehabilitation
Pelvic health conditions
Oncology and treatment-related conditions
Gait and balance dysfunction
Internships are 10-weeks or longer but may vary in length depending on the academic program's requirements. You may have the opportunity to complete a series of internships in various Mayo Clinic practice areas.
Over the course of the internship, you may participate in lectures, workshops, in-service training, case studies, field trips, Grand Rounds, and informal discussions.
Schedule
For the majority of the internship, your learning schedule will include eight-hour days, five days a week. Inpatient assignments will require weekend shifts within your rotation. While the regular workweek is usually 40 hours, additional projects, patient activities, and homework may be assigned.
Accreditation information
See accreditation information for Mayo Clinic College of Medicine and Science.