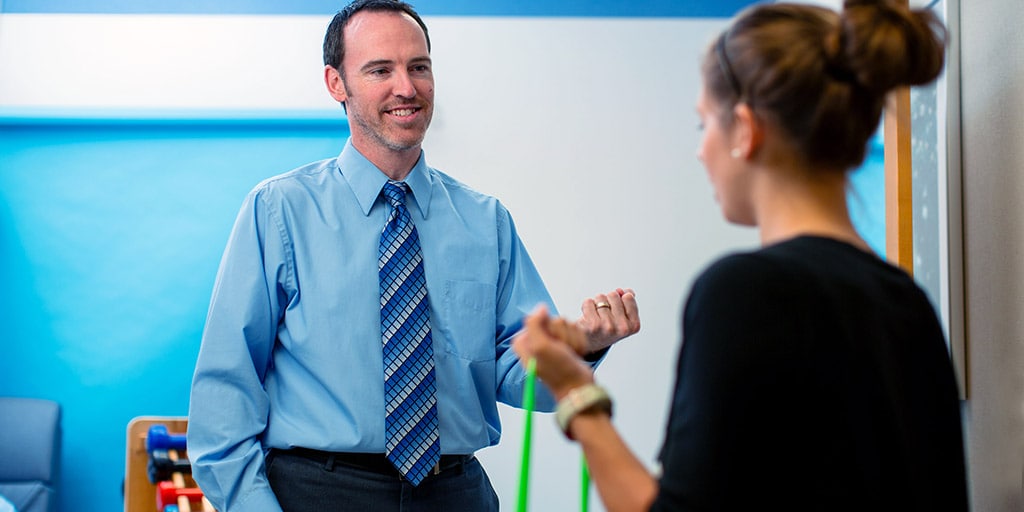 Program overview
Duration: 10-12 weeks
Class size: Varies
Location: Phoenix, Arizona
This internship provides the high-quality clinical experiences you need to become a competent physical therapist in your specialty area, such as acute care, neurologic rehabilitation, sports medicine, or geriatrics.
As a physical therapy intern, you will study and work at Mayo Clinic Hospital or other Mayo facilities in the Greater Phoenix area. The internship provides high-quality instruction and clinical experiences needed to become a competent therapist.
Application process
Prerequisites
To participate in the internship, you must be in your final clinical practicum and enrolled in a physical therapy program at one of these affiliated academic institutions:
Admission to the internship is prearranged by the academic coordinator from your college or university.
How to apply
Contact your school's Academic Clinical Education Coordinator or Director of Clinical Education to arrange to participate in this internship.
Once your participation is approved by both your Academic Clinical Education Coordinator and the Mayo Clinic School of Health Sciences Physical Therapy Internship Program Director, you will receive further information and compliance requirements. You will also be required to complete the Mayo Clinic School of Health Sciences online application.
Tuition and financial aid
You pay tuition to the college or university you are attending. Mayo Clinic charges no additional fees.
You are responsible for providing your living accommodations and transportation. You may hold outside employment during the program, if it does not conflict with your program responsibilities.
Curriculum
Mayo Clinic offers physical therapy clinical experiences in:
Inpatient acute care
Outpatient care
Acute rehabilitation (emphasis on neurologically impaired patients)
Inpatient orthopedics (joint replacements, laminectomies)
Outpatient orthopedics
Geriatric outpatient
Organ transplants
Intensive care unit
To augment your physical therapy experience, you may follow a patient from ICU to outpatient rehabilitation.
You will gain experience in treating patients with special therapy needs, which may include:
Back-related symptoms evaluation, and treatment
Musculoskeletal disorders, including shoulder and knee problems
Neck pain evaluation and treatment
Postmastectomy lymphedema management
Rehabilitation of disabling neurologic conditions
Rehabilitation of neuromuscular disorders
Sports medicine and rehabilitation
Stroke rehabilitation
Vestibular rehabilitation
Internships are 10 weeks or longer, but may vary in length depending on the academic program's requirements. You may have the opportunity to complete a series of internships in various Mayo Clinic practice areas.
Over the course of the internship, you may participate in lectures, workshops, in-service training, case studies, field trips, Grand Rounds, and informal discussions.
Hours
For the majority of the internship, your learning schedule will include eight-hour days, five days a week. While the regular workweek is usually 40 hours, additional projects, patient activities, and homework may be assigned.
Accreditation information
See accreditation information for Mayo Clinic College of Medicine and Science.