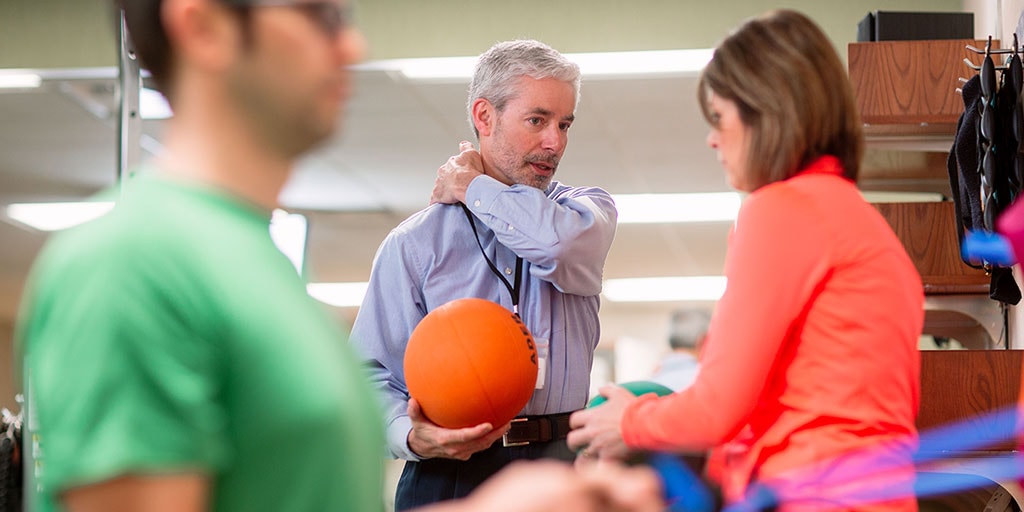 What does a physical therapist do?
Physical therapists diagnose and treat patients who have medical problems or injuries that limit their abilities to move or function in their daily lives. Patients will typically come to a physical therapist after being referred by their primary physician. Physical therapists work with people who have experienced an injury or disease that has affected their movement and range of motion.
A physical therapist will examine a patient then create a recovery plan. They often focus on treatments that reduce the need for surgery and prescriptive drugs. A physical therapist uses a combination of exercise, stretches, hands-on techniques, and equipment to restore function or relieve pain.
Scope of practice
Physical therapists work with physical therapy assistants, educators, social workers, nurses, doctors, and surgeons to treat patients of all ages, from infants to the elderly. Common tasks and duties include:
Diagnosing patients to determine a level of function by observing them stand, walk, and perform tasks, as well as listening to their concerns
Designing an individualized care plan based on their observations of the patient, the patient's goals and expected outcomes, available research on the condition, and their medical expertise
Evaluating the progress of the patient and adjusting care plans when necessary
Developing and implementing plans to successfully discharge
Specializations
With certification, physical therapists can specialize in a particular area, including:
Cardiovascular and pulmonary
Clinical electrophysiology
Geriatrics
Neurology
Oncology
Orthopedics
Pediatrics
Sports
Work environment
Physical therapists work in hospitals, private practices, home health agencies, outpatient rehabilitation centers, nursing homes, schools, and medical clinics. They are on their feet for the majority of their working day, and often need to use their bodies to work with patients – including needing to lift or move them. A typical day shift, weekday work schedule can be expected, but some work settings may require evening or weekend hours.
Becoming a physical therapist
If you're looking for a rewarding career and don't mind six to seven years of higher education, becoming a physical therapist might be a great career choice for you; physical therapists report having a lot of personal fulfillment from their job.
Higher education requirements
To become a physical therapist, you'll need to complete a physical therapy program. Specifically, you'll need to either complete a bachelor's degree and then a doctoral program in physical therapy, or you might choose a 3+3 physical therapy program that combines the degrees into a total of six years of higher education.
Once a degree is achieved, some physical therapists choose to enroll in a residency or fellowship program after graduating from their doctoral program. This will provide the physical therapist with advanced training and mentorship; it will also allow them to specialize and develop expertise in a specific area.
Certification process
Certification is not required, but may provide additional opportunities for physical therapists. In order to become board certified, you must have a doctoral degree in physical therapy, must have completed at least 2,000 hours of clinical experience, and must pass a certification exam.
Career opportunities and outlook
Physical therapists can expect a median annual salary of $95,620.
According to the Bureau of Labor Statistics, employment of physical therapists in the U.S. is expected to grow much faster than average. This is due to the aging baby-boomer population who are staying active later in life and are more likely to deal with health conditions that can benefit from physical therapy. Secondly, there has been an increase in chronic conditions such as diabetes and obesity so physical therapists are needed to help these patients manage the effects of these conditions.
With additional training and experience, some physical therapists move into management roles with more responsibilities or start their own practices. Some therapists become professors while others earn specializations in areas such as pediatrics or sports medicine to increase career opportunities.
By the numbers
6-8
years of higher education
21%
job growth projected from 2020-2030
Physical therapist programs at Mayo Clinic
Mayo Clinic offers several physical therapy programs to train students for a career as a physical therapist.
Browse similar careers