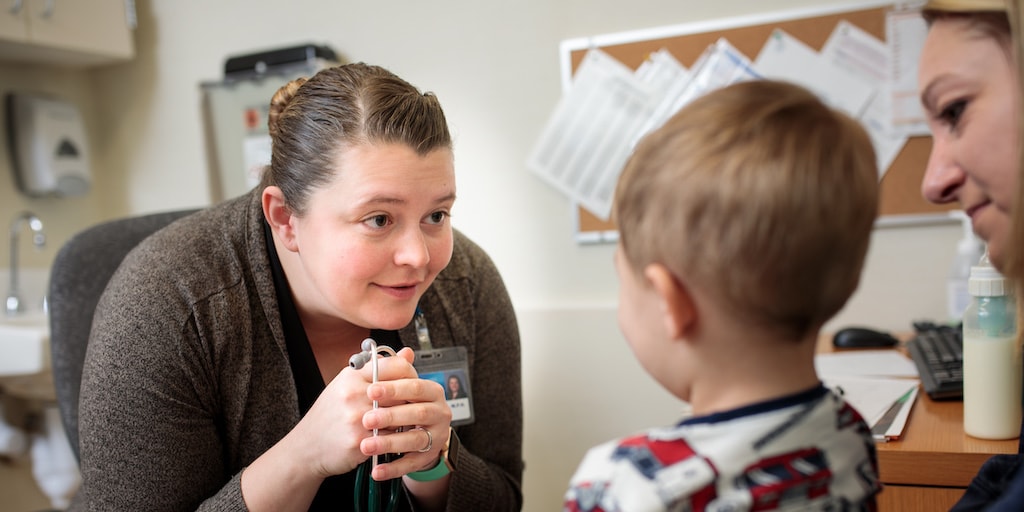 Program overview
Program length: 4-6 weeks
Class size: Varies
Location: Jacksonville, Florida
This clinical rotation gives physician assistant students the hands-on clinical experience they need in a health care setting with a diverse patient population. The rotation prepares you to work both independently and collaboratively as a member of a health care team.
Graduation and certification
Upon successful completion of your physician assistant program, your college or university will award a Master of Science (M.S.) degree in physician assistant studies. Graduates are eligible to take the Physician Assistant National Certifying Exam (PANCE) administered by the National Commission on Certification of Physician Assistants (NCCPA).
Application process
Rotation requests
Requests for a clinical rotation must be made each semester by the student's clinical faculty. Rotation requests from students will not be accepted.
Applications received after the deadline will not be considered.
| Rotation dates | Request deadline |
| --- | --- |
| Fall semester (September - December) | June 1 |
| Spring semester (January - April) | October 1 |
| Summer semester (May - August) | February 1 |
Prerequisites
If you are enrolled in an affiliated physician assistant baccalaureate or master's degree program, you are eligible to participate in the clinical rotation by making arrangements through your college program director.
Affiliated academic institutions include:
You must successfully complete the required pre-professional and professional college coursework required by your college or university before you are eligible to complete the clinical rotation. A general surgery rotation is required prior to a surgical specialty clinical rotation.
Non-U.S. citizen applicants
Admission to Mayo Clinic School of Health Sciences is open to U.S. workers in the four categories below. Therefore, visa sponsorship is not available.
U.S. citizens
U.S. nationals
Lawful permanent residents
Asylees and refugees
Applicants whose primary language is not English must submit results from the Test of English as a Foreign Language Internet-based test (TOEFL iBT). Scores from the speaking portion of the exam are given particular consideration in admission decisions. Learn more about the exam and register online at the Educational Testing Service.
The Mayo Clinic School of Health Sciences code for the TOEFL iBT is 5784.
Educational transcripts from schools outside the U.S. must be translated (if they are not already in English) and evaluated for U.S. equivalence by an accredited credential evaluation service company prior to submission. Please refer to the National Association of Credential Evaluation Services for a list of qualified companies. The applicant pays for the examination and credential-evaluation services.
How to apply
Our affiliated schools process the admissions and applications for their physician assistant programs and work with students to plan their clinical rotations (internships).
Application process. The program coordinator from each affiliated institution will need to reach out to the Mayo Clinic School of Health Sciences Physician Assistant Clinical Rotation program at MSHSPASP@mayo.edu. The request needs to include the following information:

The student's name, email address, rotation request, and dates of rotation.
A copy of the student's CV/resume.
A one-page statement detailing the student's interest in the rotation.
A copy of the school's course objectives or equivalent document for the course. If the school does not have course objectives, the student should identify personal goals for the rotation.

Requests will only be accepted from the affiliated institutions. We will not accept requests from students. Students are discouraged from reaching out to potential preceptors on their own.

Note: Due to very limited availability for core rotations (ED, general surgery, internal medicine/critical care) we ask to please limit these requests to two students per year per school. Elective rotations are based on preceptor availability and we will try to accommodate as many requests as possible. As a friendly reminder, students must have completed their general surgery rotation before any elective surgery rotations.

Review and acceptance. The Mayo Clinic School of Health Sciences Education Committee reviews and approves the applications and works directly with the affiliated school to place those students accepted.
Tuition and financial aid
Tuition is determined by and paid to the college or university at which you are enrolled. Mayo Clinic charges no additional fees.
You are responsible for your living accommodations and transportation.
You may hold outside employment during the rotation if it does not conflict with your educational responsibilities.
Curriculum
Your physician assistant program is offered by the affiliated college or university providing your degree program. Your college or university program director will determine and develop the course work and laboratory experiences for the program and make arrangements for clinical rotations with the Mayo Clinic School of Health Sciences education coordinator.
Your rotations may include physician assistant experiences in:
Cardiology
Cardiothoracic surgery
Critical care
Dermatology
Emergency medicine
ENT
Family medicine
General surgery
Genetics
GYN surgery
Hematology/oncology
Infectious disease
Internal medicine
Neurology clinic
Neuro surgery
Orthopedic surgery
Pain management
Plastic surgery
Pulmonology
Radiation oncology
Rheumatology
Transplant medicine (clinic-based rotation, no surgical exposure)
Transplant surgery
Urology surgery
Schedule
For the majority of the clinical rotation, the learning schedule includes eight-hour days, five days a week.
Accreditation information
See accreditation information for Mayo Clinic College of Medicine and Science.