How to Apply
Enrollment options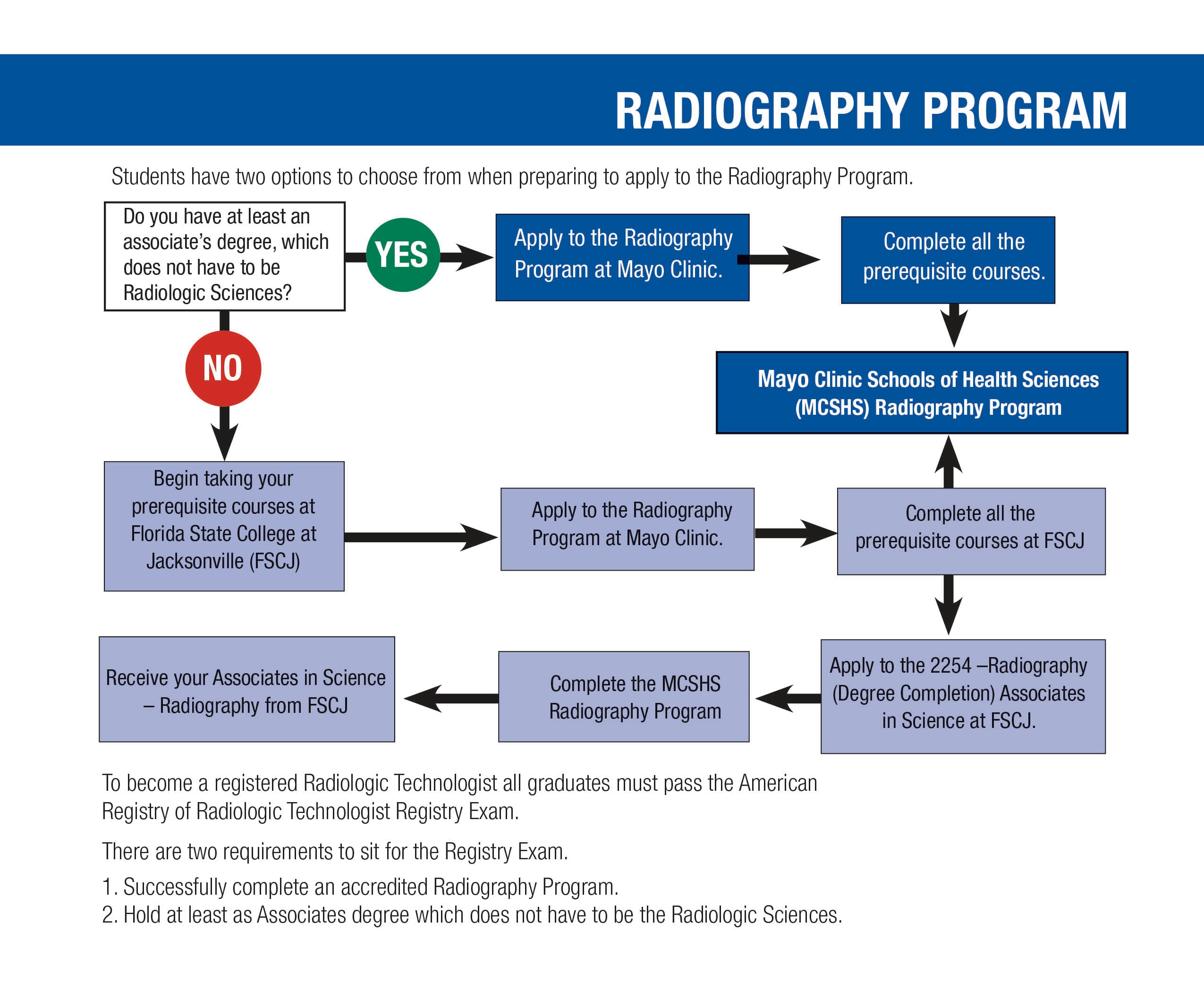 Enrollment options
Florida State College at Jacksonville offers an Associate in Science (A.S.) in Radiography track in affiliation with our program. (Program code: 2254.) Interested students must apply to FSCJ and must complete prerequisite courses at FSCJ. Transfer credit for previous general college coursework may be accepted by FSCJ.
Students may be eligible for the certificate option if they have met both of the following:
Earned an associate degree or higher (does not have to be in radiography) before the program start date
Completed all of the required program prerequisite coursework
Admissions
Competitive applicants
Students will be most competitive if they have:
Performed well in all program prerequisites.
Achieved at least a 3.0 GPA.
Taken at least 13 prerequisite credits at FSCJ or have an associate degree (or more advanced degree) already awarded.
Transfer student policy
Transfer credit from other radiography program coursework that is specific to radiography is not accepted.
FSCJ may accept transfer credit for previous general college coursework.
Non-U.S. citizen applicants
Admission to Mayo Clinic School of Health Sciences is open to U.S. workers in the four categories below. Therefore, visa sponsorship is not available.
U.S. citizens
U.S. nationals
Lawful permanent residents
Asylees and refugees
Applicants whose primary language is not English must submit results from the Test of English as a Foreign Language Internet-based test (TOEFL iBT). Scores from the speaking portion of the exam are given particular consideration in admission decisions. Learn more about the exam and register online at the Educational Testing Service.
The Mayo Clinic School of Health Sciences code for the TOEFL iBT is 5784.
Educational transcripts from schools outside the U.S. must be translated (if they are not already in English) and evaluated for U.S. equivalence by an accredited credential evaluation service company prior to submission. Please refer to the National Association of Credential Evaluation Services for a list of qualified companies. The applicant pays for the examination and credential-evaluation services.
Equal opportunity
Mayo Clinic School of Health Sciences upholds all federal and state laws that preclude discrimination on the basis of race, sex, age, religion, national origin, marital status, sexual orientation, disabilities, or veteran status.
For more information, review the Student Selection Committee Policy or visit the Education Office for Diversity, Equity, and Inclusion.
COVID-19 vaccination
All learners are required to be fully vaccinated against COVID-19 unless medical or religious exemptions have been granted by Mayo Clinic School of Health Sciences. Ten weeks before the program start date, the Student Services office will request proof of vaccination, or requests for medical or religious exemptions, which must be received and approved before beginning the program.
Before you apply
Before you apply, learn what prerequisites and technical standards we require of each of our applicants.
The Radiography Program includes 29 credits of prerequisites and 58 credits at Mayo Clinic.
You must complete at least 13 of the 29 semester credits prerequisites prior to applying to the program. The remaining prerequisite credits must be completed by the start of the program in January.
| Number | Course | Credits |
| --- | --- | --- |
| BSC 2085C | Human Anatomy and Physiology I | 4 |
| HSC 1531 | Medical Terminology | 3 |
| MAC 1105 | College Algebra | 3 |
| ENC 1101 | English Composition I | 3 |
| BSC 2086C | Human Anatomy and Physiology II | 4 |
| PHY 1020C | Physics for Liberal Arts with Laboratory | 3 |
| CGS 1060 | Introduction to Information Technology | 3 |
| — | Social sciences elective | 3 |
| — | Humanities elective | 3 |
Candidates must meet the technical standards (with or without reasonable accommodation) necessary to acquire or demonstrate competence in health professions as outlined in the Radiography Program technical performance standards document.
Applicants must be able to perform the essential functions of the profession and meet the standards of the curriculum. To seek exceptions to these standards or reasonable accommodations, students accepted for admission must initiate a request with the program director at least six weeks before the program begins.
Application process
| Application window | Program start date | Apply |
| --- | --- | --- |
| Nov. 1 – Feb. 28 | January (spring semester) | Online application |
Application instructions
Complete the following steps to apply:
Create an account to begin the online Application for Admission

Select - Mayo Clinic School of Health Sciences
Select – Radiography Program (FLA)

Complete each section of the application and submit
After submission, view the required Supplemental Items and Documents
Upload each required item in the Supplemental Items section
Complete the Recommendation Request section
Additional required items
Unofficial transcripts from all educational institutions, including all college and university credits and grades from your most recent quarter or semester, may be uploaded in the Supplemental Items area for application purposes. If admitted, official copies of all transcripts will be required prior to start of program and must be directly sent from the institution to:
Mayo Clinic School of Health Sciences
Radiography Program
Attn: Shaun Harrell
Vincent A. Stabile Building, Room 830N
4500 San Pablo Road
Jacksonville, FL 32224
Essay/personal statement
CV/resume: Upload your resume in the application system. Your resume is a chance to highlight your experiences and skills.
Two recommendations are required and must be completed in the Recommendation Request section. Each recommender will receive an email with a link to complete a rating form and upload a letter.

Academic: A minimum of one reference must be an educational reference. Choose a person familiar with your educational qualifications and your potential for success in the field of radiography. References may include current or former teachers or professors.
Professional: Choose a person familiar with your professional qualifications and your potential for success in the field of radiography. References may include employers, teachers, or supervisors.
Interview process
Applicants considered for acceptance are invited to a virtual web-based interview with the program's interview panel in March. Admissions decisions are based on the applicant's performance in the prerequisite courses and the interview.
U.S. citizenship or permanent immigrant status is required for admission to this program.
Fluency in written and spoken English is essential for success in the program and to ensure patient safety. Applicants must demonstrate objective competency in English through the admission interview and may be required to submit results from the Test of English as a Foreign Language (TOEFL) examination or equivalent examination.
Acceptance
All acceptance letters are emailed in April. Your reply is expected within two weeks. Your acceptance to the program is contingent upon successful completion of all prerequisites, the employee health requirements, a drug screen, and a background check.
Enrolled students are required to be covered in a medical insurance plan throughout their educational program at Mayo Clinic. Students who do not have health care coverage should purchase a policy from an agency or company of their choice. Mayo Clinic School of Health Sciences does not endorse any particular plan or provider.