Department and Faculty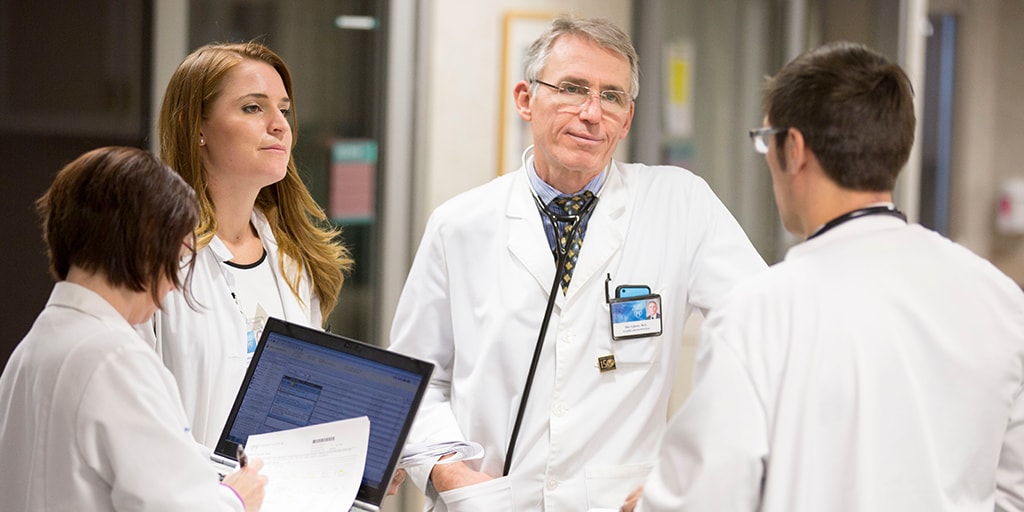 Specialists in the Division of Pulmonary and Critical Care Medicine and the Division of Anesthesia provide dedicated, continuous care to patients who are critically ill and require advanced monitoring and care in the intensive care unit setting. They are specially trained in the care of critically ill patients and work in close collaboration with anesthesiologists, surgeons and other specialists in the hospital. Additionally, rotations in other critical care specialties offers exposure to leaders in their respective fields who provide enhanced educational and learning opportunities.
Critical care medicine specialists at Mayo Clinic's campus in Rochester, Minnesota, manage patients with multisystem organ failure, central nervous system crises, cardiac failure, recent transplantations and other life-threatening problems.
Faculty
In addition to caring for patients in their clinical practices, Mayo Clinic's faculty is committed to teaching and facilitating the growth of medical knowledge. Many of our faculty members have published and lectured extensively and are highly regarded in their fields. You have direct access to these individuals (including pulmonary and critical care faculty and critical care anesthesia faculty)
Mentors
The fellowship offers a mentorship program. You are assigned a dedicated faculty mentor who can provide comprehensive educational advice and personal support.
Visiting professors
Many prominent professors visit Mayo Clinic each year. They present their work during lectures, participate in hospital rounds and have informal discussions with trainees. You are encouraged to take full advantage of these educational opportunities.
From the program director
Welcome! Thank you for your interest in the Critical Care Internal Medicine Fellowship at Mayo Clinic's campus in Rochester, Minnesota. We offer a unique experience designed to provide the best educational and experiential elements necessary for you to become a fully trained intensivist. This is one of the best places to train.
The Division of Pulmonary and Critical Care Medicine has been ranked among the top programs in the nation for respiratory disorders in the U.S. News & World Report Best Hospitals rankings.
The Critical Care Internal Medicine Fellowship offers an excellent blend of complex and common critical care disorders, combined with excellent teaching and supervision by world-renowned experts.
There are plenty of opportunities and resources, not only in clinical and basic sciences but also in the science of health care delivery, education research, professionalism and ethics.
The Mayo emblem, the triple shield, symbolizes the three key areas of our focus: research, patient care and education. The fellowship program's vision and mission are clearly aligned with these.
Those who visit our department quickly notice the dedication of our faculty and the spirit of our fellows. This is an extraordinary group of colleagues that people want to join and emulate.
Darlene Nelson, M.D., FCCP
Critical Care Internal Medicine Fellowship Director