Department and Faculty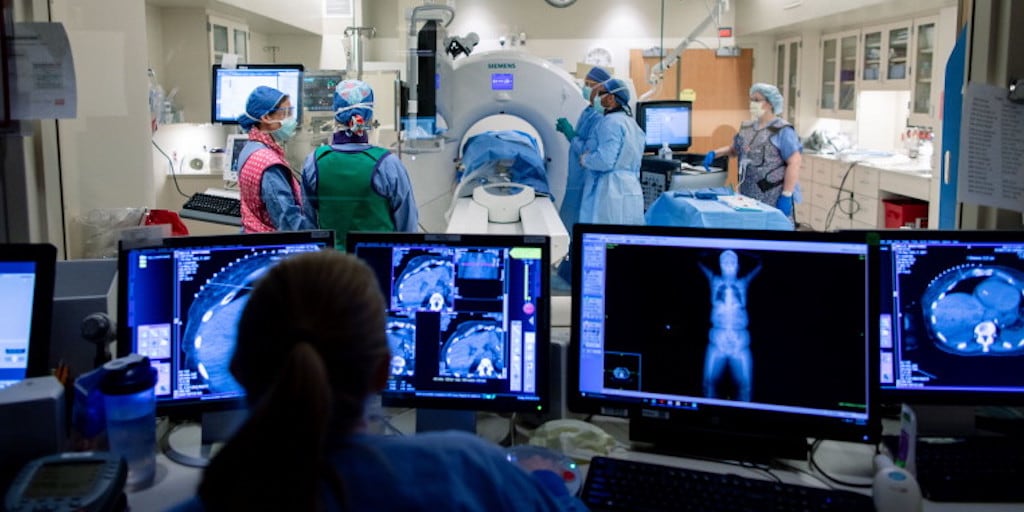 Radiologists and staff in the Department of Radiology at Mayo Clinic's campus in Rochester, Minnesota, provide the highest quality diagnostic and interventional imaging services in a caring and efficient manner, while sustaining outstanding programs in research and education.
This 115-year-old department — one of the first of its kind — is fully integrated with all the medical services available throughout Mayo Clinic. More than 180 radiologists and physicists cooperate with 1,100 support staff members to provide diagnostic and therapeutic radiology services to patients.
Facilities
Experts in all areas of radiology consult with specialists in other departments to provide the best care to every patient every day. Radiologists work with state-of-the-art equipment, assisted by skilled technologists and nurses, to perform and interpret more than 1 million examinations yearly.
The department's equipment includes:
30 clinical magnetic resonance imaging (MRI) scanners, including 16 3-tesla magnets, plus an additional three dedicated research magnets.
19 clinical computerized tomography (CT) scanners, including nine dual source scanners, plus two additional dedicated research CT scanners.
45 ultrasound machines.
7 interventional suites.
The nuclear radiology practice includes:
20 nuclear medicine cameras
5 positron emission computerized tomography (PET)/CT scanners
2 cardiac PET scanners
1 PET/MRI scanner
2 cyclotrons
From the program director
Welcome to the Mayo Clinic Diagnostic Radiology Residency! I am thrilled to introduce you to one of the best radiology training programs in the nation. Our strengths lie in the diverse, high volume pathology from patients seeking care from all over the world, early and robust hands-on procedural experience, and graduated autonomy that prepares you to transition into the practice of your choice.
Mayo Clinic's core value that the needs of the patient come first, paired with the highest standards of professionalism and integrity, give us true purpose in our "three shields" of clinical practice, education, and research. All of this in the thriving, affordable, and friendly city of Rochester, Minnesota, allowing for an incredible quality of life!
You will work one-on-one with staff who are leaders in radiology and develop lasting relationships with staff and co-residents that will carry throughout your career. Resources for you to launch your career are innumerable and include mentorship, world-class research, opportunities to educate, and development of leadership skills.
I am a proud graduate of this program and can attest to the excellent training I received and the commitment to resident education within our department. Your years of residency are the most formative of your medical training, and you will receive the highest quality education at Mayo Clinic in Rochester that will open doors in your career for years to come.
Katie Hunt, M.D.
Program Director
From the associate program director
It's an exciting time to enter a career in radiology! We are thrilled that you are interested in our program. As a relatively recent graduate of the residency and fellowship programs, I can tell you that Mayo Clinic is an outstanding place to train and become an expert in radiology.
Starting from an early emphasis in education, we train physicians who are clinically excellent and who provide compassionate patient-centered care. Due to the large size of our department, you will have the opportunity to train with world experts in a very hands-on approach and also have flexibility to tailor your learning to your future career, whether in private practice or academics.
Annie Packard, M.D.
Associate Program Director
Faculty
Mayo Clinic's faculty is committed to teaching and facilitating the growth of medical knowledge in addition to caring for patients in clinical practice. Many of our faculty members have published and lectured extensively and are highly regarded in their fields.
Asha Bhatt, M.D.
Phil Araoz, M.D.
Michael Wells, M.D.
Theodora Potretzke, M.D.
Ashish Khandelwal, M.B.B.S.
Michael Moynagh, M.B., B.Ch.
Interests:
Interventional CT curriculum
Ultrasound
Nonvascular interventional radiology
Musculoskeletal ultrasound
Body MRI and CT
Thoracic imaging
Body composition analysis
Informatics
View full profile
Candace Bookwalter, M.D.
Greta Liebo, M.D.
Tuba Kendi, M.D.
Interests:
Nuclear medicine
Molecular and oncologic imaging
PET/CT therapy response assessment
PET/CT parameters
View full profile
Nathan Hull, M.D.
Interests:
Pediatric imaging
MSK MRI
Congenital heart disease
Appendiceal ultrasound
View full profile
Bradley Kemp, Ph.D.
Gavin McKenzie, M.D.
Rebecca Lindell, M.D.
Darci Wall, M.D.
Chad Fleming, M.D.
Interests:
Tumor embolization
Radioactive microsphere therapy
Complex biliary disease intervention
Complex genitourinary intervention
Renal stone intervention and management
Portal vein intervention
IVC filter placement and retrieval
Education leadership for residents and fellows
Contrast induced nephropathy
View full profile
Advisers and mentors
Faculty advisers are available to provide comprehensive educational advice and personal support. You meet with your adviser periodically throughout the program to review your progress and career goals, and ensure that your educational needs are being met. Your adviser may serve as a contact point for introducing you and your family to Rochester, Minnesota, and the Mayo Clinic system.
Visiting professors
Many prominent professors visit Mayo Clinic each year. They present their work during lectures, participate in hospital rounds and have informal discussions with trainees. You are encouraged to take full advantage of these educational opportunities.