Department and Faculty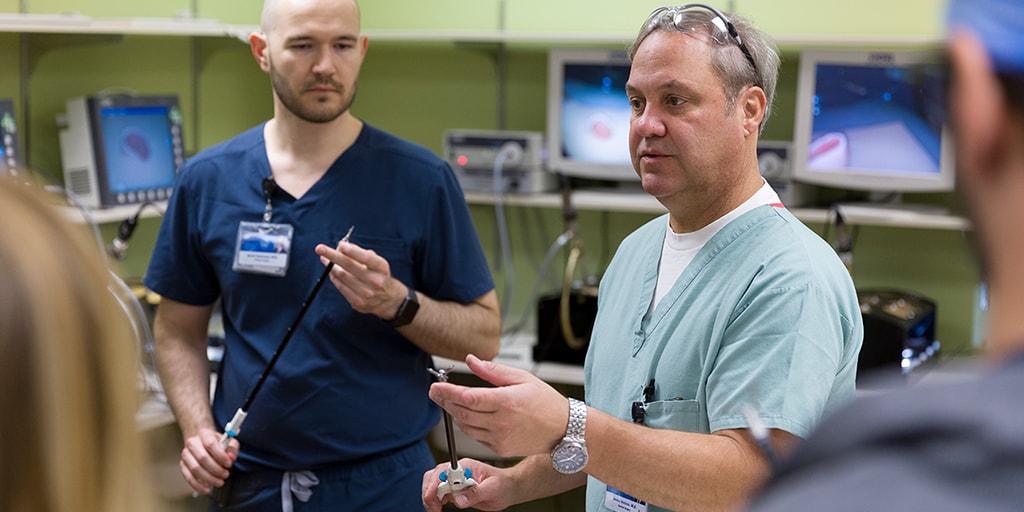 Surgical procedures of the breast, endocrine system, gastrointestinal tract, colon, liver, pancreas, rectum, and vascular system are performed within the Division of General Surgery at Mayo Clinic's campus in Phoenix/Scottsdale, Arizona. Modern, comprehensive surgical care is provided for both routine and critically ill patients.
From the program director
Thank you for your interest in Mayo Clinic's General Surgery Residency in Arizona. Let me first congratulate you on your choice of a future specialty. Very few professions both challenge and inspire in equal measure, yet are as gratifying as surgery.
Our program has been built on the strong foundation of Mayo Clinic values. We strive to provide each trainee with the resources to become the best surgeon that they possibly can. Mayo Clinic graduates are proficient in all three shields represented on the Mayo logo – clinical expertise, research, and education. The faculty are dedicated to resident education and wellbeing. Our residents work exceptionally well together with the goal to achieve excellence.
The goal of our residency and department leadership is to provide an environment where you feel supported to learn and grow as a surgeon. We expect each one of you to demonstrate the highest level of work ethics and respect the Mayo Clinic code of conduct. Your welfare and education are our top priority and we will keep striving to provide you with the best general surgical education and training.
The final chief year is structured to give trainees remarkable autonomy. Chiefs function effectively as a junior attending with dedicated clinic time and operating room time with their own service supported by junior residents. We take pride in graduating chief residents who are ready for independent practice of general surgery.
I invite you to visit our program in person and learn more about our educational philosophy and training methods, and I look forward to playing a part in your surgical training.
Nitin Mishra, M.B.B.S., M.P.H.
General Surgery Residency Program Director
Associate Professor of Surgery
Faculty
Our teaching faculty members are highly respected and recognized leaders in many fields of general and specialty surgery. Mayo Clinic surgeons are committed to the convergence of clinical patient care, education, and research.
The surgical faculty at Mayo Clinic's campus in Arizona consists of dynamic teachers with a passion for improving surgical care in the U.S. through training future leaders in general surgery. They enjoy the direct mentoring and teaching that our model of education provides to our residents.
Visiting professors
Residents training at Mayo Clinic's campus in Arizona not only have access to and receive teaching from surgeons on our faculty, but also have the opportunity to interact with many outstanding visiting professors who visit Mayo Clinic each year. They present their work during various didactic programs and dinners, and participate in hospital rounds and conferences. The residents have the opportunity to meet one-on-one with visiting faculty members throughout their stay at Mayo Clinic.