Meet Our Residents
Our residents and faculty foster a collegial environment and education-focused culture that provides an inclusive learning experience. Training can be challenging, but our program is close-knit and each resident brings a dedication to providing stellar patient care as well as a collaborative learning experience.
From the chief resident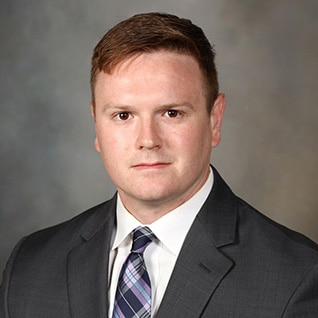 Thank you for considering the Interventional Radiology Integrated Residency at Mayo Clinic. Our program encompasses the breadth and subspecialty depths of interventional radiology (IR). From vascular and oncologic intervention to pain and spine procedures, IR is multifaceted and instrumental to patient care at Mayo Clinic.
The Vascular Interventional Radiology (VIR) division is comprised of 13 interventional radiologists, all of whom possess different areas of interest and expertise. The entire radiology division includes over 200 radiologists, many of whom also perform procedures specific to their subspecialty.
Although varied in skillsets and backgrounds, the faculty is united in its endeavor to pioneer new techniques and therapies. Notable examples include CT and MR-guided ablation techniques, which are now included in treatment guidelines, and the clinical application of intravascular stem cell administration. Consequently, our faculty are routinely invited to present at conferences and hold leadership positions in national societies.
Mayo Clinic is proud to offer both integrated and independent interventional radiology residency positions. As a resident, you will undergo training in a world-class environment using state-of-the-art equipment while learning from recognized experts in their respective fields. You will rotate through focused areas of intervention, including VIR (where vascular and complex biliary and urologic interventions are performed), CT and US-guided procedures, neuro angio intervention, spine intervention, ablation, and pain intervention. Additionally, you will receive rigorous diagnostic imaging training, which facilitates safe and effective procedures.
The hospital-based radiology practice is concentrated in a single physical location that promotes collaboration and accommodates six single-panel and three bi-panel angio suites, a dedicated interventional MR area, a hybrid procedure suite with piped-in argon gas for cryoablations, and a newly installed CT-angio suite.
You will learn the art and science of clinical decision-making in IR as you rotate through VIR outpatient clinics, interface with hospital clinical teams through the VIR inpatient consultant service, and attend the vast array of multidisciplinary conferences offered at Mayo Clinic.
Mayo Clinic's Interventional Radiology Integrated Residency provides you with exceptional technical and clinical training in IR while establishing a robust foundation in diagnostic imaging.
Thank you for your interest in our program. We look forward to meeting you.
Matthew Augustine, M.D.
Chief Resident
Current residents
Learn what our current trainees from the Interventional Radiology Integrated Residency have to say about the program.
PGY-6
Matthew Augustine, M.D.

Hometown: Hilton Head Island, South Carolina
Medical school: University of South Carolina-Columbia
About me: Born in Arizona, but raised predominantly in the Southeast. Former beach bum but have been landlocked for about the last decade. I enjoy spending time lifting weights, hiking around the many trails and state parks close to Rochester, spending time with my wife and dogs, and watching re-runs of The Office.
Why Mayo: The breadth of pathology you see at Mayo is pretty much unmatched anywhere else. We have cases that come through the reading room or procedural suite on a daily basis that people elsewhere only get to read about in textbooks, which is a huge benefit in training. The people are kind and the resources are unlimited. Great balance of teaching as well as autonomy with residents still taking independent overnight calls.
PGY-5
Paige Johnson, M.D.

Hometown: Texarkana, Arkansas
Medical school: University of Arkansas for Medical Sciences
About me: Outside of work I enjoy music, pottery, traveling, video games, and spending time with my husband, a dental hygienist. I love dogs and have an intermediate-size plant collection. I chose IR because I enjoy variety, procedures, and patient interaction.
Why Mayo: I enjoy learning different ways to achieve the same goal, so having many consultants to learn from is ideal for me. Most importantly, my goal is to always have the patient's best interest at heart, and I see this in practice every day at Mayo.
PGY-4
Wade Nedderman, M.D.

Hometown: Colleyville, Texas
Medical school: Texas A&M Health Science Center
About me: I spent my whole life in Texas before moving to Rochester. I enjoy exploring the outdoors, cooking, and weight-lifting. I am also expanding my poor-developed handy skills as a recent first-time home buyer. The newest hobby I acquired is lawn care/maintenance.
Why Mayo: The combination of clinical care, research opportunities, and outstanding faculty are the most salient reasons Secondary reasons include low cost of living, abundant outdoor activities, and minimal traffic.
PGY-3
John Gangelhoff, M.D.

Medical school: University of North Dakota School of Medicine and Health Sciences
About me: I grew up in Grand Forks, North Dakota, and attended college and medical school at the University of North Dakota. I stayed in North Dakota for a preliminary year of general surgery during my intern year. I enjoy biking, kayaking, and disc golf. I also like to play racquetball, violin and guitar, and video games.
Why Mayo: The immense volume of pathology and because all of the staff genuinely enjoy working here and are amazing teachers.
PGY-2
John Bretzman, M.D.

Hometown:  Twin Cities, Minnesota
Medical school:  Rush Medical College
About me:  I completed a residency in internal medicine prior to radiology. I have a wife and two kids. My interests outside of work are hockey, aviation, and beer brewing.
Why Mayo:  It is a very comprehensive place to train, and the people here are amongst the nicest I have met.