Department and Faculty
The Department of Radiology at Mayo Clinic's campus in Rochester, Minnesota, is fully integrated with all the medical services available at Mayo Clinic.
More than 180 radiologists and 28 medical physicists cooperate with more than 1,200 support staff to provide the highest quality diagnostic and interventional imaging services to patients in a caring and efficient manner to perform and interpret more than 1 million examinations each year.
Mayo Clinic radiologists and physicists also sustain outstanding programs in research and education.
Equipment available in the Department of Radiology to support these activities includes:
More than 200 X-ray tubes
52 radiography systems
26 angiography systems
22 CT scanners
58 ultrasound scanners
42 MRI scanners
13 gamma cameras
Seven PET scanners
One PET/MR scanner
Two cyclotron facilities
Two radiology research laboratories
Faculty
In addition to caring for patients in their clinical practices, Mayo Clinic's faculty members are committed to teaching and facilitating the growth of medical knowledge. Many faculty members have published and lectured extensively and are recognized leaders in their fields. You have direct access to these individuals throughout the Medical Physics Residency in Diagnostic Imaging.
Advisers and mentors
The program director serves as a consistent adviser throughout the residency. In addition, the faculty members in each rotation area serve as your advisers during those rotations. During specialized rotations, the faculty in those areas provide you with day-to-day direction.
Visiting professors
Many prominent professors visit Mayo Clinic each year. They present their work during lectures and participate in hospital rounds. You are encouraged to take full advantage of these opportunities.
From the program director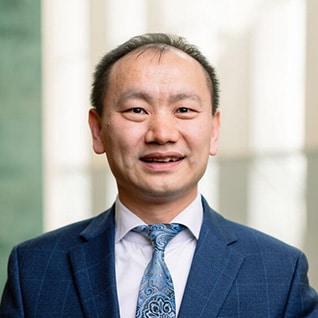 Thank you for your interest in our residency program!
As program director of the Medical Physics Residency Program in Diagnostic Imaging, I take great pride in our 30-year history of preparing medical physicists for clinical careers. Our strengths lie in our large number of medical physics faculty and extensive resources including a wide variety of imaging equipment and a high volume practice. With these attributes, we are well-suited to provide training for residents who would like to pursue an academic medical physics career with an emphasis on clinical innovation and world-class research.
At Mayo Clinic, our focus is on the needs of the patient in all aspects of education, research, and patient care. Here, you will have the opportunity to work one-on-one with medical physicists who are leaders in their fields, all in a friendly, collegial atmosphere among faculty, trainees, and other health professionals.
You will also find that Rochester, Minnesota, is a growing city where people come from all over the world for expert clinical care, yet it provides a small-town Midwest atmosphere with four seasons of recreation and fun.
I hope you consider advancing your training at Mayo Clinic and look forward to hearing from you.
Shuai Leng, Ph.D.
Program Director