Curriculum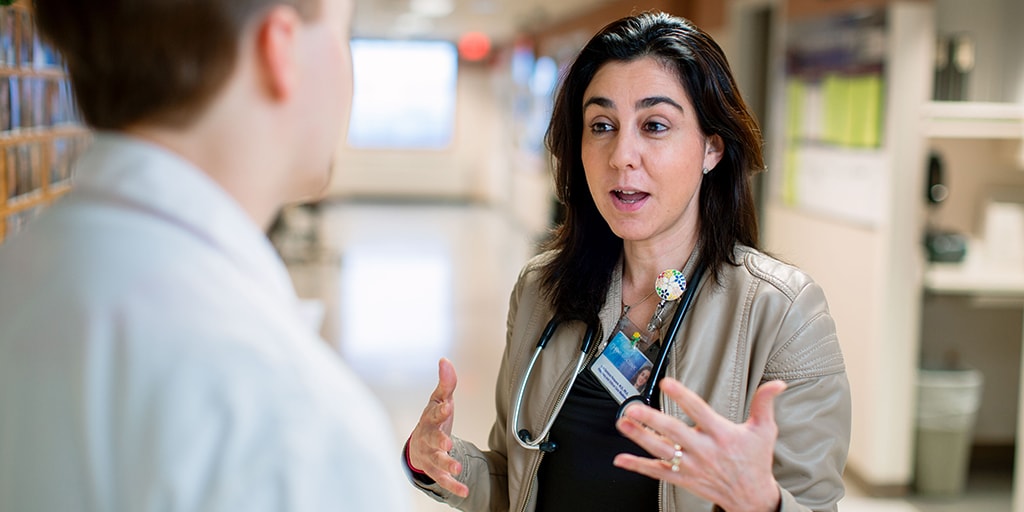 Clinical training
During your clinical training in the Pulmonary Medicine Fellowship, you are under the direct supervision of a Mayo Clinic physician consultant. This helps you make the most of your educational experiences while ensuring the best quality of patient care delivery.
You gain experience in:
Clinical pulmonary medicine

Inpatient and outpatient pulmonary consultations
End-stage lung disease, including lung transplant and lung volume reduction surgery
Thoracic radiology and pathology
Continuity specialty clinic

Critical care medicine
Flexible fiber-optic bronchoscopy and endobronchial ultrasound
Pulmonary function testing, physiology and cardiopulmonary exercise testing
Sleep disorders
Research
Rotation schedule
A typical two-year rotation schedule includes:
| Rotation | Length |
| --- | --- |
| Outpatient services and consultations | 4 months |
| Bronchoscopy | 3 months |
| Hospital inpatient services | 3 months |
| Critical care medicine | 3 months |
| Pulmonary function/rehabilitation and exercise testing | 1 month |
| Sleep Disorders Laboratory | 1 month |
| Pleural | 1 month |
| Lung pathology | 0.5 month |
| Electives | 1.5 months |
| Research | 6 months |
The exposure to diverse patient population has been the most rewarding aspect of my training so far. At Mayo Clinic, I have patients who come for evaluation from all around the globe, as well as the typical bread and butter cases from local communities. This rich exposure to the horses and zebras of my specialty gives me great confidence about having an excellent independent practice after my training.
Chioma Ogbonna, M.B.B.S., M.P.H.
Pulmonary medicine fellow
Didactic training
Didactic training is an integral part of the Pulmonary Medicine Fellowship, though other innovative ways to deliver education are being evaluated and delivered to the fellows.
During your training, you participate in:
A weekly combined case conference featuring pulmonary, thoracic surgery, critical care, sleep, radiology and pathology cases
A weekly conference presented by pulmonary medicine fellows, pulmonary and critical care medicine fellows or the staff consultants, often on materials published in peer-reviewed journals and/or presented at regional and national meetings, recent advances or new technologies, or research projects with clinical translational impact
Core lectures in pulmonary and critical care medicine
Monthly comprehensive conferences in sleep medicine
Weekly research conferences to review and discuss recently conducted or ongoing research projects
A biennial course in advanced pulmonary physiology
Frequent journal clubs to discuss and critically evaluate recent scientific publications on basic mechanisms of lung disease and clinical aspects of pulmonary and critical care medicine
Monthly interventional pulmonary case conferences and tumor board conferences
Weekly sleep case conferences
Quarterly multidisciplinary mycobacterial disease conference
Morbidity and mortality conferences
Quality improvement projects
Research training
Your fellowship includes at least six months of research. If you are pursuing a clinical career, this training will give you a greater understanding of research and its importance to clinical medicine. If you are pursuing an academic career in research, additional research training time is available. This training will lay a solid foundation for your work as an independent researcher.
In either case, you are encouraged to present your research findings at national meetings and publish them in peer-reviewed journals.
Your research opportunities at Mayo Clinic are outstanding. They meet and even exceed the opportunities available in other academic university centers.
You may choose from studies in:
Biochemistry
Cell biology
Clinical pulmonary medicine
Immunology
Microbiology
Molecular biology
Oncology
Pulmonary physiology
Sleep disorders
In addition to the research training offered within the Pulmonary Medicine Fellowship, you can extend your fellowship to include one or more years of research training. A clinician-investigator track and a postdoctoral research training grant (T32) are also available for those interested in pursuing an academic career.
There is an opportunity to take courses through the Center for Clinical and Translational Science (CCaTS) to obtain a postdoctoral diploma or master's degree in statistics. Fellows also have an opportunity to participate in the Health Care Delivery Scholars Program and the Biomedical Ethics Scholars Training program during their research training.
Call frequency
The call schedule is different for each rotation. Mayo Clinic College of Medicine and Science follows the recommendations of the Accreditation Council for Graduate Medical Education.
Teaching opportunities
Opportunities are available for teaching rotating residents and medical students. Also, fellows are given the opportunity to participate in educational workshops to become better teachers.
Evaluation
To ensure that you acquire adequate knowledge and develop your technical skills, your performance is monitored carefully during the course of the Pulmonary Medicine Fellowship.
You are evaluated formally by your supervising faculty member after each clinical rotation and meet with the program director to review these evaluations. In addition, you regularly evaluate the faculty to ensure that your educational needs are being met.