Curriculum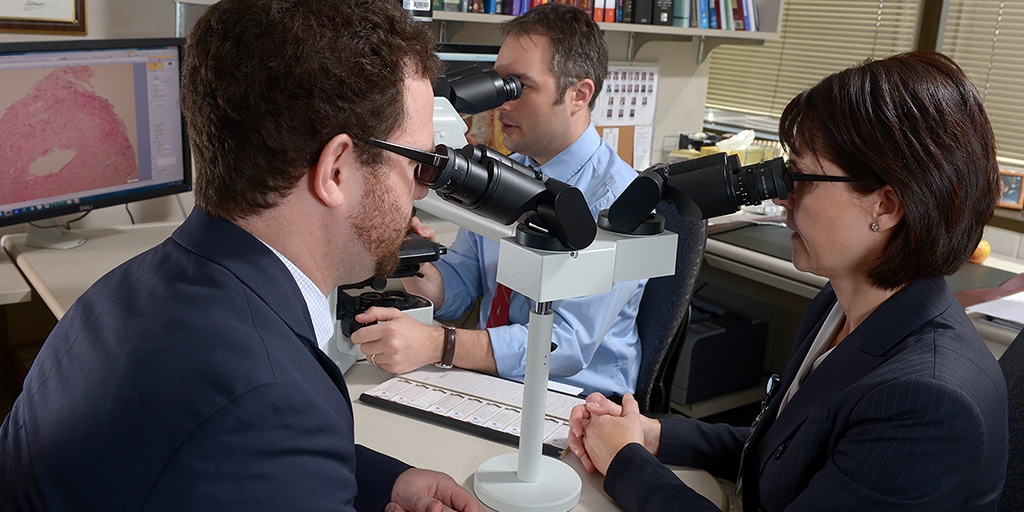 Clinical training
The clinical rotations occur mainly at Mayo Clinic's campus in Rochester, Minnesota, though you have the opportunity to spend up to two months at Mayo Clinic's campus in Scottsdale, Arizona.
You will — due to the breadth and volume of cases — be exposed to all areas of thoracic pathology, including neoplastic and non-neoplastic diseases of the lung, pleura, and mediastinum. This occurs through review of in-house material specimens as well as our large referral practice, which averages 3,500 to 4,000 specimens a year.
Weekly interactions between chest radiologists and pulmonary pathologists allow you to gain extensive experience in radiologic-pathologic correlation for both neoplastic and non-neoplastic thoracic disease. A weekly gross pulmonary conference allows for dissection and review of lung explants and interesting specimens from Mayo Clinic's busy autopsy service.
You will participate in weekly lung cutting, where all transplant lung specimens and challenging lung specimens are grossed and correlated with the clinical and radiologic findings.
You are also involved in evaluating both heart and lung transplant biopsies, which prepares you to confidently evaluate all aspects of thoracic transplant pathology. Finally, you have the opportunity to rotate in the fluorescence in situ hybridization (FISH) and molecular pathology laboratories to familiarize yourself with the various molecular tests performed on lung cancers.
Your responsibility is gradually increased over the training period, such that by the end of the fellowship, you are responsible for the initial case work-up and final conversations with referring pathologists. At Mayo Clinic's campus in Scottsdale, Arizona, you rotate on the consultation service, where approximately 4,000 cases are seen annually.
To complement the clinical material, teaching files consisting of more than 4,000 cases are available to you at both the Minnesota and Arizona campuses of Mayo Clinic.
Because different fellows have different career goals, the curriculum allows for electives and opportunities to explore diverse areas of pathology that may complement pulmonary pathology or fulfill the needs of a future job or practice. Therefore, we have had fellows rotate in areas such as cardiovascular pathology, cytology, bone and soft tissue pathology, lymph node pathology, and others.
Rotation schedule
The curriculum is divided into 13 four-week blocks. Nine blocks are dedicated to pulmonary pathology and the consultation practice, which may include rotations at Mayo Clinic's campus in Scottsdale, Arizona. For one block, you will have the opportunity to rotate through our famous frozen section laboratory at Mayo Clinic Hospital, Saint Marys Campus, gaining exposure to in-house thoracic patient specimens.
You will have three additional blocks that are electives, in which you can choose from many different areas of pathology to complement knowledge in thoracic pathology, prepare for a future job, do research, or complete more pulmonary rotations. We allow for flexibility to tailor to your career goals.
Sample rotation schedule
Each block is four weeks.
| Block | Rotation |
| --- | --- |
| 1-3 | Pulmonary |
| 4 | Pulmonary/cytogenetic-molecular pathology |
| 5-6 | Elective |
| 7 | Pulmonary |
| 8 | Saint Marys frozen section |
| 9-12 | Pulmonary |
| 13 | Elective |
Conferences
Tri-weekly radiology-pathology conference, where the imaging and pathology of challenging interstitial lung diseases are reviewed and teaching is performed.
In addition to the weekly lung-cutting and radiologic conference, you participate and present in weekly or biweekly clinical conferences, which include Clinical Chest Conference, the Thoracic Tumor Board (done with Mayo Clinic and affiliate hospitals of Mayo Clinic Health System), Critical Care Medicine Conference, and Pulmonary and Critical Care Research Conference. Thoracic Morbidity and Mortality Conference also occurs twice a year.
At the monthly, multi-institutional pulmonary journal club, pulmonary pathologists from different institutions throughout the United States and Canada review the monthly literature from 15 different journals. As a fellow, you actively participate in this activity.
Research training
Mayo Clinic performs basic, translational, and clinicopathologic correlative research. Therefore, you have many opportunities to participate in and complete several projects in one year. Our research is typically multidisciplinary, featuring collaboration with clinicians, surgeons, radiologists, bioinformaticians, molecular biologists, and biostatisticians.
As a fellow, you will have access to secretarial, laboratory, and statistics support, as well as funding, and help from a research assistant.
The Lung Cancer Epidemiology Project at Mayo Clinic has enrolled and followed more than 14,000 people with lung cancer with extensive clinically annotated tissue available through our Tissue Registry and Lung Specimen Registry. This epidemiology project is headed by Ping Yang, M.D., Ph.D., a molecular epidemiologist.
Multiple ongoing research projects occur in collaboration with Dr. Yang. These projects include research on the epidemiology and optimal testing of anaplastic lymphoma kinase (ALK)-rearranged lung cancers — as well as radiology-pathology correlation studies of adenocarcinoma in situ and microinvasive adenocarcinoma — that have resulted in computer-aided nodule assessment and risk yield (CANARY) technology for lung cancer screening and diagnosis, among others.
Mayo Clinic's Center for Individualized Medicine has multiple translational programs, including the Biomarker Discovery Program, which focuses on lung cancer along with several other diseases. Marie-Christine Aubry, M.D., and thoracic surgeon Dennis Wigle, M.D., Ph.D., head the Lung Cancer Biomarker Discovery Group.
The Biomarker Discovery Program focuses on the use of next-generation sequencing, with the goal of developing clinically useful tests for lung cancer. Our pulmonologists, headed by Jay Ryu, M.D., have developed a detailed database of all non-neoplastic lung disease, which has led to numerous collaborative studies and publications on IgG4 disease. Through this work, faculty member Joanne (Eunhee) Yi, M.D., has become a known expert in IgG4 diseases of the lung.
Fellowship director Anja Roden, M.D., has developed a large thymoma database that is an important resource for multiple projects.
The Tissue Registry is our clinical biorepository, which contains all paraffin-embedded specimens removed from Mayo Clinic patients since the early 1900s and offers a wealth of lung specimens for research, both neoplastic and non-neoplastic.
The Lung Specimen Registry was started in 1998 and contains consented blood and fresh frozen lung cancer tissue from more than 1,000 patients.
One month of research is included in the curriculum and distributed through your pulmonary rotations according to the research requirements and needs. Additional months of research can be taken during the electives.
All our fellows have presented at national meetings, such as the United States and Canadian Academy of Pathology (USCAP), the American Thoracic Society (ATS), and the Pulmonary Pathology Society, and have authored several articles. See a list of fellow activities.
Teaching opportunities
You participate in the second-year medical student curriculum during their pulmonary block. You also supervise residents as they rotate through the frozen section laboratory and pulmonary pathology rotations and oversee the lung-cutting conference. Additional opportunities exist based on your interest in education.
Evaluation
To ensure that you acquire adequate knowledge and develop the appropriate technical skills to meet program expectations, your performance is monitored carefully during the Pulmonary Pathology Fellowship. You are formally evaluated by supervising faculty members on a regular basis and meet with the program director to review these evaluations.
In addition, you regularly evaluate the faculty to confirm that your educational needs are being met.