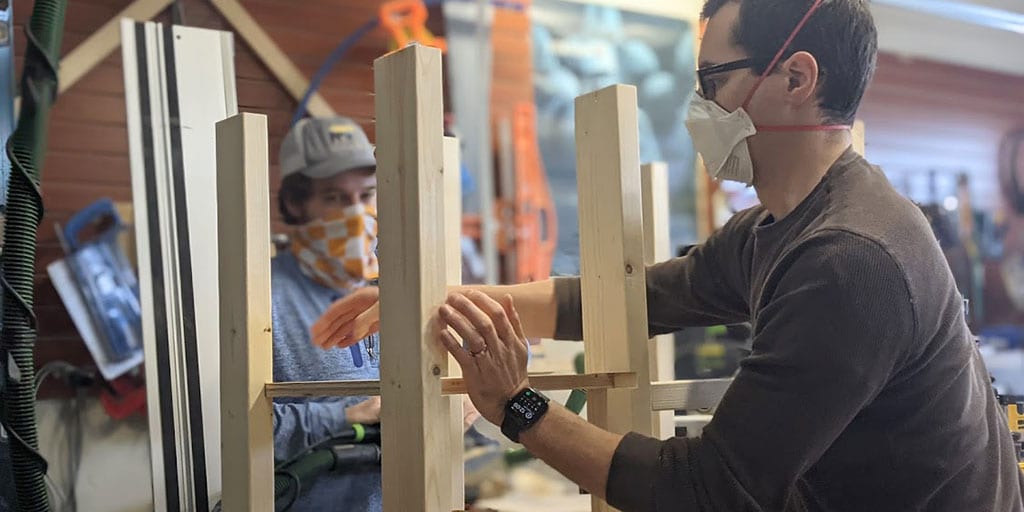 ---
February 25, 2021
---
The wellness and well-being of our students is a top priority for Mayo Clinic College of Medicine and Science. Students are encouraged to become part of the communities they live and work in, create close-knit communities within their classes, practice self-care, and employ a healthy work-life balance throughout their education.
Dr. Ilia Shadrin, a PGY-3 internal medicine resident, exemplifies balance and wellness done right. Recognizing a need earlier this fall at his daughter's school for learning spaces as students tackled distance learning at home, he turned his woodworking hobby into a way to give back by building desks to fulfill this need. Read the full story in MedCityBeat.
But giving back to the Rochester community that had welcomed his family since the start of his residency in 2018 was only part of the positive impacts of this project.
To Dr. Shadrin, this was also a type of self-care. "Self-care is undervalued. I didn't realize how much joy this project would bring me knowing it could impact other people," says Dr. Shadrin. "For those just starting their residencies, don't let work dictate everything in your life."
Another positive impact was the personal connections that grew from the project. As a PGY-3 resident, Dr. Shadrin often supervised first year residents. In that way he met PGY-1 physical medicine and rehabilitation resident Dr. Kaylie Pierce and discovered her fiancé Michael Dean shared his love of woodworking. In the midst of building his first set of desks at the time, Dr. Shadrin and Dean then became partners, and good friends, in the project.
Looking ahead, Dr. Shadrin concludes his residency this summer. But as he ends his time in Rochester to pursue a cardiology fellowship at Duke, his impact and the impact of his and Dean's desks will continue to be felt by the Rochester community.